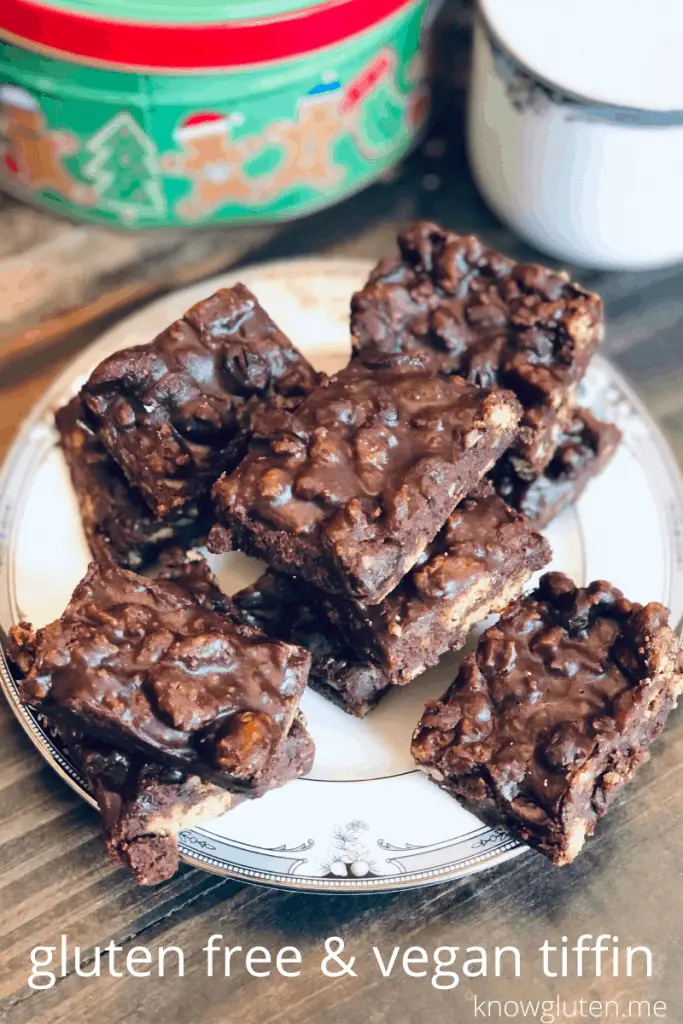 What is Tiffin? It's a mixture of crumbled cookies and dried fruit coated in chocolate and pressed into a pan to harden. Some people call it fridge-cake. It's originally from Scotland. How are these UK people so resourceful with their desserts?
Nothing goes to waste! Stale cake? Make trifle! Stale cookies? Make tiffin!
You can really make tiffin with any combination of dried fruits and cookies. Most often it's made with digestive biscuits and raisins, and if your Scottish grandmother made it, her recipe probably includes "a few handfuls of stale biscuits and a handful of raisins" but I made this Christmasy with ginger snaps, cranberries, and pecans.
Many people pour another layer of melted chocolate over the top of the hardened mixture. You could do this if you like. I leave it off because I like the uneven look of the cookies and fruit.

If you grew up in North America and you don't have UK roots, you might not have tried tiffin, so how does it taste? It's sweeter than a conventional store bought chocolate bar, so if you like sweet desserts, this is for you. The chocolate is creamy, the dried fruit give it a beautiful chew and the tang of extra flavor, the cookies and pecans are crispy and crunchy. It's so great. Cut it into squares and keep it in an airtight container for the whole holiday season. A couple of weeks at least.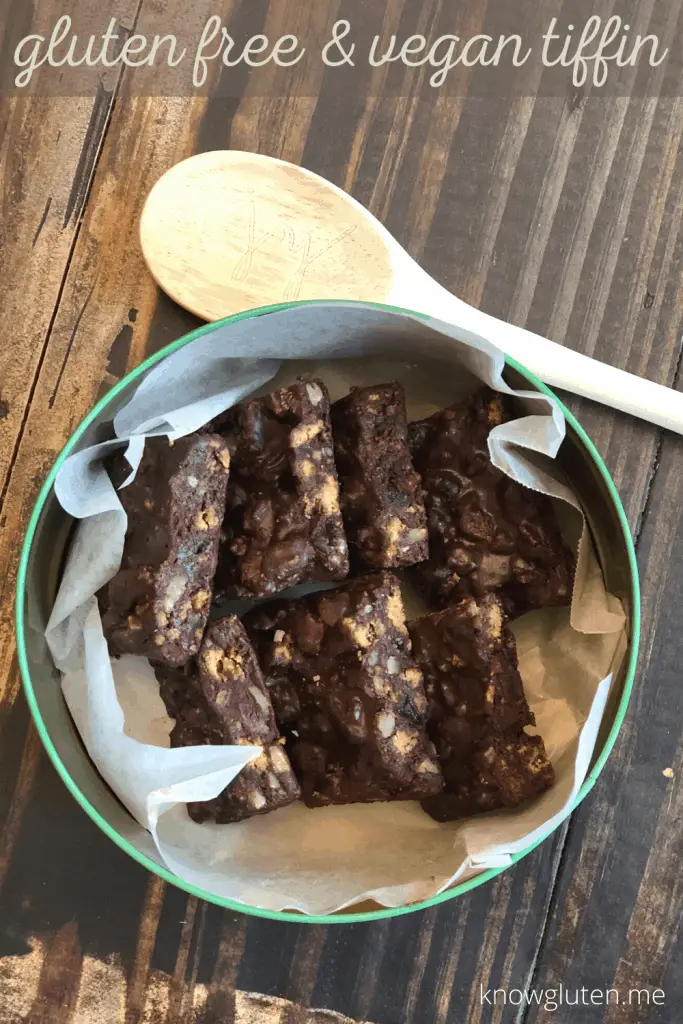 Ingredients
Margarine
Traditional tiffin uses butter and if you can eat dairy, you can use that instead. If you want a vegan tiffin, use a vegan butter or a dairy free margarine. I personally use Country Crock in the brown plastic container because it's gluten free, dairy free, and inexpensive.

Corn Syrup
Traditionally tiffin recipes call for golden syrup which is a light golden syrup made from sugar cane. Corn syrup is a good substitute and way easier to find in North America (which is where most of my readers are) but you can use either corn or golden syrup.

Brown Sugar
Remember, this is Granny's "a handful of this, a handful of that" recipe to use up stale cookies. If you don't have brown sugar, use white sugar. It's ok. I use brown sugar because it looks more old fashioned and wholesome and makes me feel more traditional when I make things with it.

Chocolate Chips
If you're vegan, choose a dairy free chocolate chip. We have a Trader Joe's in our town, so I'm able to get dairy free chocolate chips fairly inexpensively. There are several brands of dairy free chips that taste amazing, Enjoy Life is one of my favorites. If you're not vegan, go ahead and use any gluten free chocolate chip. (Chocolate chips are naturally gluten free unless the manufacturer has added something weird, but always read labels to be safe.)

Cocoa Powder
Because just melted chocolate won't be chocolatey enough. I use just regular old Hershey's Cocoa Powder, but you can use any brand you like.

Vanilla
I use artificial vanilla extract. If you prefer the taste of natural vanilla, you can use that instead.
Mi-Del Gluten Free Ginger Snaps
Oh, these are so good. Little crunchy ginger cookies. The ginger taste is subtle with all the chocolate and fruit, but it definitely makes a difference. You can use the whole 8oz pack. Just crumble them up with your hands into pieces around the size of your thumb nails, some a little bigger, some a little smaller. If you don't want to hit the store, this is also a great way to use up those stale gluten free graham crackers or other cookies that you didn't get a chance to eat up before they were past their prime.

Dried Sweetened Cranberries
Craisins, or any other no-name dried sweetened cranberries. These add a little bit of tang and chew to the tiffin. Very nice.

Raisins
This is THE best way to use up raisins that are just a little bit too dry. We seem to go through spurts of eating a ton of raisins, and then I buy a big pack and suddenly the raisin eating frenzy stops, and I'm stuck with a pack of dried grapes that are getting drier and drier. They absorb the liquid from the melted chocolate, margarine, and corn syrup. Don't worry, they won't get puffy and squishy like in a baked good, the tiffin will just redeem them.

Pecans
There are no nuts in a traditional tiffin recipe and you can leave them out if you're nut free. I added them because I love the taste of pecans in chocolate. And there seem to be pecans in everything during the holidays. The nuts make the tiffin taste like a fruit and nut bar. Amazing.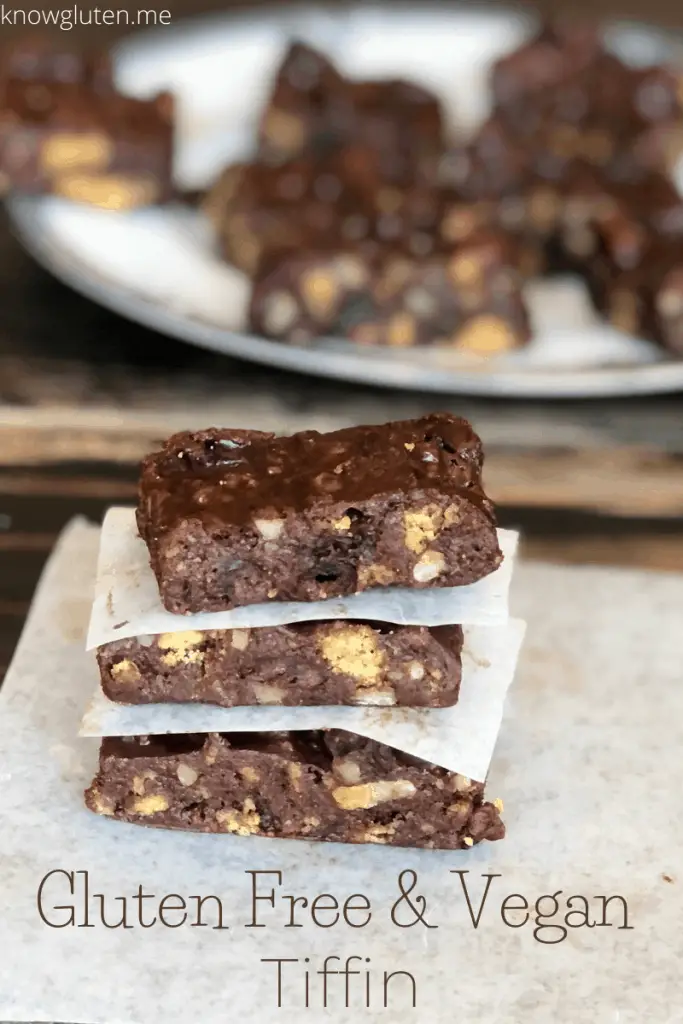 Gluten Free & Vegan Tiffin
A crunchy, chewy, chocolaty dessert square from Scotland
Total Time
4 hours
10 minutes
Ingredients
½ c margarine
⅓ cup corn syrup
⅓ cup brown sugar
2 T cocoa powder
2 tsp vanilla
1 cup chocolate chips
8oz mi-del ginger snaps crumbled into pieces by hand
½ cup dried, sweetened cranberries
½ cup raisins
½ cup chopped pecans
Instructions
Crumble the ginger snaps by hand into a bowl. You're trying to get a combination of small pieces, larger chunks, and crumbs. It does not have to be uniform. I aim for thumbnail size. If crumbling by hand is too hard, you can place the cookies in a plastic ziplock bag and whack them with a rolling pin.

Stir in cranberries, raisins, and nuts. Set this bowl aside.

Place margarine and corn syrup in a large microwavable bowl and melt in the microwave until bubbling slightly.

Stir in brown sugar, cocoa powder, vanilla, and chocolate chips. Stir until chocolate chips are completely melted.

Add cookie mixture and stir until it's completely coated by the chocolate.

Press the mixture evenly into an 8" square parchment or foil lined pan. Refrigerate overnight or at least 4 hours.

Cut into squares to serve.

Store in an airtight container in the fridge or freezer. The tiffin will keep a couple of weeks.