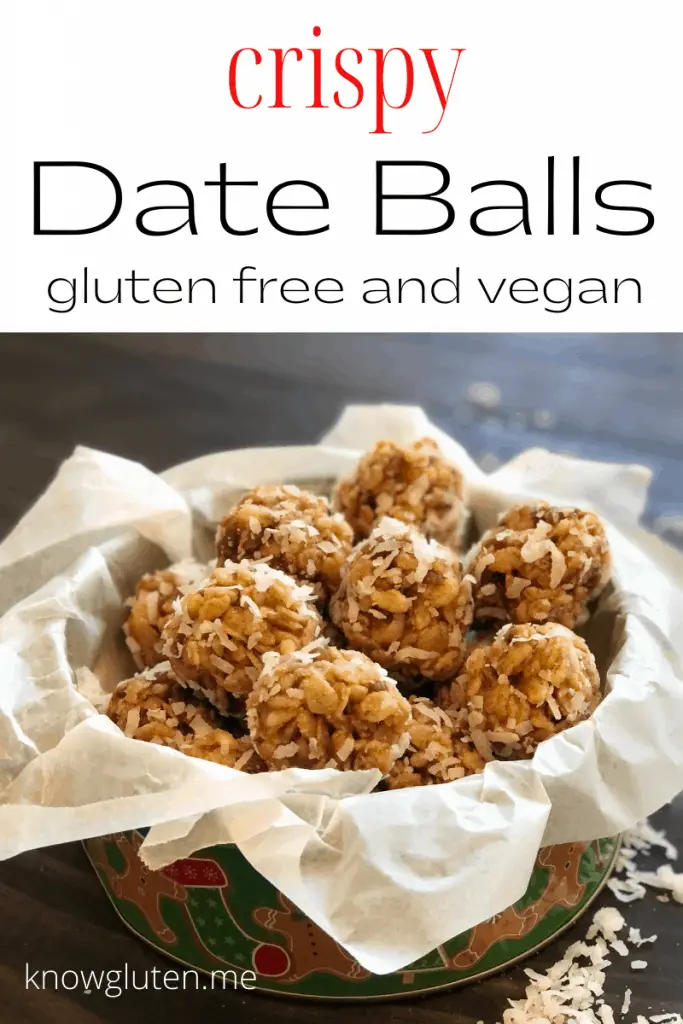 Date balls are a Christmas tradition from the era when people did Christmas visiting. At the beginning of the season, all the moms and grandmothers would make up a billion different squares and cookies and put them in the fridge or freezer to be served to company. Then they would all rotate through the different houses of their friends and family, and the lady of the house would pull out a big tray of all these different desserts. The date balls are one of my very favorites. They're also one of the fastest and easiest to make. For years I made the traditional recipe, which calls for an egg, but I went vegan over 3 years ago, and I eat the majority of the date balls in my house, so I haven't made them in a while. This Christmas I finally realized that the egg is unnecessary. I think it might be in there to stick all the ingredients together, but melted dates are one of the stickiest foods in existence, so there's no need for the egg. You can make the traditional recipe, that tastes like the traditional recipe, and leave out the egg.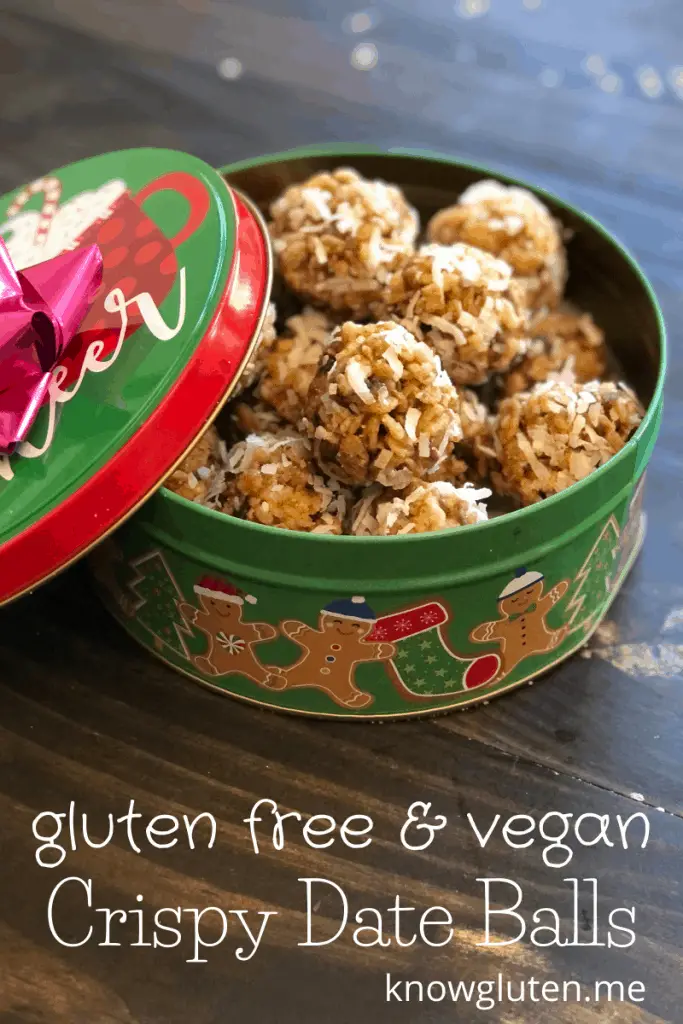 Ingredients
Margarine
The traditional recipe calls for butter, but I'll tell ya a secret, my own grandmother always used margarine. If you're vegan or dairy free, use a version that contains no dairy. There are so many available now. I use Country Crock in the brown plastic container, but you could use Earth Balance or something fancy like one of the new vegan plant butters.
Brown Sugar
I prefer brown sugar for this recipe. I'm not sure if it has a richer taste or if it just looks richer. If you're out of brown sugar, you can substitute white sugar for it. 
Dates
Don't spend a fortune on the dates. These don't have to be the fancy $11 box of imported dates. You are going to melt them and mix them up with cereal. This is not gourmet time. I buy the ones in the bag in the grocery store in the dried fruit section. You don't need to chop them. They will fall apart once you start cooking them. 
Gluten Free Rice Crisp Cereal – Read the Label! It must say Gluten Free! 
Buy a brand that specifically says "Gluten Free" on the label. I get the Malt O Meal MOM brand in the big blue bag. It's gluten free and inexpensive. Nature's Path also makes a gluten free crisp rice cereal. ALWAYS check the labels. For this recipe, the cereal must say "gluten free" to guarantee that the dessert is gluten free. Many crisp rice cereals contain malt. Malt is made from barley and barley contains gluten, so please make sure the package says gluten free. 
Flaked Coconut
This is just the flaked coconut in a bag in the baking section of the grocery store. It's also called Sweetened Flaked Coconut or Coconut Flakes.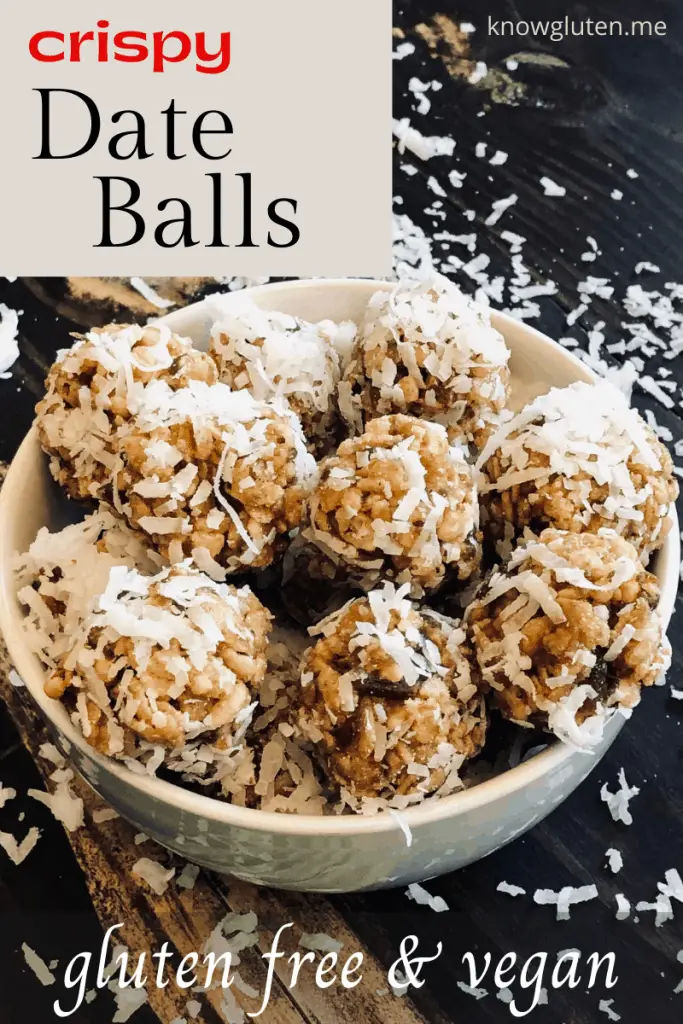 Yield: 24
Gluten Free, Vegan Crispy Date Balls - Dairy Free, Egg Free
Traditional date balls with crisp rice cereal and coconut, made gluten free and vegan. Perfect for egg free and dairy free diets.
Additional Time
10 minutes
Ingredients
½ cup dairy free margarine
1 cup brown sugar
1 cup dates
3 cups gluten free crisp rice cereal (must say Gluten Free on the label)
1 cup flaked coconut for rolling (you may need more)
Instructions
In a saucepan, melt margarine and sugar together. 
Add dates and gently simmer until dates melt. Stir continuously. This should take about 10 minutes and you can use your spoon or a potato masher to break down the larger date pieces.
Remove the saucepan from heat and stir in the cereal.
DO NOT TOUCH WITH YOUR HANDS - THIS STUFF IS LAVA
Let sit for about 10 minutes. When the mixture is cool to the touch,  form into 1 1/2" - 2" balls. Lightly coat your hands in margarine if the mixture sticks to your fingers. If it's too loose to form into balls, it needs to sit a while longer.
Pour coconut onto a plate and roll balls through the coconut to coat. Add more coconut to the plate as needed
Place on a wax paper or parchment lined cookie sheet to set.  
Store in an airtight container.
Date balls can be refrigerated. 
Notes
Make sure cereal says gluten free on the label.
Let melted date mixture cool before touching it with your hands.