This is a fantastic and easy white bean chili soup. It's gluten free and vegan, but will please even your gluten loving carnivore. Almost all the ingredients are pre-chopped and measured, so it's just a matter of adding them to a pot. The directions are there to help you out, but honestly, almost the entire recipe is open cans, open bags, dump in pot, boil. You have to blend two tomatillos, but this step takes about 30 seconds. The timed out directions might give you slightly better results (like warming the cumin first) but aren't really that necessary, so don't overthink it or throw the whole thing out if you did something out of order. 

A note about the tomatillos in the recipe: they honestly make a big difference, but if you can't find them, or you really can't be bothered, you can sub green salsa for the tomatillos and chilis.

I serve this chili over rice to stretch it, but it's great on its own.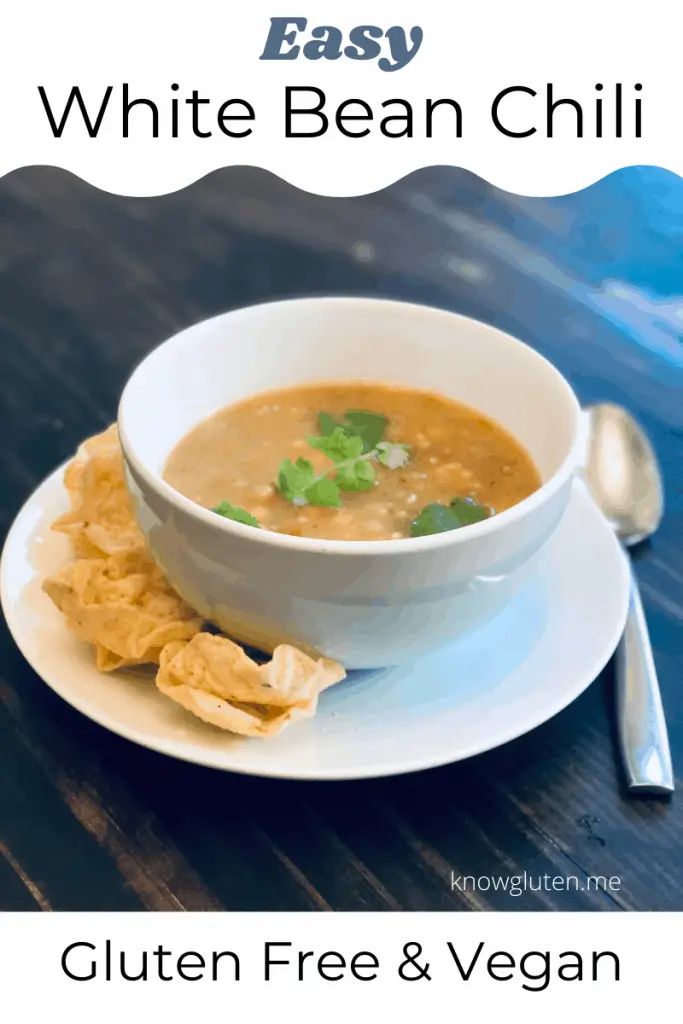 Ingredients

Green Chiles
If you live in North America, you'll most likely find these in the "International" or "Mexican" section of your grocery store. They come in a very small can. If your grocery store doesn't have it, a specialty Mexican grocery store definitely will. If you don't have either of those (I know many places just don't have the market for a lot of Mexican food) You can sub the chiles and tomatillos with 1 cup of green salsa. 

Tomatillos
These are green tomato looking things that are in a papery skin. To remove the papery skin, just drop them into a pot of boiling water for about 10 seconds, fish them out with a slotted spoon, and the papery skin and any stickiness underneath it will come right off. 
Again, tho, if you can't find them, you can substitute green salsa.

Cumin
Cumin is a rich fragrant spice. It's fairly common, so it won't be hard to find in your grocery store at all. A tablespoon might seem like a lot, but this makes a fairly big pot of soup, and the flavor spreads out. I sometimes put in even more. I lightly "toast" my cumin in the pot before I add the other ingredients. All I do is add the cumin, turn the heat to medium, then move the cumin around the pot with a wooden spoon or something until I can smell it. Then I remove it from the heat. I feel this brings out more flavor.

Vegetable Broth
This is easy. Use any kind of vegetable broth you like. You can either use the standard size box of broth you can get at any grocery store, or an instant vegetable broth mix like Better than Bouillon, mixed with 4 cups of water instead. Follow the directions on the package to make your instant broth. If you make your own broth from scratch, that will work too.

White Beans
You can use Great Northern Beans, Navy Beans, or Cannellini Beans. Avoid "baked beans" or "cream style". They won't work. 
Seasoning Mix
This is a package in the frozen food section that has chopped onions, celery, and peppers. If you can't find it, Just finely dice an onion, 2 stalks of celery, and a bell pepper. Or just an onion if you're feeling lazy. 

Minced Garlic
This is the kind of garlic that comes in a jar in the produce section, pre-peeled and minced and ready to use. It keeps a long time, so it's worth getting the large jar just to have on hand. It's a good add-in for many savory dishes.

Starch
Starch if you want your soup thicker and creamier. This also helps it go further if you're feeding a group. I personally use potato starch because corn starch hurts my stomach, but corn starch works the exact same. You mix the starch in cold water in a cup, usually twice as much water as starch, then just dribble it in a little at a time. Stir and let it simmer for a bit before you add more, because cooking will help it thicken the soup. This way you can adjust the thickness to your own liking.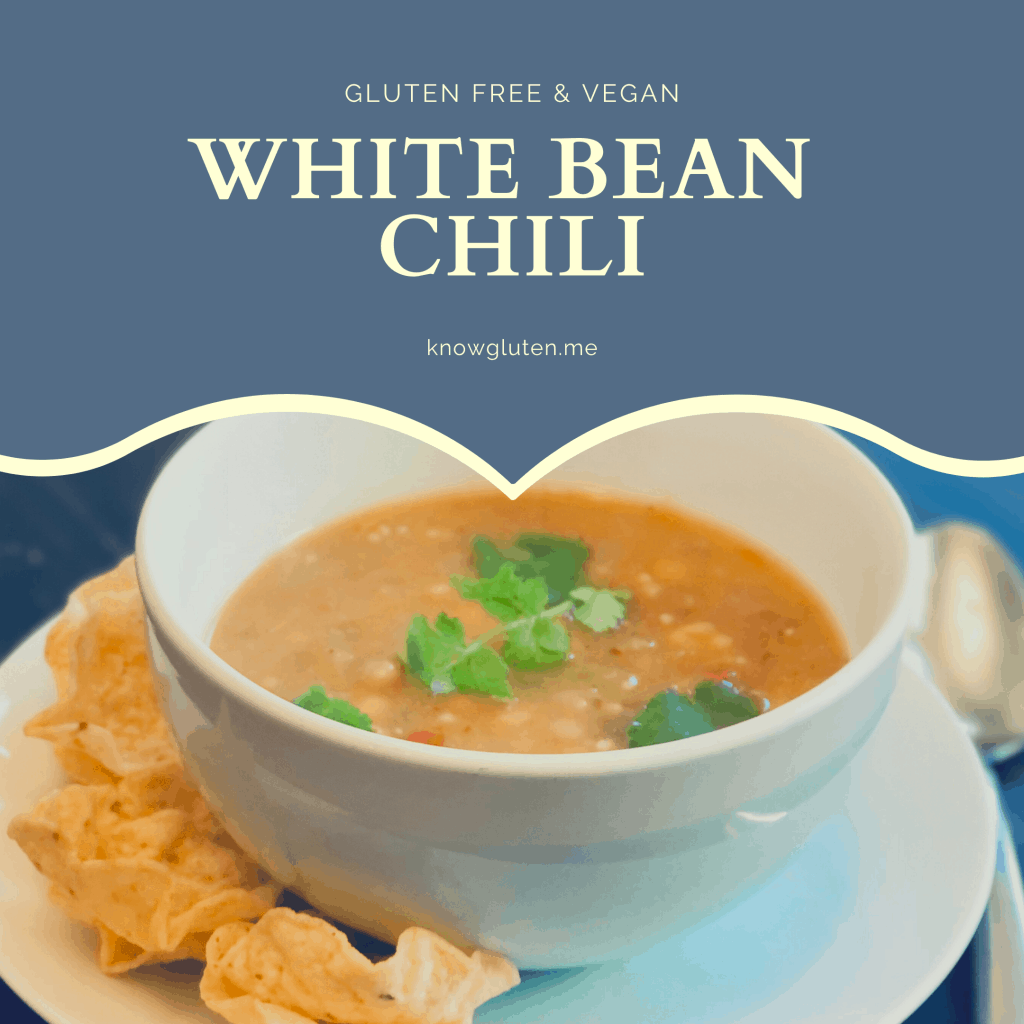 Easy White Bean Chili – Gluten Free and Vegan
This white bean chili is a super simple recipe, perfect for cold winter nights. It's both gluten free and vegan, so perfect if you have a family like mine with a few different dietary needs.
Equipment
large pot

blender or magic bullet
Ingredients
1

4 oz can

green chiles

2

tomatillos

1

tbsp

cumin

4

cups

vegetable broth

A 32oz box of broth is 4 cups

3

15oz can

white beans

drained

10

oz

frozen seasoning blend

1

tbsp

minced garlic

2

tbsp

potato starch or corn starch dissolved in 1/4 cup cold water

optional
Instructions
To remove paper skin from tomatillos, let them sit in just-boiled water for 10 seconds. Remove and rinse under cold water. The skin should come right off and there should be no sticky residue left behind.

Blend tomatillos with canned chiles and set aside

In a very large soup pot, add the cumin and cook over low heat until you can smell it.

Add frozen seasoning blend, garlic, broth and blended tomatillos and bring to a boil.

Reduce heat, cover, and simmer for 5 minutes.

Add beans and cook until heated through.

Optional: Use a potato masher to mush up some of the beans.

Optional: dissolved potato starch or corn starch in cold water. Add gradually, a spoonful at a time while cooking to thicken the broth.