Guys, this recipe is actually so easy, it's almost not a recipe. Naturally gluten free sweet potatoes are a staple in our house. I roast about 6 sweet potatoes at a time in the crock pot and then just keep what we don't eat for dinner in the fridge in a container and use them all week. I'll slice one in half and scoop out what I'm going to use and microwave it. I'll use sweet potato as a side for chicken or pork with butter and salt or I'll top it with a fried egg for breakfast.
AND— This is a super easy way to cook sweet potatoes for sweet potato casserole for the holidays!!
I'll actually put a "recipe" after this post, but all you have to do is clean the sweet potatoes, poke holes in them with a sharp pointy thing, put them in the crock pot and turn it on. High for 4 hours or Low for 6-8. The actual cooking time will vary depending on the size and age of your crock pot, and the amount and size of your sweet potatoes.
I've found that using a crock pot liner is a real time saver for sweet potatoes. They leave the bottom of the crock pot sticky with little hard to scrub off splurps.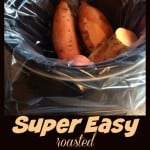 Super Easy Roasted Sweet Potatoes in the Crock Pot
Ingredients
6

medium sized sweet potatoes
Instructions
Wash and pierce sweet potatoes

Place in crock pot (use a liner or line bottom with foil if desired)

Cook on high for 4 hours or on low for 6 hours

Store left-overs in a covered container in the fridge for up to 1 week