Gluten free strawberry shortcake that's vegan too? You'll love serving this easy and tasty recipe all strawberry season!
It's strawberry season in Southeast Louisiana!! That means we're going to put on our rain boots and go out into muddy fields and pick our own strawberries and make gluten free vegan strawberry shortcake!! 
Why rain boots and muddy fields? Because it's April in Louisiana, and it rains all. the. time. Our next non-rainy day is supposed to be on Monday, and the way it's been raining this week, I'm probably going to need hip-waders. But the strawberry shortcake will make it all worthwhile!!
I honestly can't wait. We do get farm fresh strawberries in our grocery stores, but there's really nothing better than picking strawberries yourself! It really is such a great family friendly activity. (And I think 3 of my 4 kids, plus my granddaughter are all coming.)
Shortcake, not Spongecake
Afterwards, we'll make this super easy gluten free vegan strawberry shortcake. It whips up in just a couple of minutes, and bakes up so nice and flaky. It's a "shortcake" not a sponge cake, so more like a sweet biscuit. This recipe makes 6 servings (full shortcakes) or 12 "tea party sized" servings (half a shortcake each). This is a smaller recipe because like many gluten free baked goods, it really is best fresh. I cut it into squares instead of using a round cookie cutter to save on wasted dough. 
Ingredients
For the Shortcake
King Arthur Measure for Measure Gluten Free Flour
I have three favorite gluten free flours, depending on what I'm baking, and King Arthur Measure for Measure is one of them. It makes a fantastic gluten free replica of any baked good, like shortcake, that needs to be a little bit flaky. I also use it in a few of my cake recipes (like this vegan vanilla cake and this chocolate cake. Both of them would also be great with strawberries!)
Baking Powder
This is to help the shortcakes rise. I think that the original shortcakes were made with baking soda or baking powder instead of yeast and that's why they were called "short" cakes. Because they didn't take a "long" time to rise. That's what I've always been told. I'm sure Google could help me confirm this, but sometimes it's nice just to believe something without facts ruining everything. 
Sugar
A little bit of sugar transforms these from biscuits to shortcakes. TA DA! It adds a teeny bit of sweetness. 
Margarine
I use Country Crock in the big brown plastic container. No fancy plant butter for this girl. Country Crock contains no dairy. You're going to use some in the shortcakes and brush some on top before baking to help them brown.
Soy Milk Curdled with Lemon Juice
I've only tried this with soy milk. You're free to try another non-dairy milk if you like, but I can't guarantee the results. Why curdle the milk? It gives the shortcakes a bit of a tang, and I've found that they rise so much better. Not sure why. 
For the Strawberry Sauce (Optional)
If I get fresh strawberries right from the farm, I don't make a strawberry sauce, I just slice the berries and put them right on the shortcake and top it with cream. If I buy strawberries out of season and they're not very flavorful, or use thawed frozen berries, I make the sauce.
Strawberries
If you have beautifully juicy farm fresh strawberries, you really don't need to make a sauce. If you have strawberries that have been sitting in the fridge for a few days, or are shipped in out of season, or frozen, you might want to make one. It's super easy, you just slice the strawberries and sprinkle them with sugar and set them aside while you make the shortcake. If you're using frozen, thaw them and drain them first. 
Sugar
If you sprinkle a little bit of sugar on sliced strawberries, it creates a little bit of juice and makes them a little sweeter.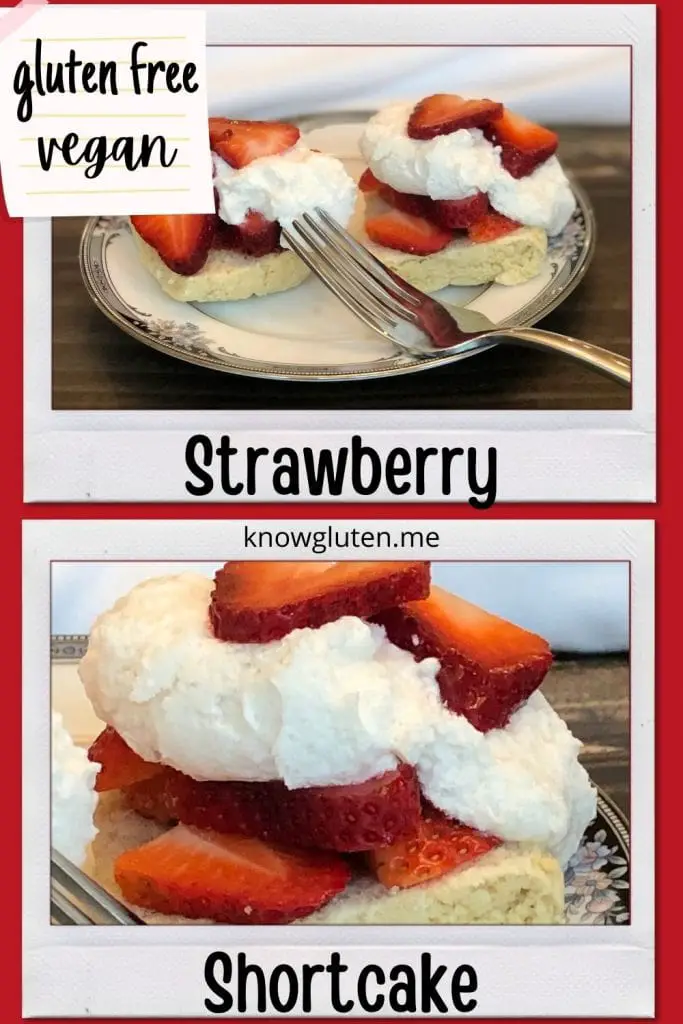 Yield: 6 shortcakes
Gluten Free Strawberry Shortcake - Vegan!
Gluten free strawberry shortcake that's vegan too? You'll love serving this easy and tasty recipe all strawberry season!
Ingredients
Strawberry Sauce
2-3 cups Strawberries - Washed, Hulled, and Sliced
2 Tbsp Sugar
Shortcakes
1 cup King Arthur Measure for Measure Gluten Free Flour
1 Tbsp Baking Powder
2 Tbsp Sugar
¼ cup Country Crock Margarine
⅓ cup Soy Milk
1 Tbsp Lemon Juice
1 T Melted Margarine to Brush Tops of Shortcakes.
Instructions
For Strawberry Sauce
In a bowl, gently stir together strawberries and sugar and set aside until the shortcakes are done.
For Shortcake
Preheat oven to 425F.
Combine flour, baking powder, and sugar in a bowl.
Cut in margarine with a pastry knife until the mixture is the texture of coarse sand.
In a small bowl mix together the soy milk and lemon juice. The milk may curdle. This is fine.
Pour milk mixture into the flour bowl and mix gently with a spoon until a dough ball forms.
On a cutting board, shape the dough into a 1 inch tall rectangle and cut into six equal sized rectangle shortcakes. 
Place shortcakes into a parchment lined cake pan or on a parchment lined cookie sheet. 
Melt one tablespoon of margarine and gently brush it over the tops of the shortcakes using fingers or a brush.
Bake for about 20 minutes.
Cool completely, slice in half, then top each half with strawberries and non-dairy whip and serve.