Hey friends!! I think you will really like this one. It's simple, fairly inexpensive, and totally impressive. A gluten free, vegan, chocolate cake that actually tastes like a cake. It's moist, and flavorful, and chocolatey, and cakey. There are no eggs, butter, or milk in it. And you can not tell. The regular version of this recipe is often called Depression Chocolate Cake. It was originally created for a world going through the Great Depression where staples like eggs, butter, and milk were scarce. It's surprisingly amazing. Our fore-mothers were obvious geniuses in the kitchen. This version uses any cup-for-cup type gluten free flour for the same surprising amazingness. I've tested it with King Arthur Measure for Measure Gluten Free Flour which is my favorite of these types of flour, probably because it's the most readily available in my area. I've changed the original recipe a little bit and sometimes substitute cola for the water, it makes it a little sweeter, but it's not necessary, water works really well.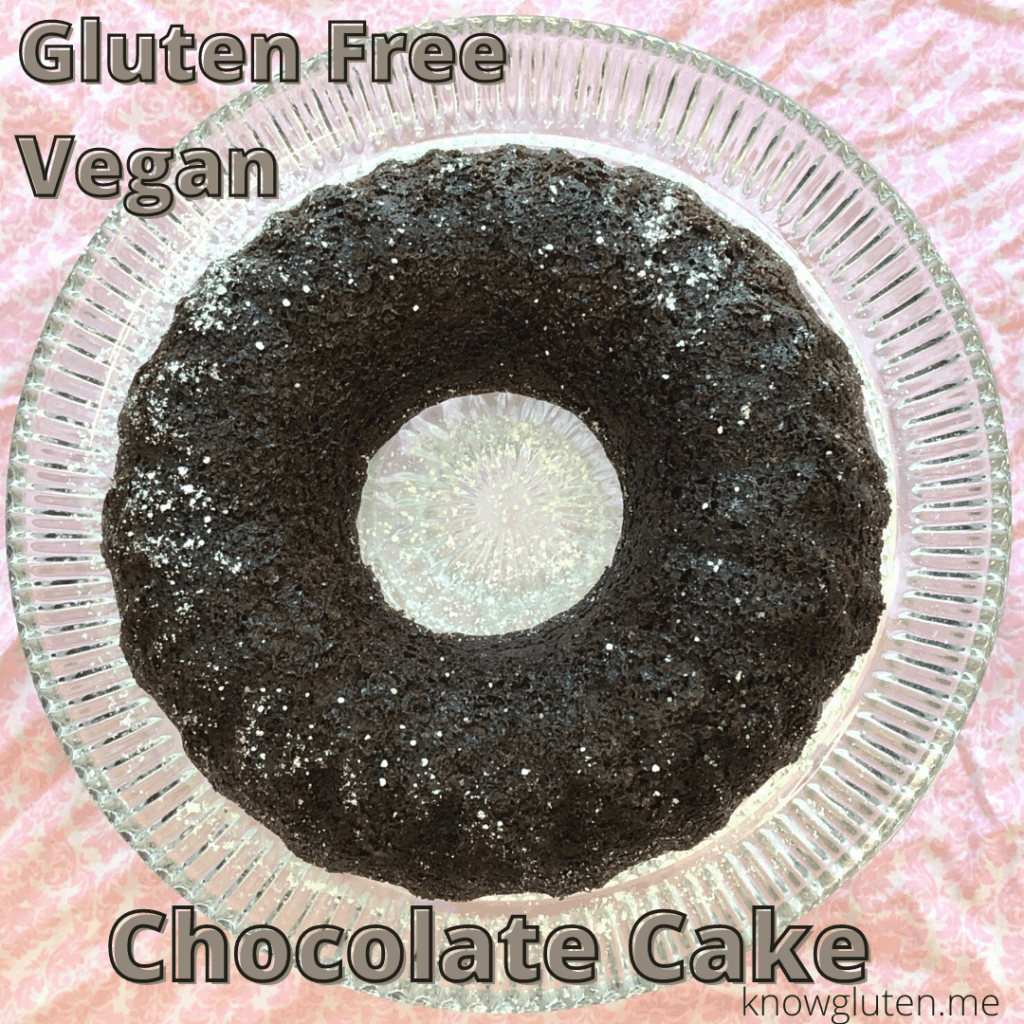 The Ingredients
Gluten Free Flour
There are a lot of gluten free flours out there. The kind you want for this is a flour that claims to be just like gluten flour. My favorite is King Arthur Measure for Measure Gluten Free Flour, but you could also use Bob's Red Mill Cup for Cup Gluten Free Flour, and I think Pillsbury has a gluten free flour blend. The key to these flours is the added xanthan gum. It replaces the "stickiness" of the gluten that you find in regular flour. The flour used is very important. Don't substitute with something like almond or rice flour, even though they say gluten free on the package. You won't have the same results

Sugar
Just regular old basic sugar. I used white sugar, but I'm sure brown sugar would work if you've decided to make a cake and suddenly discover you only have brown sugar (based on a true story). There is a LOT of sugar in this recipe, proving that gluten free and vegan diets are not always healthy. 
Cocoa Powder
I know some people are super fussy about their cocoa powder, but I just grab whatever I find at the grocery store. I usually use Hershey's with good results, but I'll often just buy the store brand. If you have a favorite, use that.
Baking Soda
Not baking powder. Just plain old in a box baking soda. 
Salt
This one is important. You're not adding butter, so you lose some of the flavor, the salt is needed to make it up. Once you measure it out, it seems like a lot. ½ tsp is way more than you'd think to put in any sweet recipe, but you don't taste it and it really does enhance the flavor.
Water or Cola
Either will work. I often use half water, half cola. I like my cakes really sweet, and the cola adds depth to the flavor. Water is just totally fine though. The first time I made this, I used just water, and it was really good. I was only talked into trying the cola by my 11 year old who loves things like Dr Pepper Cake. (You could also use Dr Pepper)
Vegetable Oil
No butter, right? Just oil. What kind of oil? Any of the yellowish gloopy tasteless oil that you can find. Vegetable, canola, sunflower, or peanut should all work well in this recipe. This recipe magically transforms it into gluten free, vegan chocolate cake.
Vinegar
I think this is to help it rise? I have seen similar recipes for Depression Chocolate Cake that call for lemon juice, but I tried it with lemon juice and the cake was not as good. Don't worry about using vinegar, you do not taste it at all. 
Vanilla
I use McCormick's artificial vanilla extract. If you have a favorite vanilla, go ahead and use that. I have 2 tsp down for the recipe, but if you like more or less vanilla flavor, or your vanilla is stronger, go ahead and adjust. 

The Directions
The directions for this cake couldn't be any easier. Combine the dry ingredients in a bowl, pour the wet ingredients in and mix it until smooth. If you want to get fancy, you can put all the wet ingredients in a large measuring cup first and pour them all in together. Totally not necessary, but some people like to do this. Pour into a 9" baking pan or a bundt pan and bake at 350F for 30 minutes or until a toothpick comes out clean. Remove from the oven and let cool completely before serving. And then applaud yourself, you have just made a gluten free, vegan, chocolate cake that tastes like a real cake. You are amazing. 

Yield: 1 Cake
Gluten Free, Vegan Chocolate Cake - Dairy Free, Egg Free
Hey Friends! Get ready to amaze yourself! This is a gluten free, vegan, egg free, dairy free cake that tastes like the real thing! It's an adaptation of the Depression Era Chocolate Cake recipe.
Ingredients
1 ½ cup King Arthur Measure for Measure Gluten Free Flour or similar cup for cup gf flour
1 cup sugar
¼ cup cocoa powder
1 tsp baking soda
½ tsp salt
1 cup water (or ½ cup water and ½ cup cola)
6 tablespoons vegetable oil
1 tablespoon vinegar
2 teaspoons vanilla extract
Instructions
Preheat oven to 350F.
In a mixing bowl, combine flour, sugar, cocoa powder, sugar, and salt.
Add in water (or cola), oil, vinegar, and vanilla extract.
Stir until smooth.
Pour into an 8" baking pan lined with parchment paper or sprayed with Pam Spray (some non-stick sprays contain flour, check ingredients!)
Bake at 350F for 30 minutes or until a toothpick comes out clean.
Let cool completely before serving.
Nutrition Information
Yield
6 slices
Serving Size
1
Amount Per Serving
Calories

419
Total Fat

14g
Saturated Fat

1g
Trans Fat

0g
Unsaturated Fat

12g
Cholesterol

0mg
Sodium

406mg
Carbohydrates

67g
Fiber

2g
Sugar

34g
Protein

5g