Chocolate Marshmallow Bars were cool before anyone knew they were gluten free! This tasty favorite is made with ingredients you already love.
One of the best things about these gluten free chocolate marshmallow bars, is they were a crowd favorite before anyone knew they were gluten free. All the ingredients are naturally gluten free, and if you live in North America, the ingredients are cheap and easy to find. 
In fact, if you live in some parts of North America, you might find the bars ready-made in truck stops and diners! (Or or grandma's house, or coffee-hour at church, or Christmas dinner.)
Chocolate Marshmallow Bars are super easy to make. They would make a fantastic "first recipe" for a budding chef. You don't have to bake them, and you can make them on the stove or in the microwave. They only take a few minutes to make, and I'm pretty sure you can't mess them up. 
A note, they melt if they get too hot. Not quickly, but they're not a hot-weather food. Don't bring them to an outside party on July 4th in Jackson, Mississippi. They'll be fine in an airconditioned kitchen. (Where you can serve them so you don't have to go outside on July 4th in Jackson, Mississippi.)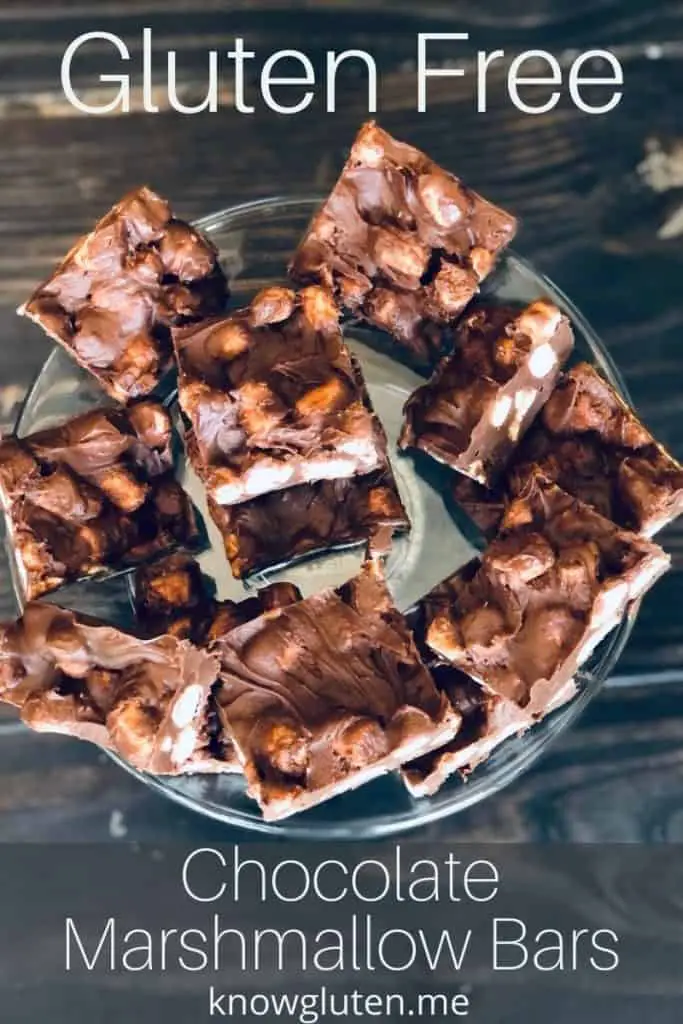 Ingredients
Peanut Butter
I use regular old store brand smooth peanut butter. Peanut Butter is naturally gluten free, so it's a perfect base for this recipe. To make sure your peanut butter stays gluten free if you share a kitchen with gluten eaters, have two jars of peanut butter. Write "gluten free" on the lid of one and only use it on gluten free products. I even keep mine in a separate cupboard so there's never any mixup.
Chocolate Chips
I just use the Tollhouse chocolate chips in the big yellow bag, but any chocolate chips will do. If you're dairy free, there are a surprising number of dairy free chocolate chips on the market. Enjoy Life is the old favorite, but even Walmart has a dairy free Great Value chocolate chip variety. (They actually have three! Milk, Dark, and White Chocolate, free of all 8 major allergens.)
Butter
Butter is amazing in this recipe, but remember to use butter that isn't full of gluten toast crumbs. I open a fresh stick if I'm using butter to cook. If you're dairy free, margarine is also great here. (And a little cheaper.) I use Country Crock margarine in the big brown plastic container if I'm doing vegan or dairy free cooking or baking.
Mini Marshmallows
I have heard rumors that some marshmallows contain gluten, but I have never, ever, seen plain marshmallows that do. I usually grab the Kraft brand. because of the heat and humidity of Southeast Louisiana, but marshmallows are often half melted and stuck together in the store. The Kraft Jet Puffed Marshmallows tend to be less squishy for some reason. Go ahead and buy your favorite brand. 
I've tried these with the vegan marshmallows from Trader Joe's, and they work well too!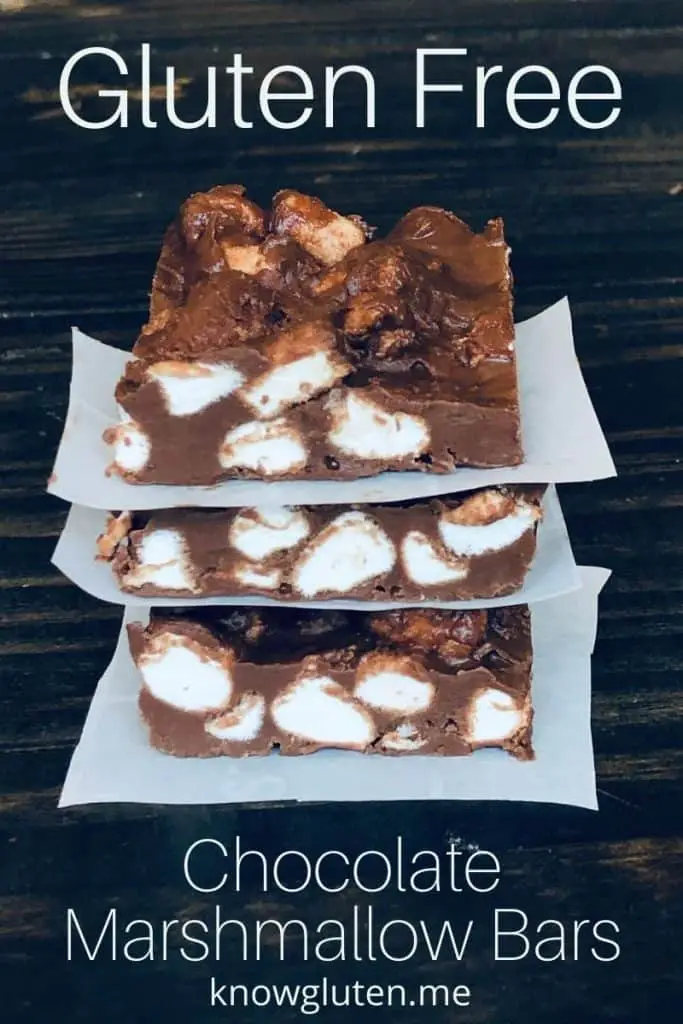 Gluten Free Chocolate Marshmallow Bars - No Bake!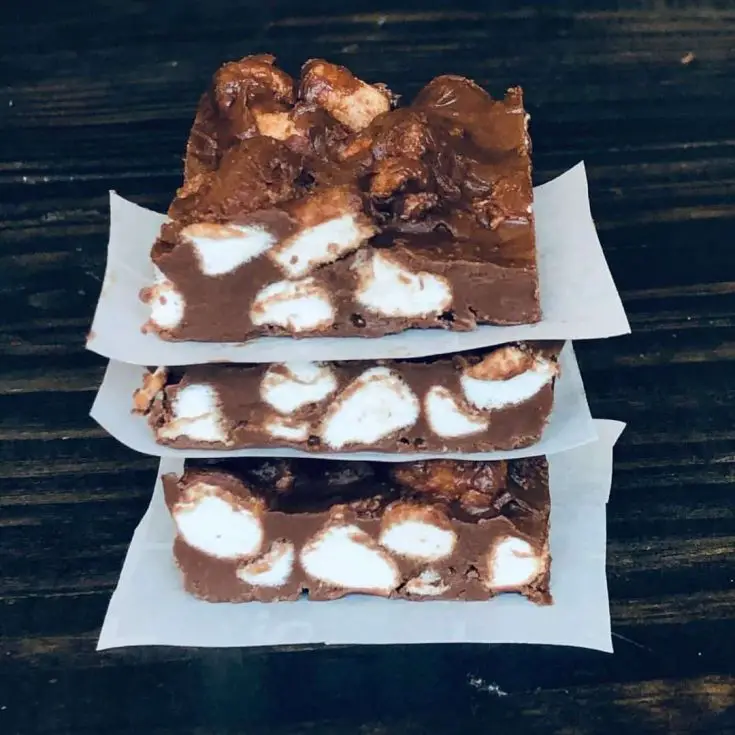 Chocolate Marshmallow Bars were cool before anyone knew they were gluten free! This tasty favorite is made with ingredients you already love.
Additional Time
30 minutes
Ingredients
2 cups Peanut Butter
2 cups Chocolate Chips
1/4 cup Butter
1 10 oz bag Mini Marshmallows
Instructions
Place peanut butter, chocolate chips and butter in a large saucepan.
Melt over medium low heat, stirring constantly, until the mixture is completely free of lumps.
Remove from heat and stir in marshmallows.
Pour mixture into a parchment lined 9x13 baking dish.
Chill in the fridge until firm.