These chocolate chip cookies are gluten free and vegan and taste like regular homemade cookies!! I know! I can hardly believe it either! But they are a huge hit with my gluten eating omnivores. And they all say not only are these cookies fantastic, but that you can't tell that they're gluten free and vegan. I even had a hard time rescuing enough cookies to take pictures for this post.
Good gluten free homemade cookies were my  entire 2003 vision board. When I first went gluten free (almost 20 years ago!), I was sure I would never eat a normal cookie again. A lot has changed in the gluten free world since then, and you can get some really fantastic gluten free baked goods! This chocolate chip cookie recipe takes it up a notch by being vegan, that means these cookies are safe for dairy free and egg free diets as well.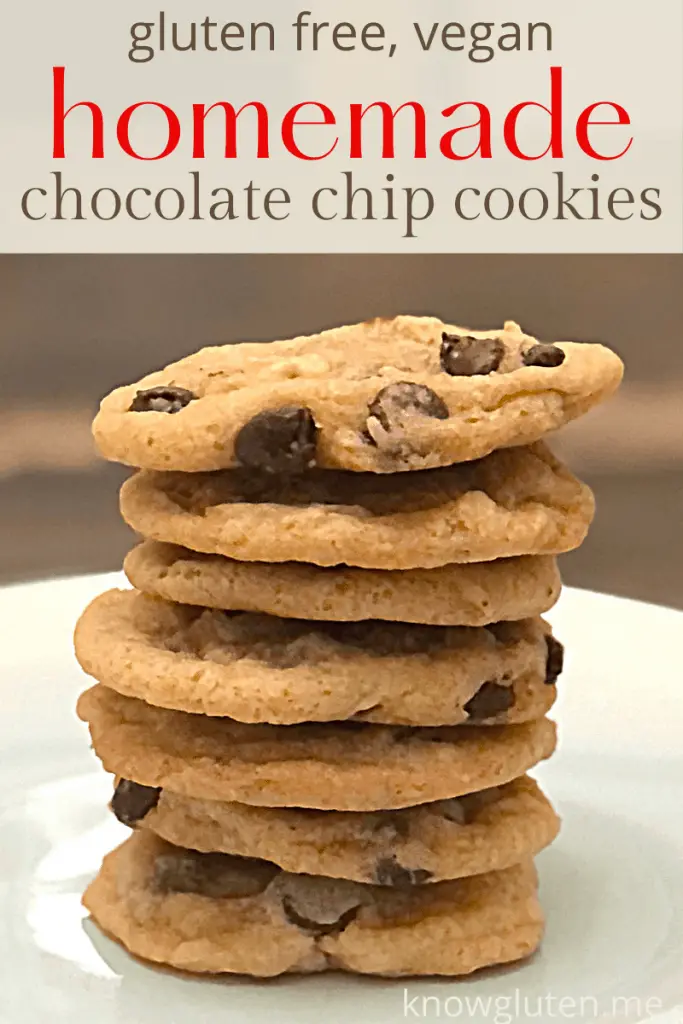 Baking Notes
You can bake these cookies right away, but the dough will keep in the fridge in an airtight container for about a week, so you can bake up a fresh batch every time you want a few cookies. 
Like many gluten free baked goods, let the cookies cool completely before serving for the best texture. 
The cookies will spread while baking, so space them about 2 inches apart.
As usual, I'm going to explain the ingredients below, only this time, I'm going to be really uncharacteristically fussy about some of them. These cookies are absolutely loaded with unhealthy ingredients. That's why they're so good. Substituting ingredients to make them lower fat or lower calorie might get you a similar taste (I'm not sure), but they won't get the same crispy, chewy, buttery, amazing texture as a "real" homemade cookie. 
Really fantastic calorie-free cookies are on my 2021 vision board.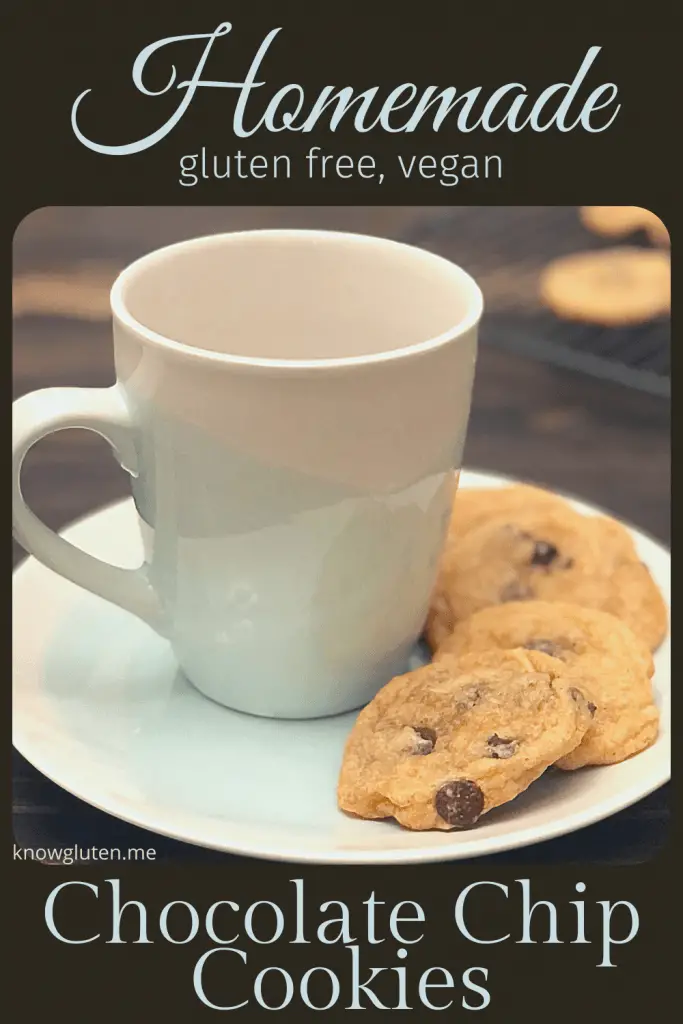 The Ingredients
King Arthur Measure for Measure Flour
You can really use any "cup for cup" or "one to one" flour for this recipe, but I find I have the best results with King Arthur. I find it doesn't have the gritty texture or gluten free aftertaste that some of the other gluten free flours have. Plus, it's relatively cheap and easy to find at the big box stores in the USA (where I live right now and most of my readers are) and you can get it on Amazon. 
Vegetable Shortening
I use Crisco shortening. Just the stuff in the blue can. You can probably try the butter flavored Crisco with similar results, just a butterier taste (that might be really good!). You don't want to substitute for something other than shortening here, the shortening is a low moisture fat and subbing it out for something healthier will affect the texture of the cookies.
Margarine
If you are vegan or dairy free, use something like Country Crock Spread or Earth Balance. You're looking for margarine in a plastic container, not "plant butter" sticks in a box. Again, the moisture level of the margarine helps with the texture of the cookies. 
White Sugar
This is just regular old granulated white sugar. There is a lot of sugar in this recipe. I find it helps make the cookies chewy.
Brown Sugar
I'm not sure why most chocolate chip cookie recipes have both white and brown sugar. When I was making this recipe, I did notice a big difference in the cookies when I added brown sugar to the recipe. 
Baking Powder
This helps the cookies puff up a teeny bit. Don't worry, they won't be cakey or soft. Without the baking powder they're too hard and crunchy, not crispy and chewy. 
Soy Milk
Or any non-dairy milk. I personally used unsweetened soy milk because that's what I had on hand, but sweetened would be fine, and another dairy free milk would work as well. There is very little, and again, it doesn't make the cookies soft and cakey at all. It just keeps them from being too hard. 
Vanilla Extract
I use artificial vanilla extract because it has the most "traditional" taste for homemade chocolate chip cookies, but you can use whatever you have on hand. 
Salt
Just a teensy bit of salt will add a lot of flavor to this recipe. Really, you just need a pinch
Dairy Free Chocolate Chips
I use dairy free chocolate chips in this recipe, but if you're not vegan or dairy free, you can go ahead and use your favorite. Enjoy Life, Tollhouse, and some big box stores sell allergy safe chocolate chips. I use Trader Joe's chocolate chips in the bag with the red label. They're dairy free, and less expensive than the other brands, but they have a "may contain" notice so they're probably not good for a severe dairy allergy.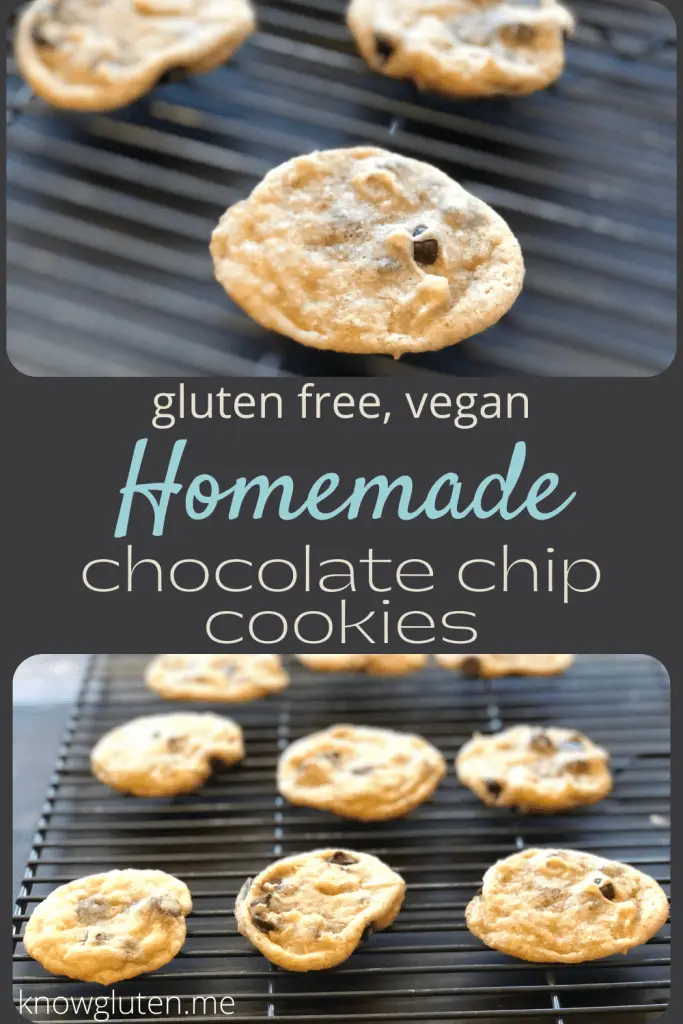 Yield: 24
Gluten Free, Vegan Homemade Chocolate Chip Cookies
A gluten free, vegan chocolate chip cookie that tastes like a regular homemade chocolate chip cookie!
Ingredients
½ cup vegetable shortening
½ cup margarine spread
½ cup white sugar
½ cup brown sugar
1 tbsp vanilla extract
1 ½ cup King Arthur Measure for Measure Gluten Free Flour
pinch salt
1 ½ tsp baking powder
3 tbsp unsweetened soy milk
1 cup dairy free chocolate chips
Instructions
Preheat oven to 350F
In a large bowl, cream together the shortening, margarine, white sugar, and brown sugar, and vanilla. (An electric mixer works best)
Pour flour, baking powder, and salt over top of the shortening mixture and mix well until completely combined.
Mix in Soy Milk.
Stir in chocolate chips.
Spoon dough by tablespoon sized mounds two inches apart onto a parchment lined cookie sheet.
Bake for 10-12 minutes. 
Let cool completely before serving for the best texture.
Dough will keep for about a week in an airtight container in the fridge.