When my twitter friend Elizabeth from SunButter offered to send me some coupons for free jars of Sun Butter, I was really excited! I've never tried SunButter, but I was hoping that I could use it as a peanut free substitute when baking cookies for my eldest daughter.
SunButter is made from sunflower seeds and looks a lot like a pale peanut butter. I had a few ideas of how to use it as a replacement for peanut butter in few of the recipes on this blog, but since I'd never tried it, I decided to eat a spoonful before I put it into a recipe.
Like Summer Camp In a Jar
I know the name and ingredient list should have given me a clue, but no joke, SunButter tastes like freshly roasted sunflower seeds. It's like summer camp in a jar. My kids tried it, and their verdict "it tastes like trail mix."
I agreed, and I set out to make Trail Mix SunButter Cookies. I was amazingly impressed that SunButter held its fresh flavor after baking and with the chewy texture it gave the cookies.
The taste is great with chocolate, but it would be equally good with raisins and you could use raisins to replace some or all of the chocolate in these cookies. Try replacing the chocolate chips with 1/2 cup of raisins and adding 1/4 tsp cinnamon for a N'Oatmeal cookie.
I have some more SunButter, so look forward to more great recipes! You can learn more about peanut free, gluten free SunButter HERE.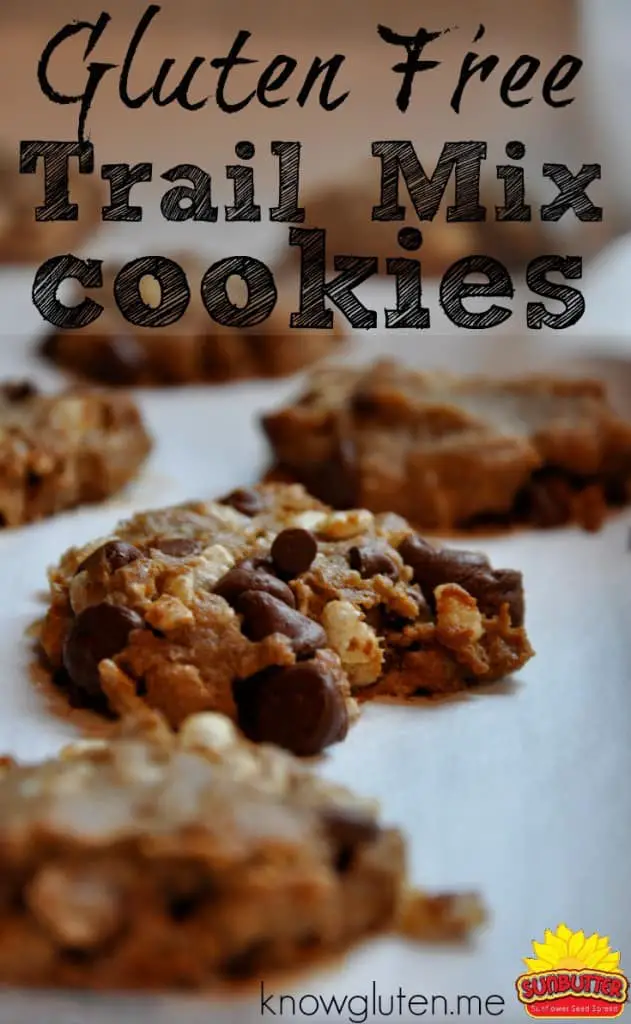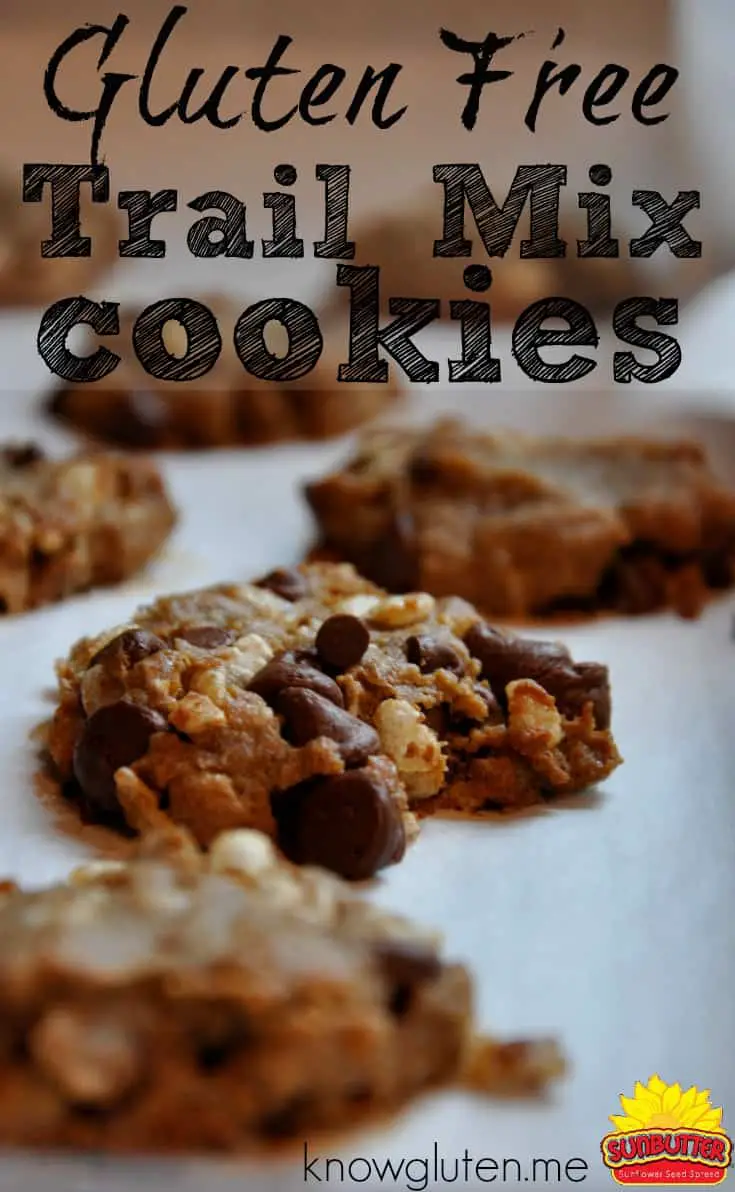 Ingredients
SunButter
SunButter is the base of this cookie. It replaces all the flour in it! How does it taste? Like it's made of sunflower seeds. It surprised me at first because it looks so much like peanut butter, but doesn't taste anything like it! It really is good. Very fresh tasting, and the taste comes through in the cookies.
Egg
The egg holds these cookies together. You just need one. 
Brown Sugar and White Granulated Sugar
I use both brown sugar and white sugar in this recipe. It probably won't affect the taste of texture very much if you don't have brown sugar and just replace it with white sugar. (Or replace the white sugar with brown sugar)
Vanilla
I use artificial vanilla extract. Usually McCormick's, but sometimes Big Chief, depending on where I shop. Big Chief is way cheaper than McCormick's at my small local grocery store. 
Mini Chocolate Chips
You could also use the little baking MM's. I used mini chocolate chips because I felt they were more "trail mixy". You can use regular chocolate chips if you like 
Gluten Free Crisp Rice Cereal
This is a tricky one. Many brands of Crisp Rice cereal are flavored with malt which has gluten. Look for brands that specifically say "gluten free" on the label. MOM brand in the big blue bag is gluten free and so is Cocoa Pebbles.
Want more info on malt? Check out my article on Other Names for Gluten.
Trail Mix SunButter Cookies - Gluten Free, Peanut Free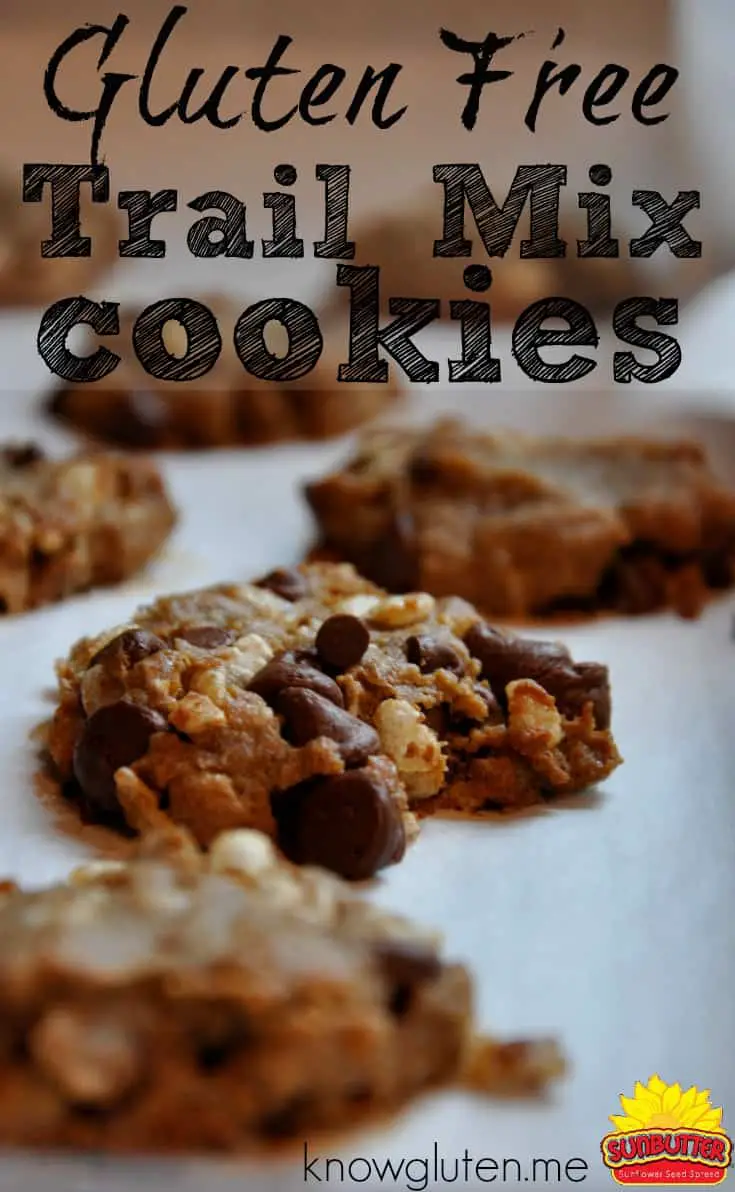 These gluten free SunButter cookies taste like trail mix! With sunflower seeds, chocolate, and crisp rice cereal, you can have summer all year.
Ingredients
1 cup SunButter
1 Egg
1/2 cup Brown Sugar
1/2 cup Granulated White Sugar
2 tsp Vanilla
1/2-2/3 cup Mini Chocolate Chips
1 cup Gluten Free Crisp Rice Cereal
Instructions
Cream together Sun Butter, egg, sugars, and vanilla with an electric mixer until they form a stiff dough.
Stir in chocolate chips and crisp rice cereal.
Form into balls about 2 tablespoons big, place on a parchment lined baking sheet and gently flatten.
Bake at 350F for 10-12 minutes until edges start to brown.
Remove from oven and let cool completely before removing from cookie sheet. (I find the cookies are mushy when warm, texture dramatically improves after cooling)
Notes
Make sure you're buying gluten free crisp rice cereal. Many brands contain malt which is not gluten free. MOM brand in the blue bag is gluten free, and so are Cocoa Pebbles. Look for "gluten free" on the label.