This Curry Carrot and Lentil Soup recipe is probably the recipe I share the most with my friends. You know, the recipe you have memorized because it's so simple and the one you make all the time because most of your family really likes it? This one. I have scribbled this on more index cards and typed it out in more text messages than I can count. I have a similar recipe on the blog, but I wrote it many years ago when I lived in Thailand and the ingredients I was able to get there are not quite the same as the ones I find in North American grocery stores. Over the years I've also simplified it a little bit. I'm finally adding the updated recipe to the blog.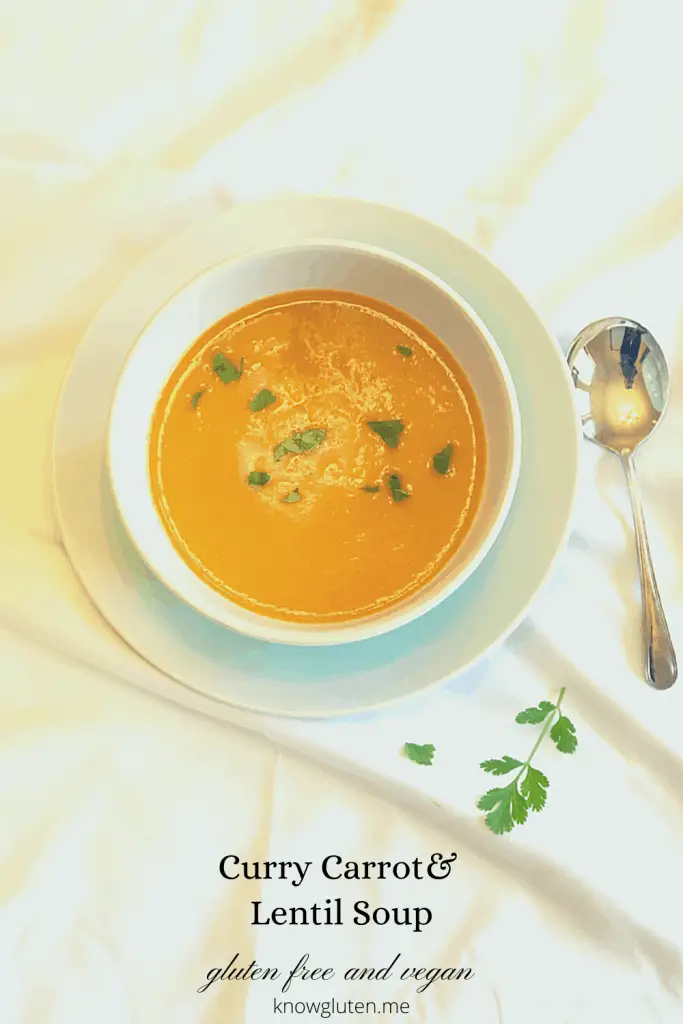 Curry Lentil Soup is the perfect recipe if you're hungry now. Or if you have unexpected company drop by and you need to feed them lunch. It takes maybe half an hour from start to finish. I often serve mine over rice for the bigger appetites, and if you start the rice right before you start peeling the carrots, it will all be ready at the same time. To make it extra special, chop some fresh herbs and sprinkle them over top. I usually use cilantro, but I also love this soup with fresh dill or mint. (We have a little herb garden, so I can just pop out my back door and grab some.)

If you're making this soup to eat now, you need an immersion blender. With an immersion blender, you can blend the soup hot in the pot. For most pitcher blenders, you need to cool the soup a little bit so you don't have curry lentil flying all over the place when you turn it on. If you don't have an immersion blender, but you plan on adding more healthy soups to your diet, I highly recommend getting one. Mine is a Kitchen Aid brand and it was about $40.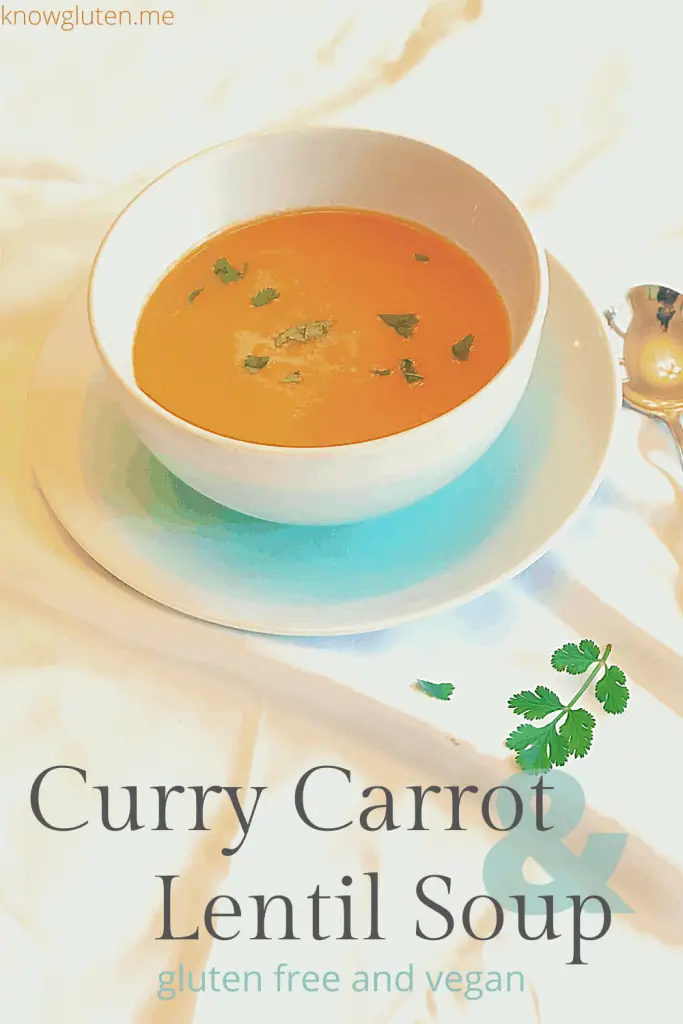 This post contains affiliate links for brands I hope you enjoy. This means that If you purchase a product I recommend through a link on my site, I earn a commission.
The Ingredients
Curry Powder
I'm sortof fussy about my curry powder (we use a lot!!) and I get Deep brand from the international store, but any yellow curry powder will do. Curry powder is a ready made mix of different spices including cumin, coriander, fenugreek, and turmeric and every brand is just a teensy bit different, but not different enough to affect the taste of the soup. If you can find Deep brand, grab it, but don't go too far out of your way for it, and don't spend more than you would for grocery store curry powder (we pay about $6 for a big bag, not the $20 it sells for on some websites). 
Minced Garlic in a Jar
You'll find minced garlic in the produce section. It's not dried, it's fresh minced garlic in a liquid (garlic juice? water?  It's definitely something great to have on hand if you do a lot of your own cooking. We buy the really big jar and go through it in a few weeks. If you only have garlic powder on hand, you can use about ⅓ or  ¼ the amount of the stuff in the jar. If you prefer fresh, use about 3 cloves, peeled and chopped.
Ginger Paste
Thankfully you can find this in the produce section of most larger grocery stores. I buy one ginger paste in a jar, but I've also seen it in a tube. If you can't find the paste, 2 tsp dried ginger should work. If you have fresh, use about 1 tbsp peeled and grated or chopped.
Onion
Use half of a regular sized yellow onion and dice it. The smaller the pieces, the faster it will cook. This is about half a cup of diced onion, and I included that in the ingredients below in case you get lazy like me and occasionally buy pre-chopped or frozen onions. 
Carrots
You'll need two medium carrots, and the same goes here as for the onions: slice them very thin so they cook quickly. This will be about a cup of sliced carrots give or take. I included that in the ingredients below because your definition of a medium carrot might be very different from mine. (and you can probably buy pre-chopped carrots somewhere, maybe frozen?)
Red Lentils
These are the thin little orange lentils. Depending on where you live, these might be a little harder to come by. In most of the towns I've lived I've had no problem finding them in a regular grocery store. Here, they're not readily available at the big box stores, but I can find them at a smaller local chain, Trader Joe's, or the international store. 
Love Brown Lentils too? You can make these tasty creamy lentils in a pressure cooker.
Vegetable Broth
This recipe calls for 4 cups. That's about the amount in one of those boxes of broth from the grocery store. You can also use a gluten free, vegan soup stock base like Better Than Bouillon Vegetable. I prefer Better Than Bouillon because I can control the amount of sodium going into my soup, it tastes better than the boxed broth, and it's way cheaper in the long run.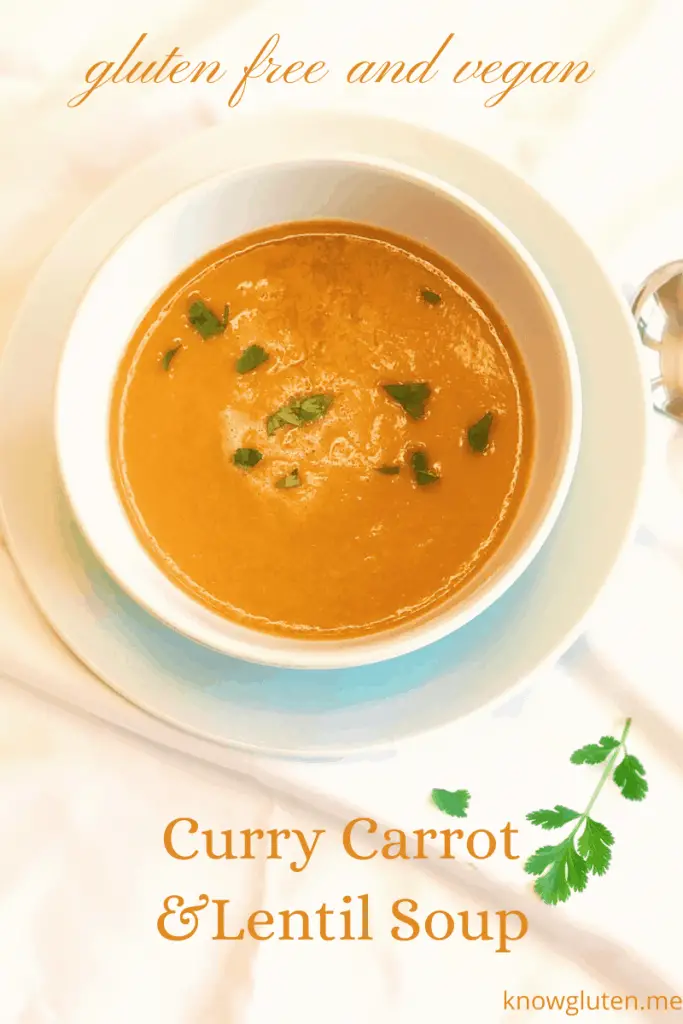 Add the ingredients to your cart on Instacart and have someone else do the shopping. Less time shopping, means more time to cook!
Yield: 4
Curry Carrot and Lentil Soup - gluten free and vegan
This soup cooks up so quickly! The warm spicy flavors make it perfect for lunch on a cold winter's day. It's gluten free, dairy free, and vegan.
Additional Time
2 minutes
Ingredients
1 tbsp curry powder
1 tbsp minced garlic in a jar (or 1 tsp garlic powder)
1 tbsp ginger paste (or 1 tsp powdered ginger)
½ medium onion, diced (about ½ cup of diced onion)
2 carrots, peeled and sliced thin (about 1 cup of sliced carrot)
⅔ cup red lentils, rinsed
4 cups vegetable broth OR 4 cups water and 1 tbsp Better than Bouillon Vegetable Base
Instructions
In a saucepan, combine curry powder, minced garlic, and ginger paste and heat over medium heat, stirring gently until the smell starts to rise.
Stir in onions and carrots until coated with curry mix.
Stir in lentils.
Pour in vegetable broth.
Bring to a boil, then reduce heat to a simmer.
Cover, let simmer until vegetables are soft, about 10 minutes.
Removed from heat, let cool slightly, then blend with an immersion blender until smooth.
If you're using a pitcher style blender, let the soup cool completely before blending.