I love mincemeat pie. Like love love. It's one of those great UK dessert dishes that makes use of a whole bunch of random dried fruits and makes them taste amazing. (If you love this type of recipe, or you just love dried fruit and you also love chocolate, try my gluten free, vegan version of tiffin, another traditional dessert from the UK)
You can see the original mincemeat pie recipe being developed by some resourceful cook who just found out she's having company. Let's see, what do we have here, apples, dried fruit, sugar, and what the heck, let's throw in some booze. Now we'll put it in little pie crusts. The original recipe had beef. The store bought versions I've seen have beef suet. I really wanted a vegan version for this Christmas, so I made one.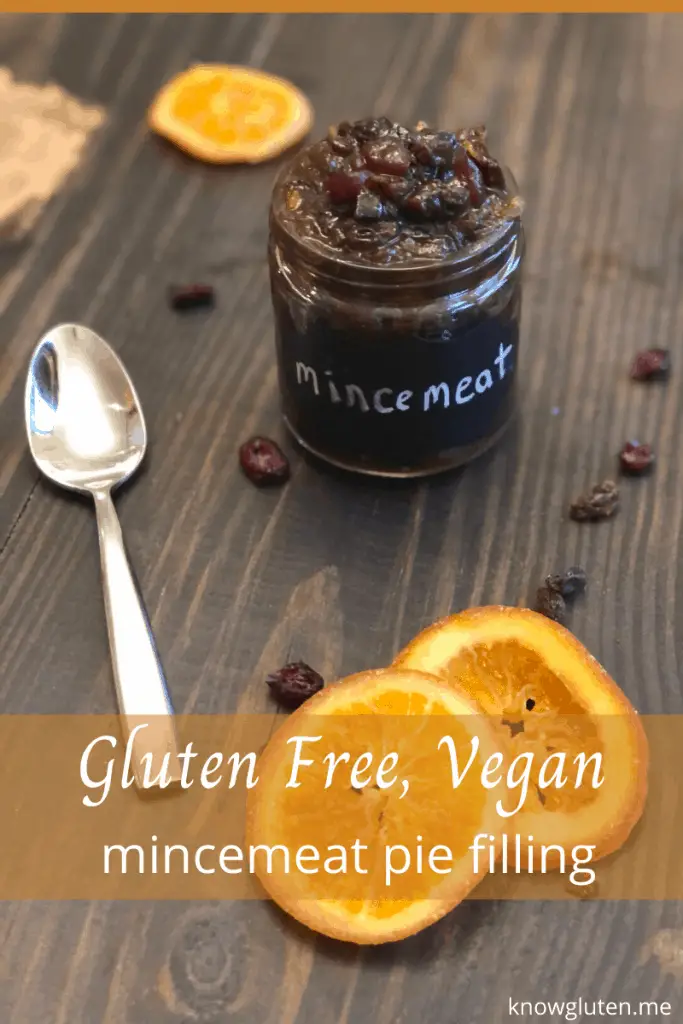 Serving Suggestions
How do you eat mincemeat pie filling? Growing up we always ate it in mini-pie shells (tart shells), and we'd buy ready made tarts from a local bakery. But, I'm lazy with no local bakery that sells mincemeat pies (let alone gluten free, vegan mincemeat pies), so this Christmas I made little flat "pies" by putting the mincemeat pie filling  on gluten free, vegan sugar cookies or Mi-Dell ginger snaps. I've also had it on ice cream, and it would be so great on a gluten free, dairy free frozen dessert (like that snicker doodle flavored one at my grocery store!). One of these days, I'll make up some pie crust and make them properly. 
The pie filling tastes so much better if you let it sit for at least an hour after cooking, and even better if you let it sit overnight in the fridge. Serve at room temperature or warm for the best taste. It will keep in the fridge in an airtight container for about 3 weeks, and you can freeze it for a few months.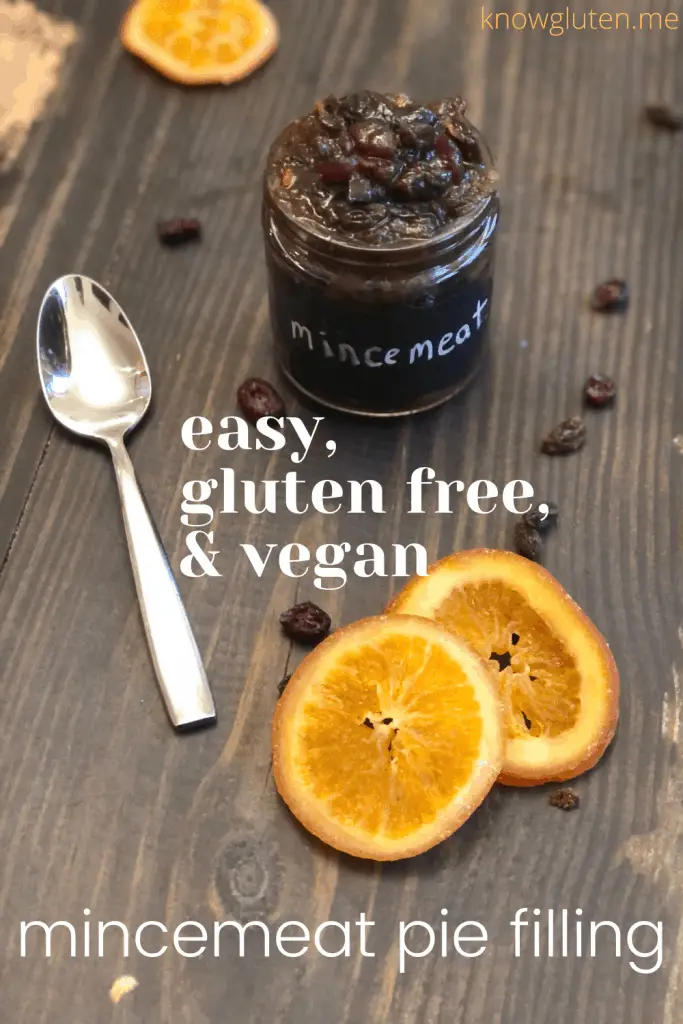 The Ingredients
Rum, Brandy, or Apple Juice
You can use any of these. I used a dark rum when I made mine, but I bet a flavored brandy, like apple or vanilla would be really good too. If you avoid alcohol even in cooking, you can use apple juice. 
Dried Figs
Really, mincemeat pie filling is one of those great desserts that's great for using up odds and ends. I really love the flavor and texture of dried figs, and for this recipe I just use the store brand version in the foil bag. Dice them very small to about the size of raisins.
Raisins
Because you're going to be cooking this in rum or juice, this is a great recipe to use up those raisins that have gotten a little too dry. They plump up really nicely.
Sweetened Dried Cranberries
Craisins, or the store brand of sweetened dried cranberries. The traditional mincemeat pie filling doesn't have cranberries, but they're easier to find in the US than currents. They add a little bit of tang, but they don't interfere with the traditional flavor. 
Apples
Some traditional recipes name a particular apple variety, but you can use any type of apple. I choose ones that are tangy and softer like Macintoshes or Ambrosias, but really, there are so many other flavors going on here, that you don't need to stress about the type of apple. 
Marmalade
This one is going to get me in trouble with the purists. The traditional recipe has candied orange peel. Candied orange peel is very easy to find in some areas, but it's not a staple in my area, not even at Christmas. I can get candied orange slices at Trader Joe's, but it's in the next city, and I wanted a quick and easy solution for when I wanted to make mincemeat pie filling without the 40 minute drive. Marmalade is full of citrus peel and sugar so it seemed like the perfect alternative. Honestly, I was so pleased with how well it worked. In the mincemeat pie filling, you can't tell the difference.
Brown Sugar
If you don't have brown sugar, white sugar would work just fine in this recipe, it might just make it a little bit sweeter. (Or you could use a little less)
Pumpkin Pie Spice
The traditional recipe calls for a mixture of spices that are all in a store bought pumpkin pie spice, so I saved some time and just used the ready made spice mix.
Margarine or Plant Butter
This recipe really does taste better with the addition of the margarine, and there isn't a lot. The traditional recipe calls for lard, and a lot of it, but this vegan version uses a dairy free margarine. You can use your favorite margarine or plant butter. 
MORE Rum, Brandy, or Juice
Yup, a little bit more booze. Trust me though, once the mincemeat pie filling has sat for a couple of hours, the flavor mellows and you don't taste alcohol, and the rum or brandy isn't overpowering.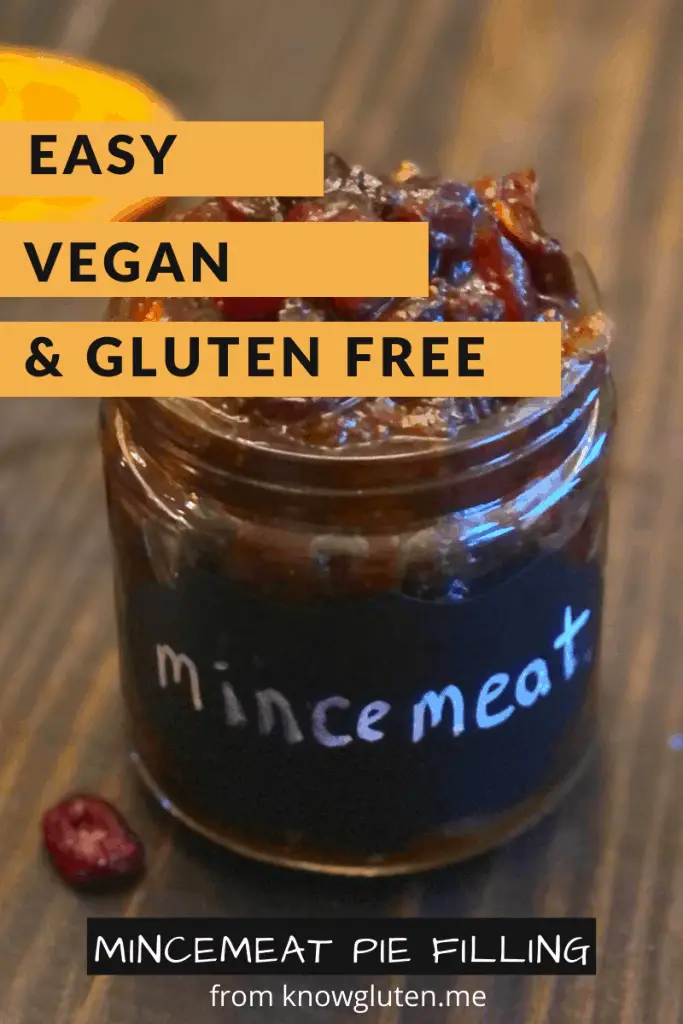 Easy Gluten Free & Vegan Mincemeat Pie Filling
Gluten free, vegan and oh so easy - with a traditional mincemeat pie filling taste. You can't tell that this recipe takes shortcuts!
Total Time
1 hour
40 minutes
Ingredients
½ cup rum, brandy, or apple juice for cooking
½ cup dried figs chopped
1 tsp pumpkin spice
1 cup raisins
½ cup sweetened dried cranberries
2 apples, peeled, cored, and diced
½ cup brown sugar
½ cup marmalade
1 tbsp plant butter or margarine
½ cup rum, brandy, or apple juice to add after cooking.
Instructions
Add all ingredients except the last ½ cup of rum to a medium saucepan. 
Simmer over medium heat, stirring frequently for about 30 minutes while fruit softens
Remove from heat and stir in the last ½ cup of rum.
Let cool at least an hour (the longer it sits the better it tastes, if you can wait, let it cool completely and let it rest in the fridge in an airtight container at least overnight before serving)
Mincemeat pie filling will keep in the fridge about 2 weeks in an airtight container or in the freezer for a couple of months. Serve at room temperature or warm in cooked gluten free, vegan mini pie shells or on gluten free vegan sugar cookies or gluten free vegan ginger snaps.
Nutrition Information
Yield
16
Serving Size
1/4 cup
Amount Per Serving
Calories

172
Total Fat

1g
Saturated Fat

0g
Trans Fat

0g
Unsaturated Fat

0g
Cholesterol

2mg
Sodium

16mg
Carbohydrates

34g
Fiber

2g
Sugar

28g
Protein

1g