Guys!! This polenta is so good!! Like steal-out-of-the-fridge good! Normal polenta is pretty decent all on its own. It's soft and salty and has that little bit of texture from the bigger pieces of grits, but this garlic herb polenta takes it up a notch. It takes it up seven notches.  In addition to being a great base for sauces and stews like regular polenta, this has such a great flavor, it's fantastic all on its own.
How To Serve Polenta
Ok, the dilemma is, you see a polenta recipe. You think, gee that looks like an easy thing to make, and cheap! Wow! But how in the heck do you eat it? If you've never tried something it can be a little bit intimidating. You want to do it right, right? 
Essentially, you use polenta as a base for your favorite saucy flavor. You can use it in place of pasta with your favorite pasta sauce, or as a base for something like these pinto beans. To do this, either scoop it hot right out of the pot into a bowl and top with your sauce, or if you've chosen to let it cool, reheat your rectangles in a frying pan and put it on a plate and spoon your sauce over it. I've also cut it into small squares and poured soup or stew over it, and I've served it as a side with a roast vegetable dish, and polenta is fantastic with chili. It's very versatile. Pretty soon, you won't just be serving it "right", you'll be thinking of your own creative uses for it.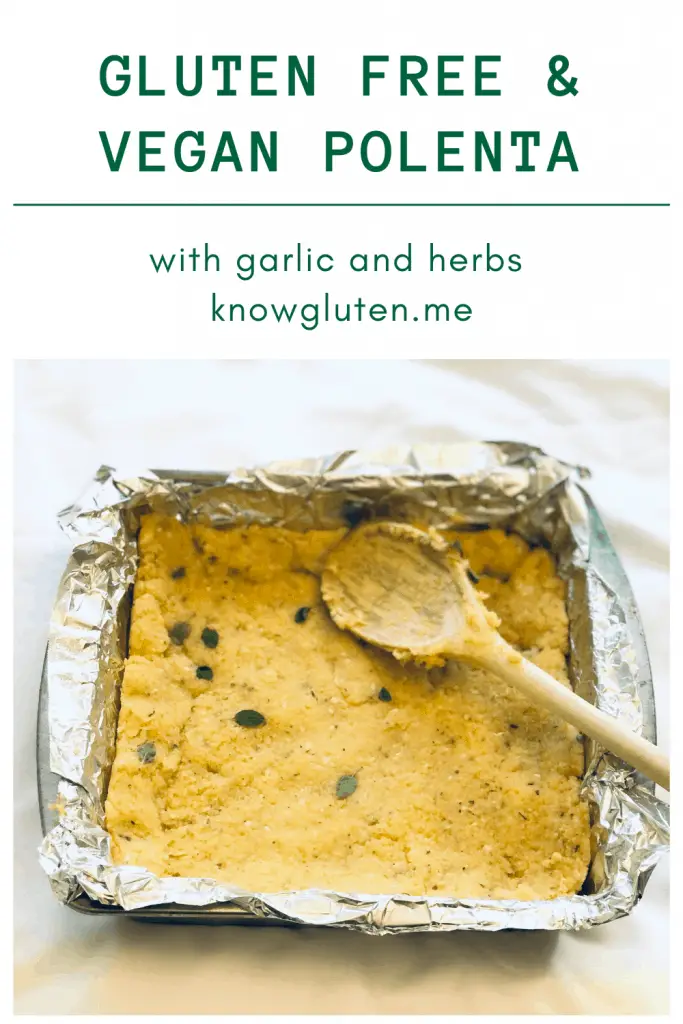 To Cool? Or not to cool? Too Cool Meal Prep
You can eat polenta hot right out of the pot, but it's fantastic for meal prepping if you want to let it cool. Just spoon it evenly into an 8×8" foil lined baking pan. Cover with foil and refrigerate until set, at least an hour. Cut it into rectangles. (I cut it into 8, because I find smaller rectangles are easier to handle and reheat quickly.) It will keep for about 5 days in an airtight container. (I put wax paper between layers if I have to stack them up so they don't stick together)  To reheat, spray a frying pan with no-stick spray and cook for a few minutes on each side over medium heat. The rectangles will be heated through and the polenta will be a little bit crispy. (This is basically what you get when you buy those pre-made tubes of polenta in the grocery store). You can also top it with a little bit of pasta sauce and reheat it in a lightly covered container in the microwave. 
Don't have an 8×8 pan? No problem, just pour it into a round cake pan or a loaf pan. You just want some place for it to set so you can cut it into slices.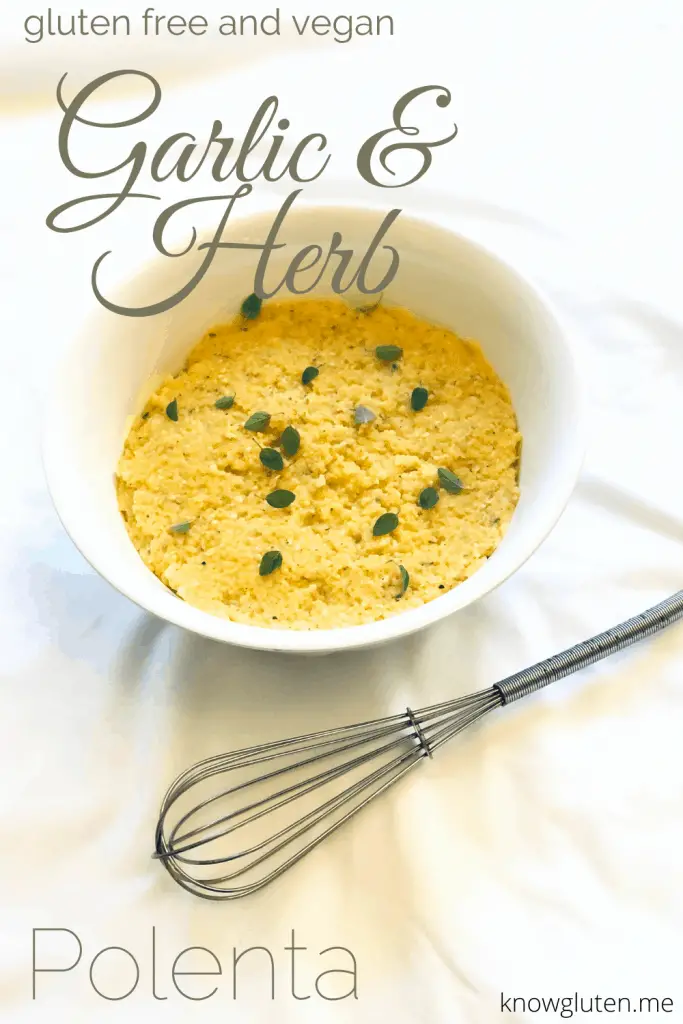 Ingredients
Minced garlic
I use the garlic that comes in the jar in the produce section. I use a lot of it, so I buy the biggest jar. You can substitute a couple of cloves of fresh garlic, just mince them. You can use garlic powder too, just use half a teaspoon instead of half a tablespoon. 
Water
The water to grits ratio is 3:1 in this recipe, so just a small amount of grits makes a really big batch of polenta. If you remember the ratio, you can easily double the recipe. 
Yellow Grits or Cornmeal
Polenta is basically cornmeal cooked with water into a mush. Coarse ground cornmeal or yellow grits are most often used because they provide a little bit of texture, but you can use any cornmeal. I used Bob's Red Mill Yellow Corn Grits because I do prefer a grainier texture, and it's readily available near me and pretty affordable. Don't use Masa flour. 
Better Than Bouillon Vegetable Base or Salt
You can definitely just use salt in this recipe, but the vegetable base, even this teensy amount, adds a lot of flavor. A small jar is about $3.50 here and it makes many many pots of soup. I feel it's really worth buying just to have around to add extra flavor to things. I use it in many recipes and I've started making all my soups with it because it's so much cheaper than pre-made broth. 
Italian Seasoning
This is easy. Just regular old Italian Seasoning that you'll find in the spice section of your grocery store. 
Nutritional Yeast
Nutritional yeast adds a bit of cheesy flavor to the polenta, and a little goes a long way. You can usually find it in big box stores in either the baking section or the "health food" section, but it's way, way cheaper to buy a big bag of it on Amazon or Vitacost. If you're vegan, it's great to have some in your house to add flavor and protein. I mostly use it on popcorn and in pasta dishes.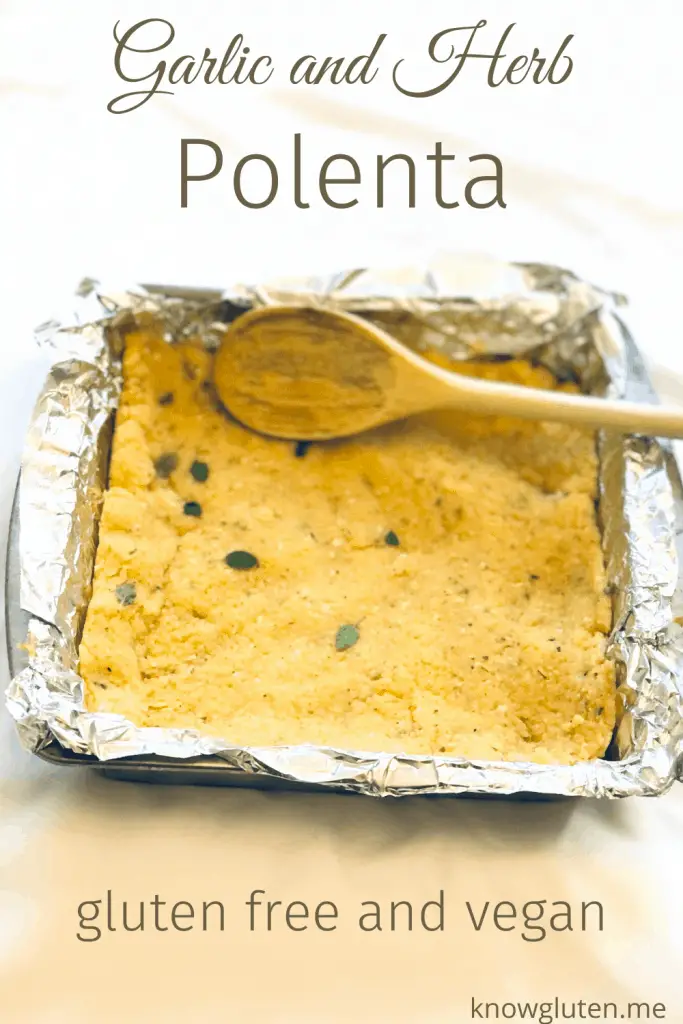 Yield: 4 servings
Garlic Herb Polenta - Gluten Free and Vegan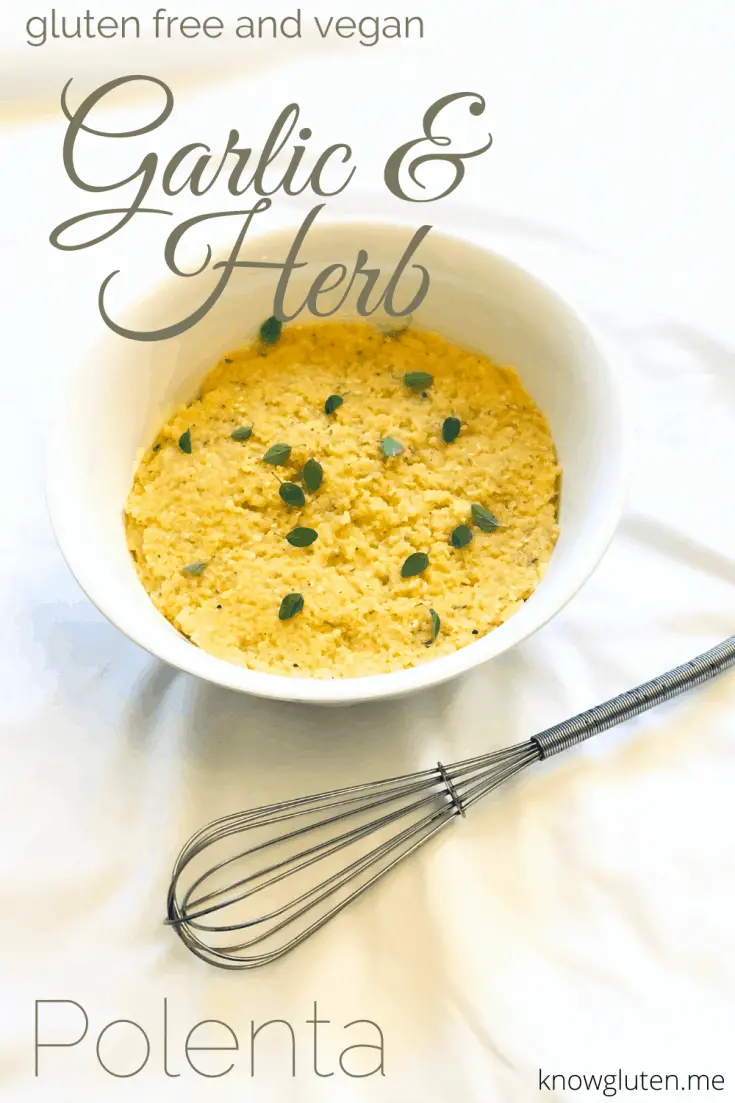 This garlic herb polenta is tasty enough to eat on its own, but you can top it with your favorite pasta sauce or serve it with soups or saucy stews or beans.
Total Time
2 hours
35 minutes
Ingredients
3 cups water
1 cup polenta (yellow grits)
½ tbsp minced garlic or 2 cloves garlic minced
1 tsp better than bouillon vegetable base or salt
1 tbsp italian seasoning
2 tbsp nutritional yeast
Instructions
Spray a medium saucepan with Pam Spray. 
Add garlic and saute over medium heat for 1 minute.
Add water and Better Than Bouillon and bring to a boil. 
Stir in polenta making sure there are no lumps.
Reduce heat to low and cook for 30 minutes stirring occasionally.
Remove from heat and stir in Italian seasoning and nutritional yeast.
Can be eaten immediately.
To make ahead: Pour into a foil lined 8x8 baking pan.
Cover with foil and refrigerate until firm (at least an hour).
Nutrition Information
Yield
4
Serving Size
1
Amount Per Serving
Calories

74
Total Fat

3g
Saturated Fat

2g
Trans Fat

0g
Unsaturated Fat

1g
Cholesterol

7mg
Sodium

618mg
Carbohydrates

9g
Fiber

2g
Sugar

0g
Protein

4g