Corn muffins are standard American fare, and when you go gluten free, you miss them!! Add other food issues like avoiding dairy or eggs, and bam, they seem like they're disappearing in the rear view mirror. These gluten free, vegan corn muffins bring them back into sight. They're egg-free, dairy-free, and use applesauce instead of oil. All while tasting like corn muffins!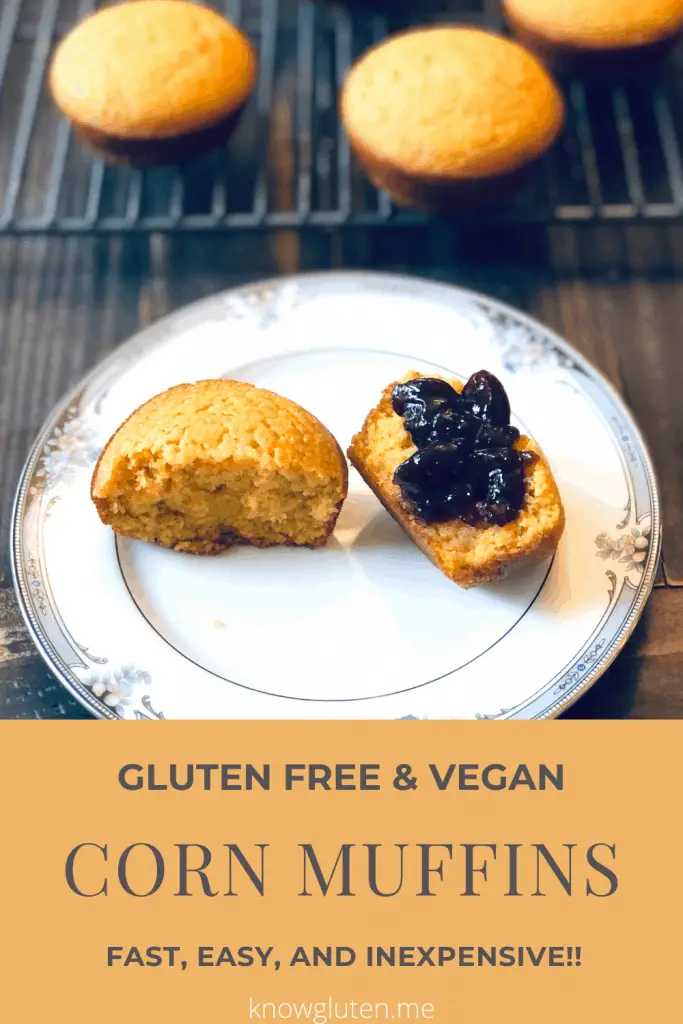 Why I love these gluten free, vegan corn muffins
Corn muffins are easy to whip up, and great for making anything a meal. Just have soup? Make some corn muffins and now you have a company worthy lunch for the ladies. Kids are playing cowboys? Corn muffins and brown beans and bam, you're a hero who's made a theme supper. Need to "bring something" to the BBQ? You get the idea. Easy, versatile, but still look like you put thought and effort into your meal. Make some muffins and give yourself a high five. 
Is Cornmeal gluten free? Yes!! Here's more info on naturally gluten free Corn.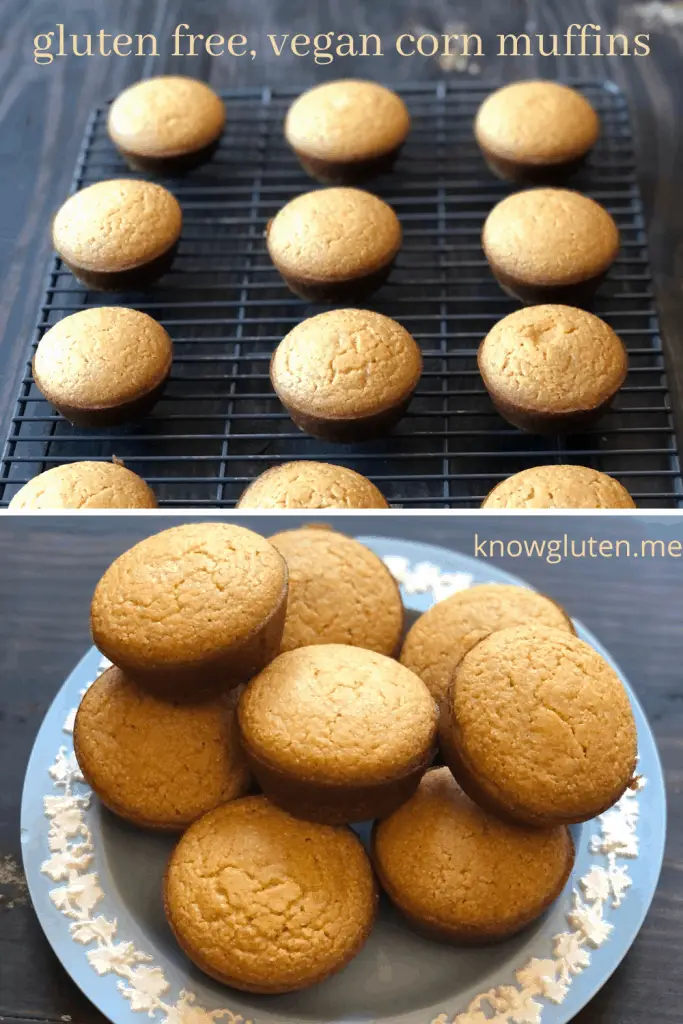 The Ingredients
Cornmeal
This isn't anything fancy. You can usually pick up a big bag of cornmeal for maybe three or four dollars. Just get regular old cornmeal. Make sure you avoid anything that says "mix" or "self rising", these mixes often add wheat flour which contains gluten. Read the ingredients and avoid wheat flour or enriched white flour. (Not sure what ingredients contain gluten? I have a handy list to help you!! Click HERE to see it!)
Chickpea Flour
I'm pretty frugal, so I go to an International Store for my chickpea flour. I can get a five pound bag for the same price as the tiny bag at my local grocery store. Check around your area for an Indian or International grocer. Chances are you have one either in your own town or in a larger neighboring city. (I have to drive from our small town about 15 minutes to the mid-sized city next door. There are several stores there that sell chickpea flour, I go to the closest one). 
Baking Soda
Just regular old in the orange box baking soda. You don't need a lot. 
Sugar
The sugar is optional, but I would recommend it. Most people expect their corn muffins to be a little bit sweet. If you are one of those people who really doesn't like any sweetness in your corn muffins (and those people do exist!) you can leave it out or reduce it. There isn't enough sugar to make it taste like a cupcake or anything, this is just a hint. 
Apple Sauce
Honestly, I'm an oil girl and you'll very rarely see an applesauce substitution for oil on this blog. But the applesauce is really good in these muffins! It adds moisture and flavor and the calories and fat are reduced as a happy side effect. 
Is applesauce gluten free? Absolutely. And here is a big list of other Gluten Free Foods you can eat.

Soy Milk
I haven't tried this recipe with any other liquid, but I'm pretty sure any non-dairy milk will work if you're avoiding soy. I use unsweetened soy milk, but sweetened would be good too, it would make the corn muffins even sweeter.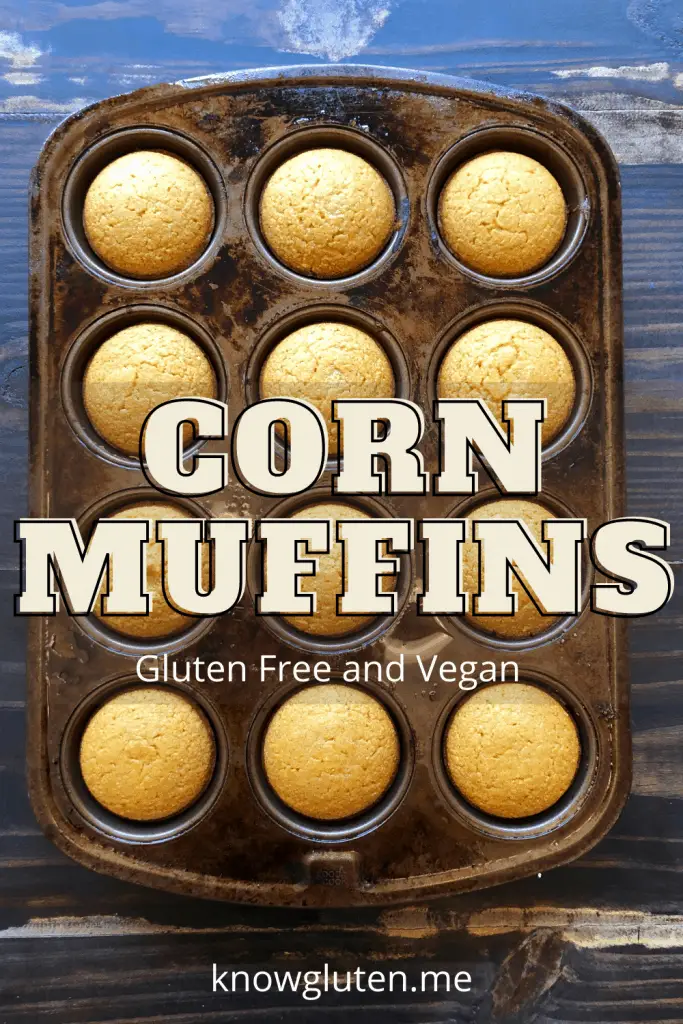 Yield: 12 muffins
Easy Tasty Corn Muffins - Gluten Free and Vegan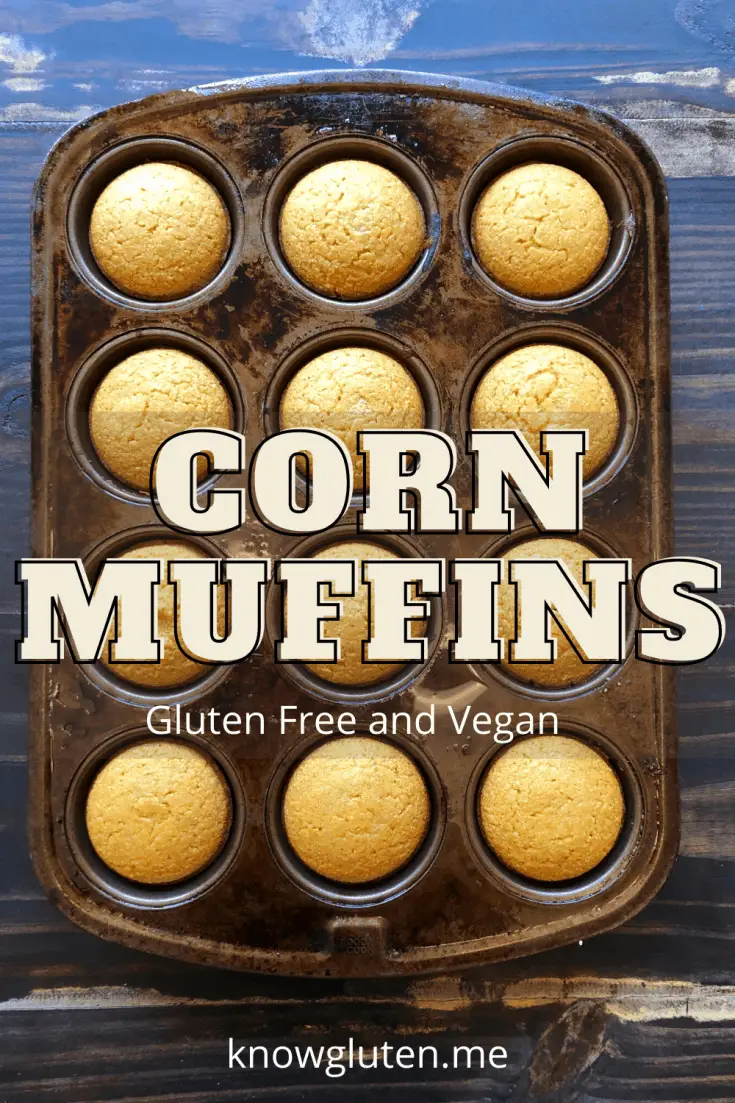 It's surprisingly simple to make tasty corn muffins that are both gluten free and vegan!
Ingredients
1 cup Cornmeal
1 cup Chickpea Flour
1 tsp Baking Soda
1/8 tsp Salt
1/4 cup Sugar (Optional)
1/2 cup Unsweetened Apple Sauce
1 1/4 cup Soy Milk
Instructions
Preheat oven to 350F.
Spray a muffin tin with Pam Spray.
Combine all ingredients in a bowl and mix well.
Drop by 1/4 cupfuls into the muffin tin.
Bake for 20 minutes or until the tops spring back when lightly touched and are slightly browned.
Nutrition Information
Yield
12
Serving Size
1 muffin
Amount Per Serving
Calories

97
Total Fat

1g
Saturated Fat

0g
Trans Fat

0g
Unsaturated Fat

1g
Cholesterol

0mg
Sodium

149mg
Carbohydrates

18g
Fiber

2g
Sugar

7g
Protein

3g