This super easy gluten free pasta dinner takes only 15 minutes to cook! It's perfect for those busy nights or lazy weekends. It's super tasty and vegan too!
I make some variety of this gluten free pasta dish probably 3 nights a week. Pasta is my ultimate favorite food. (Cake coming in a close second). It's so easy and because all the ingredients are either frozen or pantry items, I always have them on hand. 
I'll often make a huge batch of sauce up and keep it in the fridge and then just cook the noodles to eat when I want, but because the sauce cooks up so quickly, it's not necessary.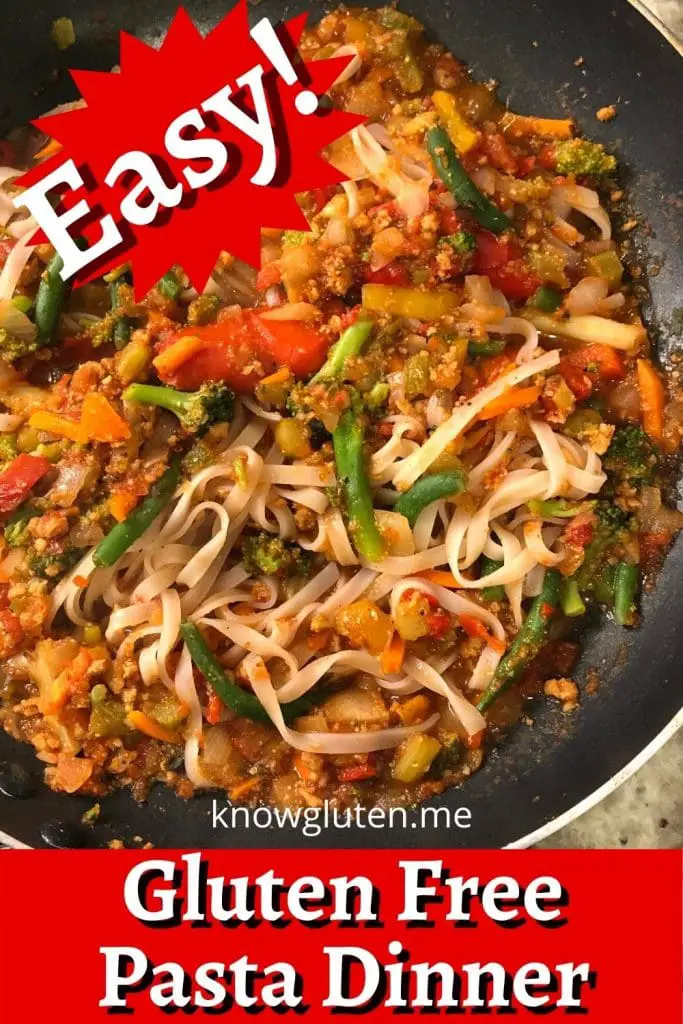 Ingredients
Rice Stick Noodles
These are my very favorite gluten free pasta replacement. The taste and texture is amazing and the noodles are naturally gluten free. Plus, they cook much more quickly than gluten free spaghetti noodles.  I buy rice stick noodles at a local Asian Supermarket at about half the price (a third of the price, maybe) of the regular grocery store. If you can't find rice noodles, you can just sub in your favorite gluten free spaghetti.
Frozen Vegetables
When I say "frozen vegetables" I don't mean the corn niblets, peas, and carrots blend, I mean one of the blends with big chunks of vegetables, like a stir fry blend or Normandy blend. I'm really liking the vegetable medley from Sam's club for dishes like this. It includes green and yellow beans, broccoli, and peppers.
Gardein Beefless Crumble
My favorite Beef substitute! It says "gluten free" right on the label, and you just throw it in your sauce, no browning. It's already cooked, it just needs to get hot. It also holds its shape so much better than other meatless crumbles so it has a bit of a chew.
Mrs Dash Garlic and Herb Seasoning
If you don't own this, why not? Just joking, if you don't own this, and you're using a very flavorful pasta sauce, you probably don't need it at all. I mostly use low sodium sauces, so I add seasonings to give them a little kick and Mrs Dash's Garlic and Herb is one of my favorites, especially when I'm too rushed or lazy to add my own individual seasonings. 
Pasta Sauce
Any gluten free pasta sauce will do here. Just whatever you have in a can or jar. Most pasta sauces are naturally gluten free, but if you have trouble reading labels, you can find a list of "other names for gluten" here. I have a cup of sauce in the recipe. If you like your pasta saucier, or less saucy, adjust to your taste.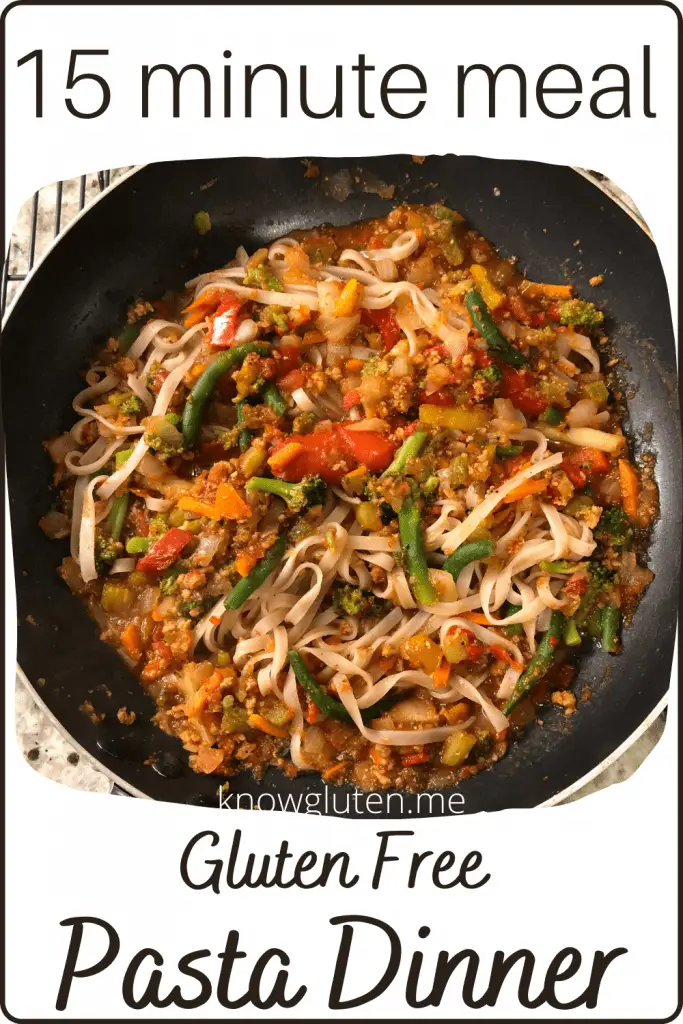 Yield: 2 servings
Easy Gluten Free Pasta - 15 Minute Meal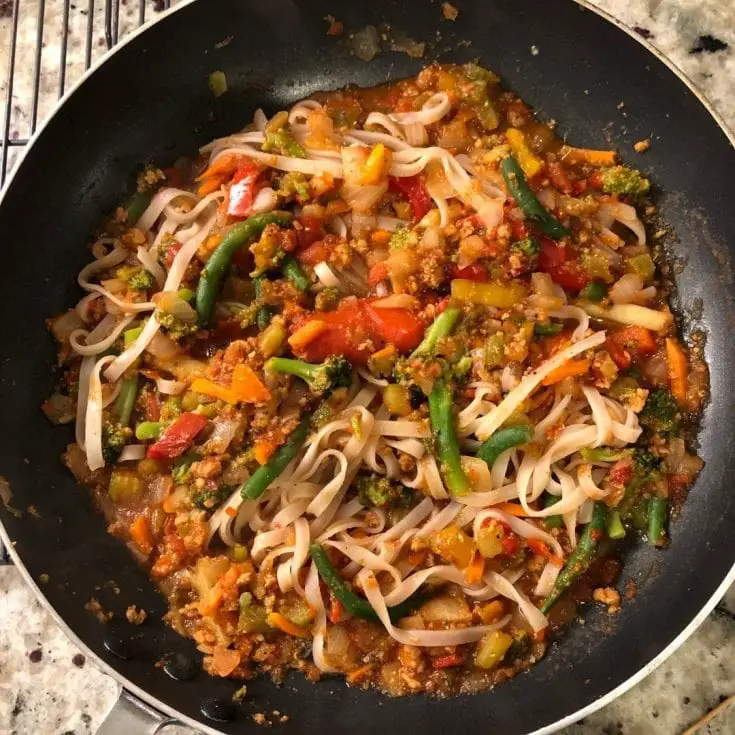 Ingredients
4 oz Rice Stick Noodles
2 cups Frozen Vegetable Blend
⅓ cup Gardein Beefless Crumbles
1 Tbsp Mrs Dash Garlic and Herb Seasoning
1 cup Marinara Sauce
Instructions
Bring a pot of water to boil, add rice noodles and cook until tender, about 5 minutes, drain and set aside.
While the noodles are cooking, add the frozen vegetables, beefless crumble,  to a large frying pan. Cover and cook over medium heat until vegetables are melted and hot. 
Stir Pasta sauce into vegetable mixture, heat through and then mix in the rice noodles.
Serve immediately.