These super simple chili stuffed baked potatoes are a complete gluten free meal! And they're vegan too! (But, don't worry, I added substitutions for meat eaters!)  Perfect for the nights you just want something easy.
I'm so happy with this recipe. Partly because it's so good, but mostly because it's so easy to make. And there are almost no ingredients. I love that. 
I slowed down on blogging a few years ago because life just got way too busy. My life has eased up a bit, but I recently realized that there are lots of people out there who are just as busy as I was, and they're trying to go gluten free on top of all that! 
So I decided to start blogging again, but with the purpose of just making it easier for people to go gluten free. I'm still going to share cool recipes, but I hope to have a lot more simple meal and dessert ideas that you can whip up quickly. Because some people going gluten free have time for homemade artisan rolls, and some only have time for chili stuffed potatoes or 15 Minute Pasta. 
There is a recipe for this dish, but only because blog posts require one. Even if you can't really cook, you can make chili stuffed potatoes. You just bake a potato, scoop out the inside and mash it with good stuff, scoop it back in, and top it with chili.  I planned the amounts thinking it would feed 4 to 8 people, depending on your appetites. If your teens are linebackers, feel free to double the recipe. If it's just you and your picky 8 year old, half or quarter it.
Because potatoes are all different sizes, the wet ingredients are approximate amounts. Just eyeball it. You don't want soup, just soft mashed potatoes.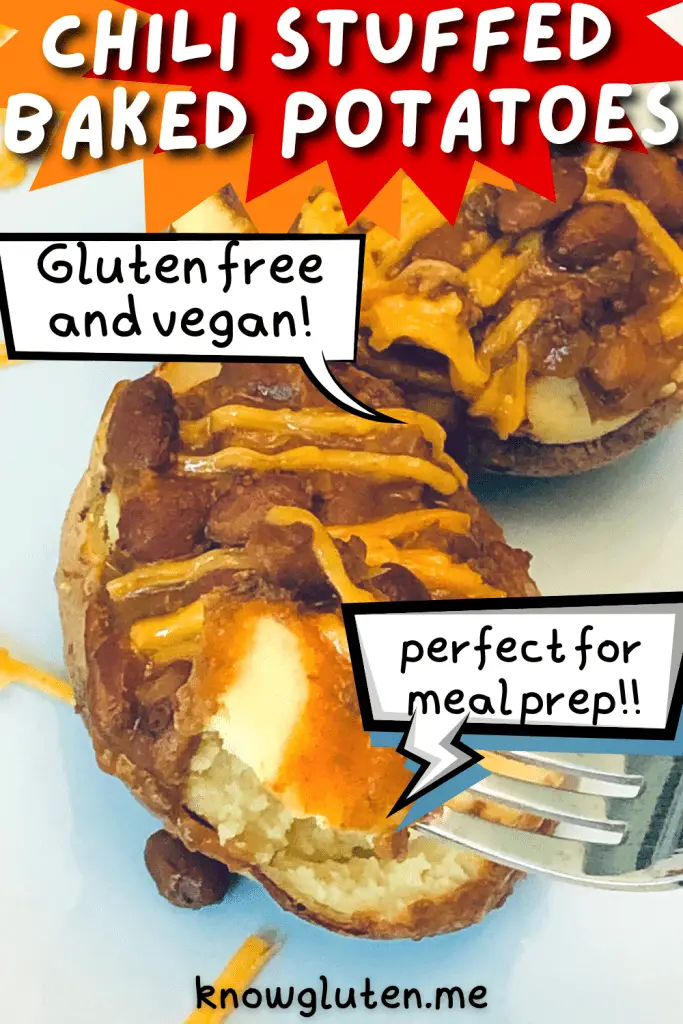 Ingredients
Medium/Large Potatoes
You don't need the special "baking potatoes" that are sold in their own bin in the grocery store, just grab a bag of potatoes and use the biggest ones in there. You're free to use the special giant potatoes in the bin if you like, but it's not necessary.
Margarine
I use Country Crock in the brown plastic container because it's dairy free. You can use whatever kind you like. If you're not dairy free and prefer butter, it will work as well. 
Nutritional Yeast
If you're vegan, you probably already have Nutritional Yeast in your house. It will add a bit of cheesy flavor to the potato. If you're not vegan or dairy free, just add Parmesan cheese instead.
Salt
You know how salty you like things. When you're mashing the potato up, taste it and add salt to your liking.
Gluten Free Canned Chili
I use Amy's Canned Chili. I really like it, and it's vegan. You can really use whatever canned chili you like, as long as it's gluten free. So, if you're a meat eater, and prefer Hormel, go ahead with that. 
Vegan Cheese Shreds
This is totally optional. If you are going to use vegan shreds, I suggest Daiya Cheddar Shreds. They melt really nicely and have a good flavor. If you're not dairy free, I think shredded cheddar cheese would have the best flavor with the chili. If you're cutting back on fat, calories, or money, leaving the cheese off won't hurt the recipe any.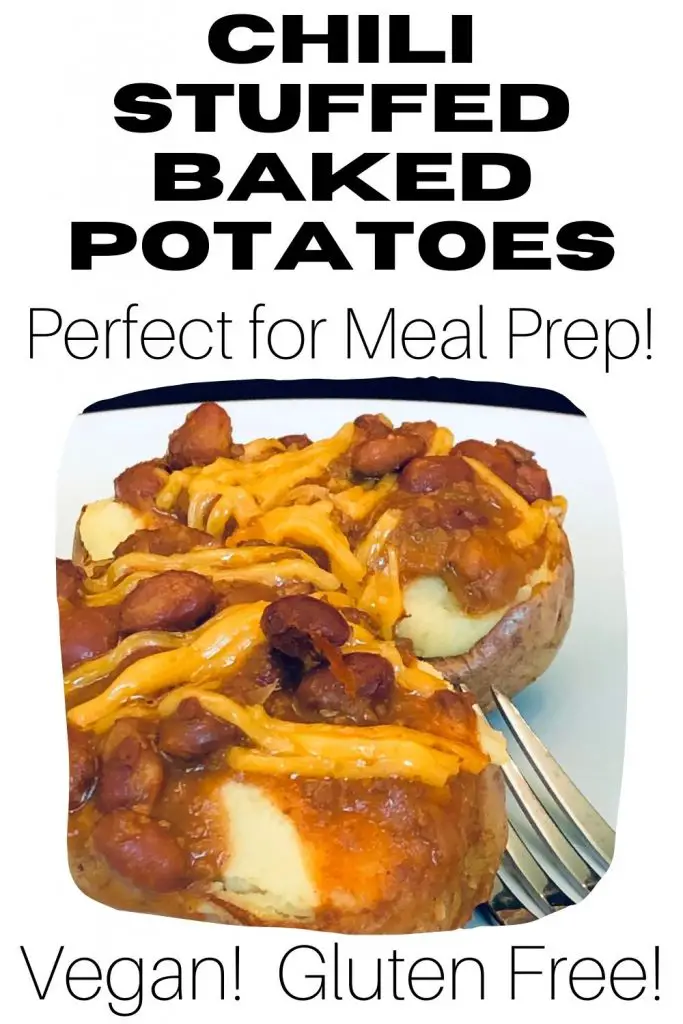 Yield: 4 servings
Gluten Free Chili Stuffed Potatoes - Dairy Free, Vegan
These super simple chili stuffed baked potatoes are a complete gluten free meal! And they're vegan too!  Perfect for the nights you just want something easy.
Total Time
1 hour
1 minute
Ingredients
4 large Baking Potatoes
2 Tbsp Margarine (approximately)
2 Tbsp Unsweetened Non-Dairy Milk (approximately)
2 Tbsp Nutritional Yeast
1-2 15oz can Amy's Vegan Chili (depending on how much chili you want
Salt to taste
Vegan Cheese Shreds (optional)
Instructions
Preheat oven to 400F
Wash and pierce baking potatoes
Place potatoes in the oven and bake until the insides are tender, this varies, but it should take about an hour. If you want, use your airfryer for this step.
When the potatoes are tender, spoon out the flesh and place in a bowl. Add the margarine, soy milk, salt, and nutritional yeast . Mash it all together with a fork until smooth.
Spoon back into the potato.
Heat the chili and spoon over the top of the potatoes.
Sprinkle vegan cheese shreds over top.
Serve hot.