This is a quick and easy gluten free and grain free version of the classic Bisquick Impossibly Easy Pie made with coconut flour. Great to take for lunch!!
Guys, true confession time. I have quite a few recipes stored up. But I haven't put them out on the blog because the actual BLOGGING part is completely stumping me lately. I'm finding it hard to find something interesting to write for every post. Hopefully, you're like me, and you're going to scroll right past all the chatter anyway and go straight for the recipe.
If you would like a deeper level of connection 🙂 , you're welcome to connect with me on Facebook and Instagram. On both, I usually share what I'm eating to give you meal ideas. On Facebook, I'll occasionally share interesting information or products that I think might be helpful for someone starting out on a gluten free diet and Instagram has some of our family photos and things too.
I think you'll like this recipe. It's got enough coconut flour to give it some bread-like texture, but not so much that it's dry like some coconut flour recipes. It's gluten free, grain free and by leaving the cheese off, you can make it dairy free. I make one and it lasts me two or three days of breakfasts and lunches. You can add whatever you like to the recipe. My favorites are all veggie with mushroom and spinach/kale, or chicken and broccoli.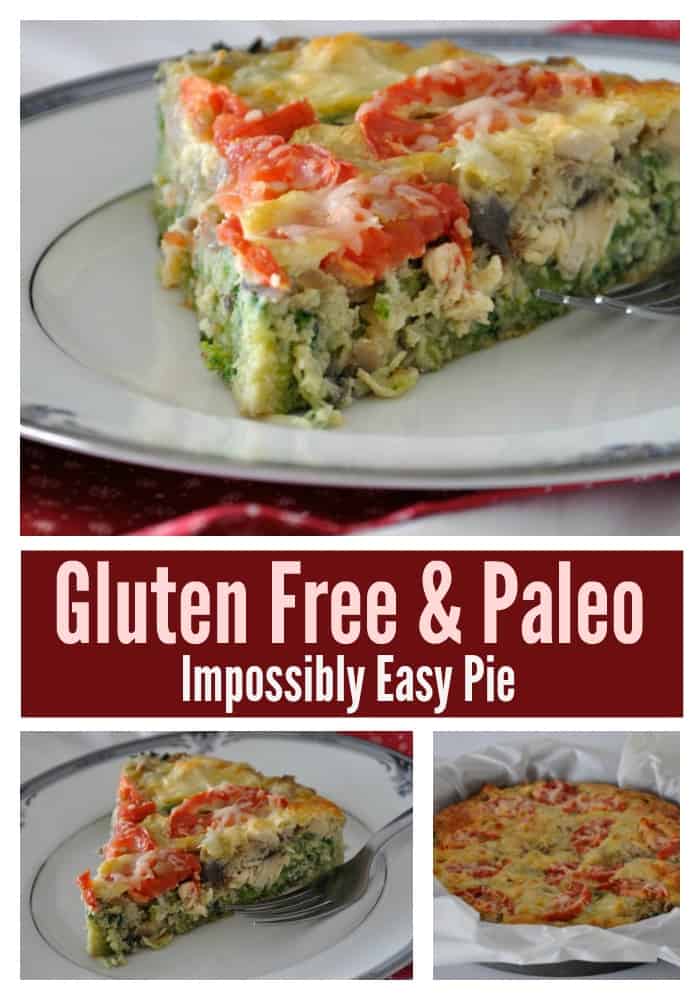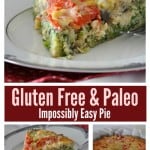 Gluten Free, Grain Free, Paleo Version of the Impossibly Easy Pie
A gluten free, grain free, low carb, paleo version of the Impossibly Easy Pie. Great for packed work lunches or quick make-ahead breakfasts
Ingredients
Pie base:
6

eggs

3

T

coconut flour

½

tsp

baking soda

¼

cup

water

Dash of hot sauce

optional

1/4

tsp

salt or to taste
Filling:
1-2

cups

assorted cooked meats and/or vegetables cooked until softened
Topping (optional):
Shredded cheese

sliced tomatoes
Instructions
Whisk together base ingredients: eggs, coconut flour, baking soda, water, hot sauce, and salt until smooth and set aside.

Spread filling evenly in the bottom of an 8" round cake pan (I line mine with parchment paper)

Evenly pour base mixture over filling

If desired, sprinkle with cheese and lay sliced tomatoes over top.

Bake at 350F for 30-35 minutes, until the center is firm and the cheese is melted and starting to brown.

Remove from oven and let cool for 10 minutes before serving.