Want a fast, easy, family dinner that takes almost no time at all to prepare? I love to cook gluten free drumsticks for the family on busy nights. Best of all, I use frozen drumsticks so I don't have to plan ahead!
I season these by putting all the ingredients in a gallon size Ziplock bag and giving it a shake. Then I just empty the bag into a foil lined casserole dish or large cake pan and pop it in the oven.
You can marinate these if you like, but it's not necessary. To marinate, just put the Ziplock bag in the fridge before you head off to work in the morning. The drumsticks will be seasoned and ready to cook when you get home.
What should you serve with them? Baked potatoes take about an hour to cook, so you could put them in the oven at the same time, or if you really want an easy supper serve the drumsticks with a bagged salad or sliced cucumbers and baby carrots.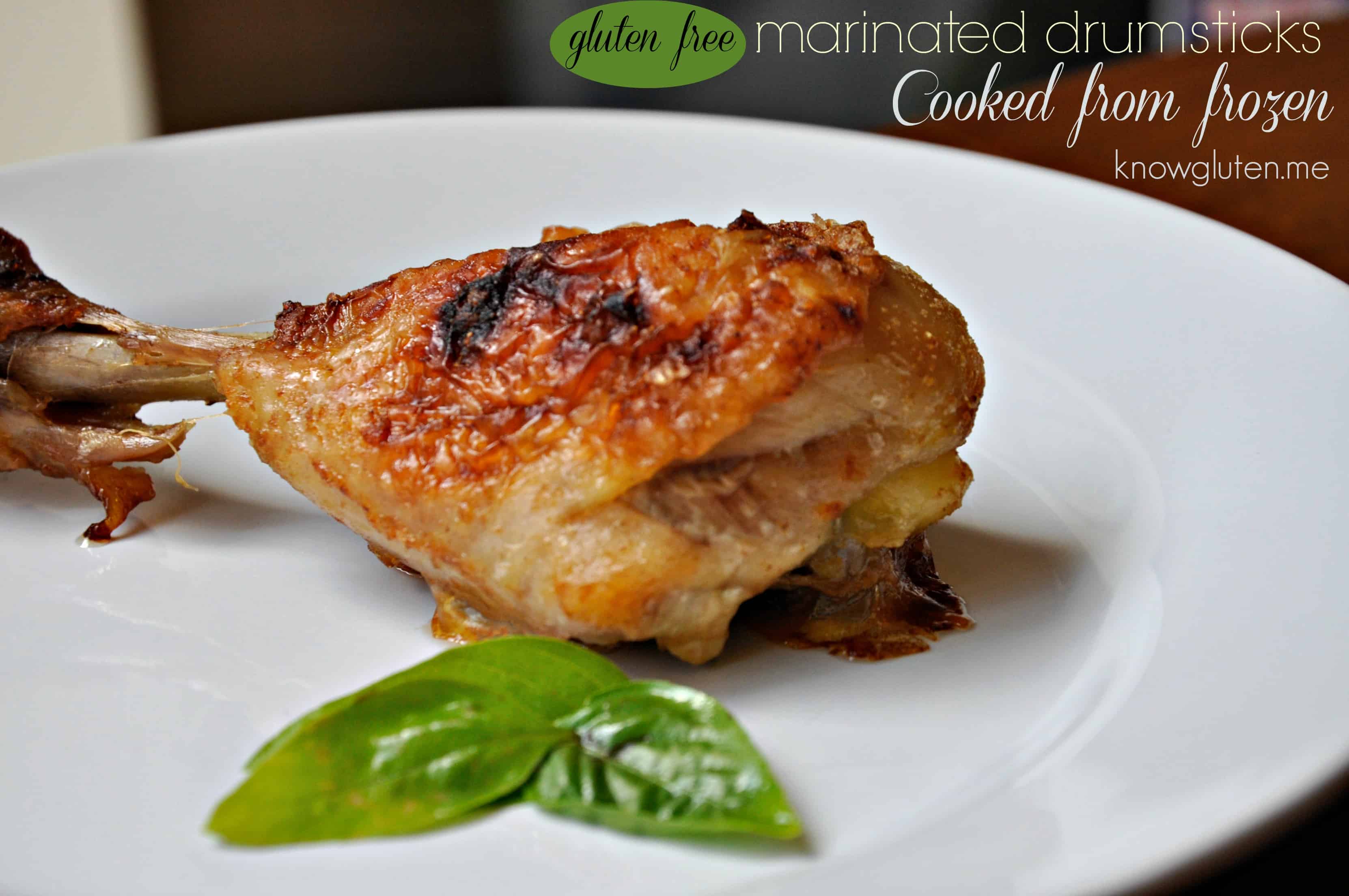 Ingredients
Chicken Drumsticks
This recipe is set up for 2 drumsticks each for a family of four. If you have a bigger family or a bigger appetite, add more! (You might need to make a little more of the sauce to cover it all if you add a lot more.) You can cook the drumsticks from frozen, so those giant bags of frozen drumsticks are perfect for this recipe.
Olive Oil
The olive oil helps thin the BBQ sauce. There's nothing magical about it in this recipe. If you don't have olive oil, you can use vegetable oil or cooking oil. You could probably even use water in a pinch or just add a little extra BBQ sauce.
BBQ Sauce
This is where all your flavor comes from! So make sure it's a sauce you love. Also, make sure it's a gluten free sauce! Otherwise these drumsticks will become dangerous. We use Stubb's or The Shed here. If you're on a low carb or keto diet, look for one of the sugar free or paleo brands.
Check out my Other Names for Gluten post for help reading labels.
Ground Coriander
I really like coriander with anything BBQ flavored. It just adds a little extra something. If you're reading this outside of North America, I mean the coriander seeds, not the leaves. Coriander is really nice in this, but again, it's the sauce that adds most of the flavor, so if you don't have it, it's okay. Don't run to the store or call the neighbor for this one recipe.
Salt
You might need a little salt. I suggested 1/2 tsp. That should be loads. If you know you really like salty food, go ahead and add more. Or leave it out if you know it's going to be salty enough with the sauce.
Yield: 8 drumsticks
Gluten Free Drumsticks Cooked From Frozen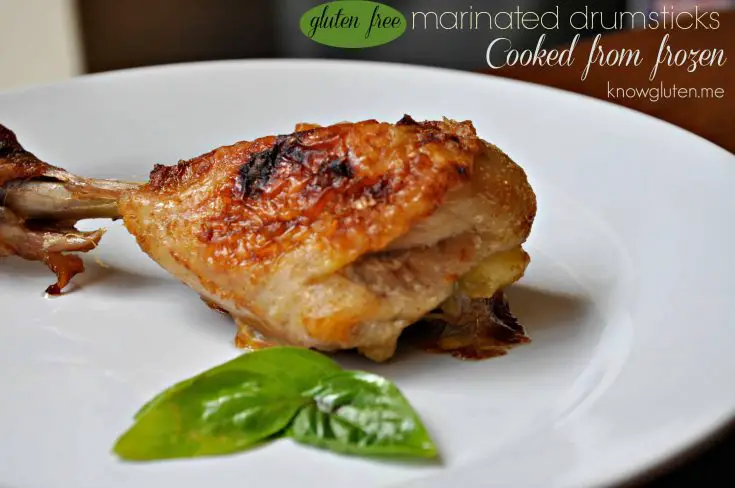 Want a fast, easy, family dinner that takes almost no time at all to prepare? Try these gluten free drumsticks! Cook them from frozen!
Ingredients
8 Drumsticks (or 2 per person)
1/4 cup Olive Oil
1/4 cup Gluten Free BBQ Sauce
2 tsp Ground Coriander
1/2 tsp Salt
Instructions
Preheat oven to 375F
Combine everything in a ziplock bag and massage until chicken is coated.
If desired, marinate in bag for at least 10 minutes.
Place drumsticks in an open baking dish
Cook uncovered until chicken skin is crispy and meat pulls away from the bone. About 45 mins for fresh and 60 mins for frozen.
Follow along!
Bookmark this page and use the handy little green heart in the corner to save your favorite posts for later. Or use the share symbol beside it to save it to your own social media.
If you enter your email below you'll be notified whenever I post something new, or you can follow me on Pinterest or Facebook.
Thanks again for visiting! I hope you find your stay helpful!