Hearty and rich with a deep meaty flavor, this delicious vegan Irish stew is full of root vegetables and gluten free too.
Vegan Irish Stew is such a simple recipe. But since it's such a satisfying meal, you feel like maybe you're cheating a little. It's one of life's little shortcuts. All the ingredients in this recipe are gluten free, so it's a great recipe if you have a few dietary needs at your table. 
There are so many things you can eat on a gluten free diet. I've got a list of gluten free foods to get you started.
A Meatless Irish Stew?
Take the meat out of stew and you've slashed both the cost and the amount of work. No cutting or browning meat, no simmering for hours to make sure the cheap cut you got is finally tender, or spending extra money on a less tough cut that you're just going to boil anyway. You can leave out the meat, and with the right seasonings, you don't sacrifice any flavor.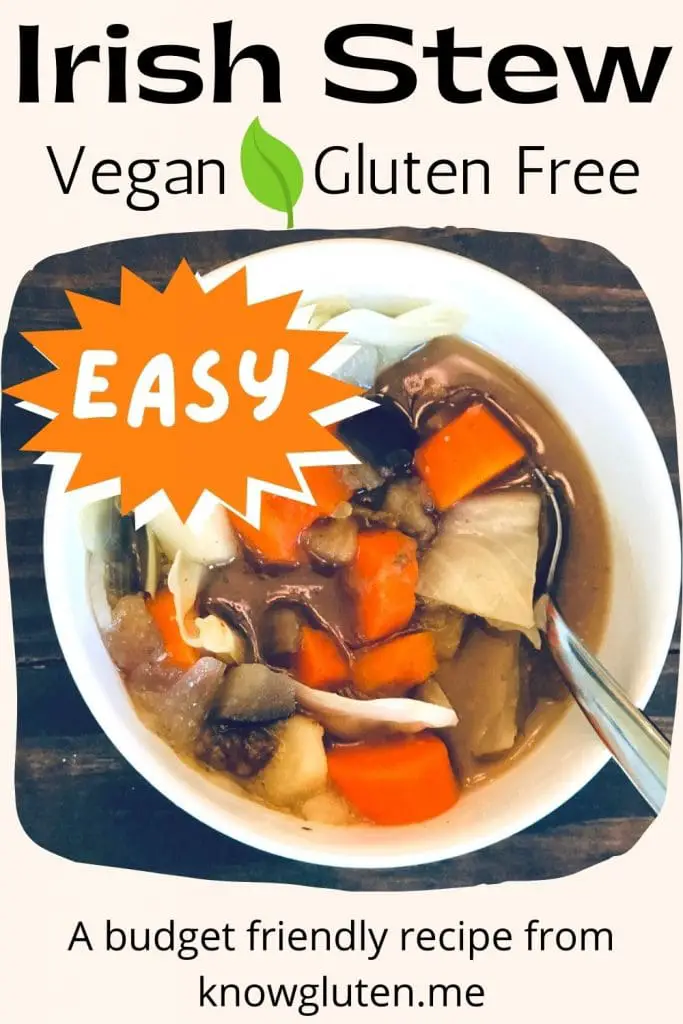 The Ingredients
Potatoes
When I think Irish Stew, of course, I think potatoes. Potatoes are historically a big part of the Irish diet. They're also vegan and naturally gluten free. So a perfect base for a gluten free vegan stew. Potatoes are also inexpensive, especially if you buy them at smaller local grocery stores. 
Carrots
Carrots add sweetness and color to this stew. This recipe uses 2 or 3 medium carrots. Peel them and slice them into rounds between ½" to 1" long, depending on how "hearty" you want your stew to be. Carrots, like all vegetables, are vegan and naturally gluten free. 
Onion
I use regular old yellow onions in this recipe (the kind that come in the orange mesh bag), but you can use a sweet onion if you like a milder flavor. Cut the onion into chunks, you're going to get some nice bites of onion. The flavor will sweeten and mellow as the Irish stew cooks. 
Eggplant
Eggplant is the "beef" substitute. It has such a great texture and is perfect in vegan recipes. The additional benefit over other meat substitutes is you don't have to read the label to make sure it's gluten free. It is!
Cabbage
Yes! You can't forget the cabbage! It's my favorite part! I cut it in pretty big chunks and separate them with my fingers, that way there's lots of cabbage to go around. 
Vegetable Broth
I get the store brand vegetable broth in the paper box. It costs about $1.50. This recipe uses one 4 cup box. I find that Target and Walmart's broth are saltier than Trader Joe's, so I keep that in mind when I season. 
McCormick's Grill Mates Montreal Chicken Spice
This seasoning really helps to add the meaty flavor to this vegan Irish stew. I'm not sure what's in it that helps create the illusion, but it works. If you're cutting back on sodium, use the Mrs Dash Chicken Spice. It has the same flavor profile without the added salt.
Potato Starch or Cornstarch
Just a little bit of potato starch or cornstarch diluted in water will give this vegan Irish stew beautiful thick texture. It only takes a bit, and it thickens while it cooks, so pour it in a little at a time, give it a stir, and then add a little more until you get to your desired thickness. 
A1 Sauce
Traditionally, we have always poured a little bit of A1 steak sauce into our stew. It just adds that little bit of extra flavor, a little sweet and a little spicy. It's worth trying if you haven't already. Put a bottle on the table and everyone can add their own.
NO Alcohol?
Ok, it was a friendly debate this morning about whether stew needs alcohol in it to be considered Irish. I say it's the potatoes that make it Irish Stew, my husband says it's the alcohol. He likes either beer or Irish Whisky. I don't put it in. I can't find gluten free beer in our area anymore, and I hesitate putting in Irish Whisky. Even though Irish Whisky is  distilled and that makes it gluten free, because it's made from grains that contain gluten, it just makes me nervous. So, no alcohol in my recipe, but please feel free to add Irish Whisky if you're comfortable with it, or gluten free beer.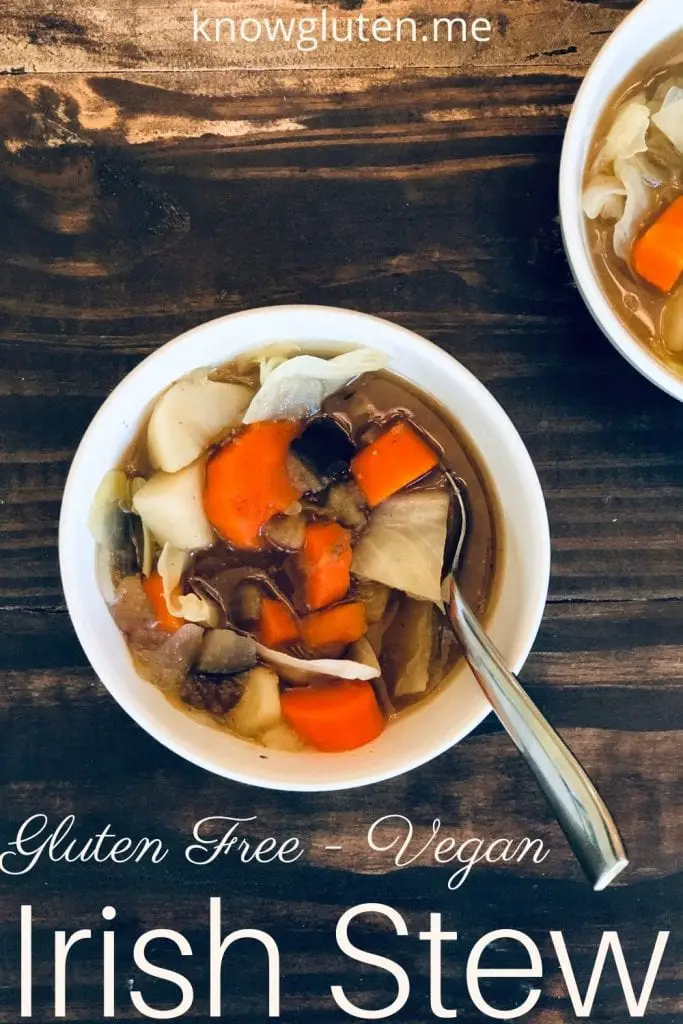 Vegan Irish Stew - Rich, Hearty, and Naturally Gluten Free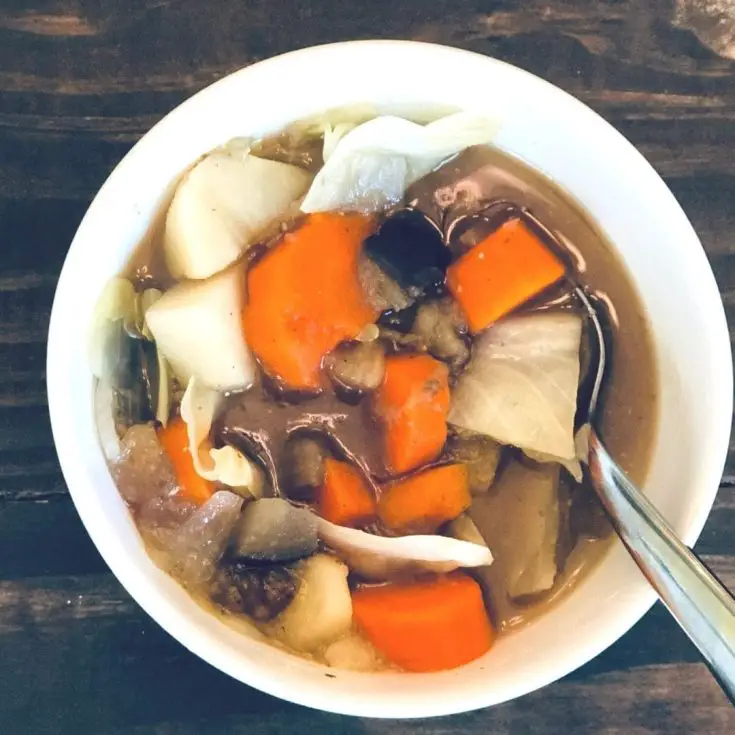 Hearty and rich with a deep meaty flavor, this delicious vegan Irish stew is full of root vegetables and gluten free too.
Ingredients
1 small Eggplant
5 medium Potatoes
4 medium Carrots
1 large Onion
6 cups Vegetable Broth
2 Tbsp Montreal Chicken Seasoning (or to taste)
Salt for eggplant
2 Tbsp Potato or Corn Starch dissolved in
1 cup Water
Instructions
Cut eggplant into bite sized pieces, place in a colander over a bowl, sprinkle generously with salt, and set aside.
Peel potatoes, carrots, and onion and cut into bite sized pieces.
Cut cabbage into small chunks and set aside. 
Rinse and drain eggplant.
In a large pot over medium-high heat, sautee the eggplant until it starts to get tender (a few minutes).
Add in the potatoes, carrots, onions, broth, and seasoning. 
Cover, bring to a boil, reduce heat and simmer for about 10 minutes or until potato chunks can be broken with a fork.
Add cabbage, cover and simmer for 5 more minutes.
When cabbage is tender, gently stir in dissolved starch and simmer for 5 more minutes.
Serve with A1 Steak Sauce if desired.
Will keep in the fridge in an airtight container for up to 5 days.