I like novelty. I like to travel and move and meet new people and try new foods. But at Christmas I like tradition. Part of my Christmas tradition as a little kid was date balls. My grandma made them. Your grandma probably made them. They were one of those things that only grandmas made and only at Christmas. The gluten in original Rice Krispies has kept me from enjoying date balls for almost a decade, so I was thrilled to be able to buy (cue angelic choir) gluten free Rice Krispies. If you make these make sure you use the gluten free Rice Krispies (clearly marked on the box). Regular Rice Krispies contain barley malt, and barley malt has gluten.
When I made these I had two little kitchen helpers, so I put the butter on the stove on low to melt while they beat the egg and mixed the sugar in with it in a bowl, then I poured the egg sugar mixture into the pot and added the cup of dates. I bought "dried hard dates in a box" so after they softened a bit, I needed to mash them with a potato masher. If you buy the gorgeous sticky dried dates from the produce section they'll melt more easily.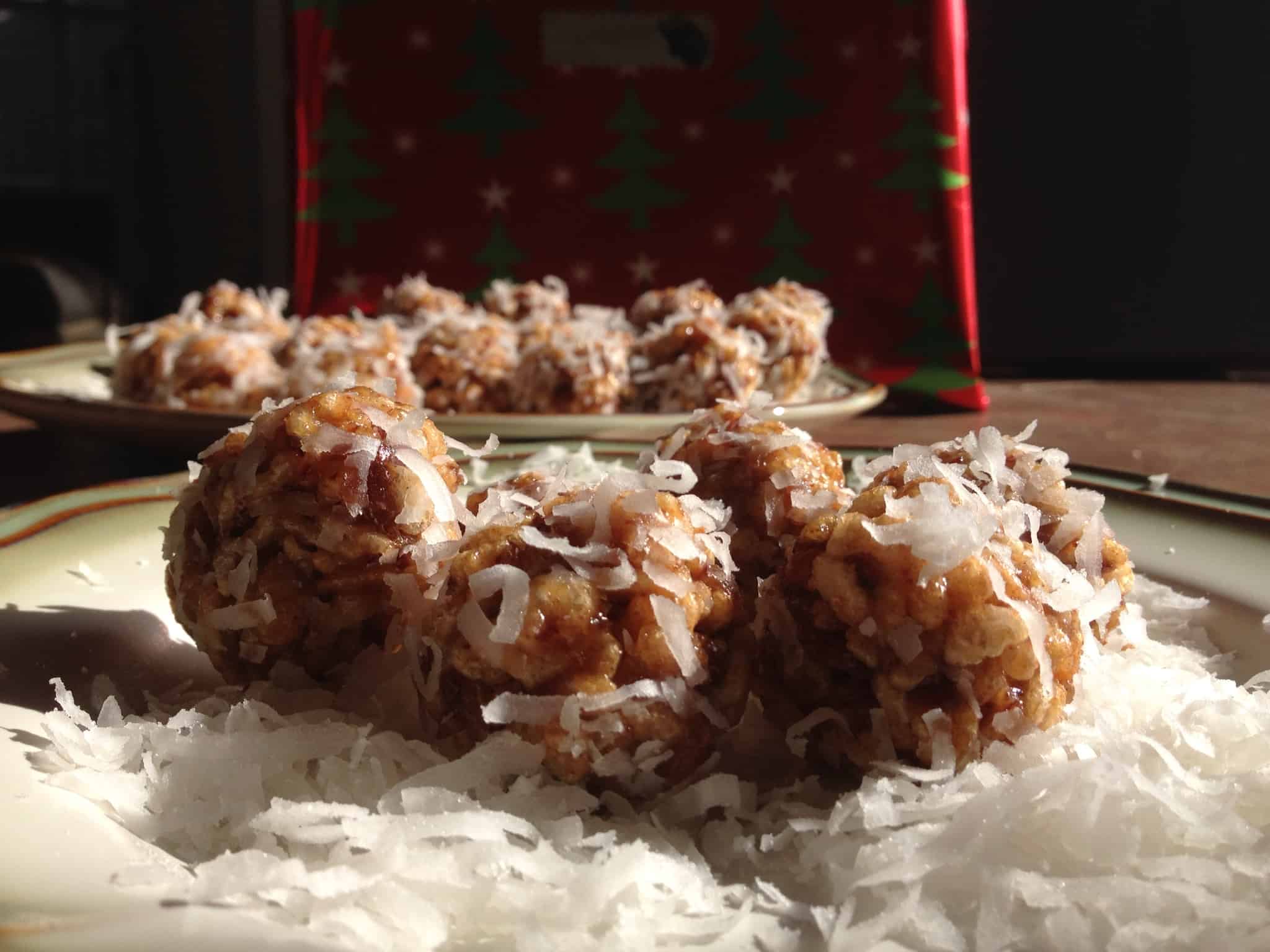 Gluten Free Date Balls – recipe adapted from everybody's grandma's
Ingredients:
1/2 cup butter melted

1 egg beaten

1 cup sugar

1 cup pitted dates

3 cups gluten free Rice Krispies

1 cup shredded coconut for rolling
Directions:
In a medium sized sauce pan combine melted butter, egg and sugar and stir until well mixed.

Add dates and stir to coat.

Cook over medium heat, stirring occasionally, until dates have mostly dissolved (this could take 10 minutes) Use a potato masher if necessary.

Remove from heat and stir in gluten free Rice Krispies until completely coated.

Let cool for about 20 mins. Mixture should be cool enough to touch and should hold together when you form a ball. (It gets stickier as it cools).

Form into 1 1/2″ balls and roll in coconut.

Store in an airtight container.