Going Gluten Free can seem intimidating. It's really not as hard as you think. I've set up 8 easy steps for going gluten free that I hope will help you on your journey.
1. Say goodbye to gluten
You feel terrible anyway, have one more meal of your favorite gluten filled foods. (disclaimer, adults and mature teens only. This step is NOT for young kids. You want to avoid any thoughts that they're going to "miss out". Never ever ever make gluten filled food look special to a gluten free kid. With kids, proceed directly to step 2)
2. Buy yourself a gluten free treat
Seriously. Go to your grocery store's gluten free aisle and get some Glutino cookies and a couple of boxes of gluten free cake mix. If your store doesn't have a gluten free section, you can order lots of good stuff online. (You should be able to find something, we even found gluten free cake mix in Thailand. Africa was a little bit tougher.)
If your young child is the one going gluten free, try and make this a special event with lots of "wow! Brownies! I love brownies!"
3. It's time to shop!
While you're at the grocery store, buy as many replacements for gluten things you can find. Uldi's, Schar and DS make excellent bread, try a few brands of gluten free pasta, pick up some Rice Chex (or Chocolate Chex, I won't tell.)
You may eventually stop using these, but for right now get the things you'd grab for quick meals. This will keep you from staring for hours into the fridge wondering what to eat.
Add a couple of bags of rice flour and coconut flour to your cart. When you're ready to start making quick, easy things from scratch, these will come in handy.
4. Get your own stuff
Get a new toaster for the gluten free people in your home. (I'll be doing a whole post on sharing a kitchen with gluten eaters, but you need to know this now. You need your own toaster.)
If you got that cake mix, you're also going to need your own cake pan or muffin tin and your own electric mixer.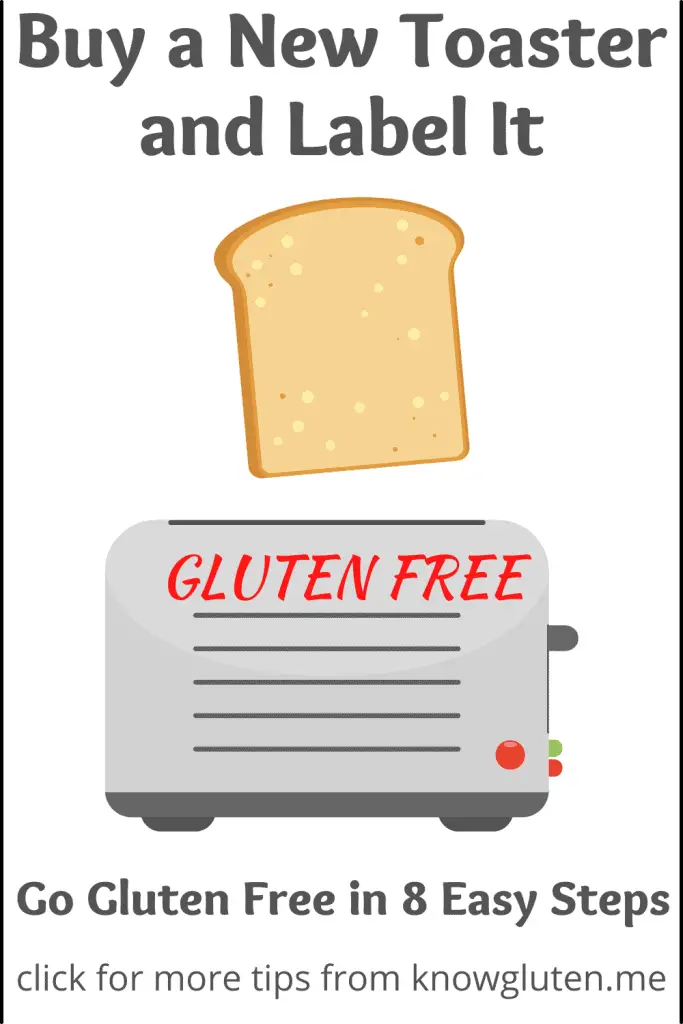 5. Label Everything GLUTEN FREE
You can label your toaster, mixer and muffin tin with nail polish.
Label all spreads (like peanut butter) that could possibly become contaminated. Make sure you label both the jar and the lid. You can't share anymore. If possible, put your stuff in a different cupboard or on a different shelf.
6. Make a list of quick meals you can eat
No joke. Write it down:
Fruit, carrot sticks, cheese and gluten free crackers, gluten free toast, baked eggs and Brie, Bush's Vegetarian Baked Beans, left-over chicken…
Make the list as long as possible. Put it in the kitchen somewhere.
If you need help with this, I've got a handy list right here. There's even a link to a printable list to put on your fridge or take shopping: A List of Gluten Free Foods You Can Eat
7. Be sad, if you want
You've just had a major life change. It's going to be hard sometimes. We've all had the total meltdown in the grocery store. Crying because we're hungry, and surrounded by food, and can't eat anything. It's normal. It goes away. Once you learn a few simple recipes and get a few favorite treats, things will be a lot brighter.
8. Feel Better!
You're going to start feeling so much better. Most people notice headaches and brain fog going away in a few day, body aches in a couple of weeks. Digestive problems could take a little longer, especially if you're celiac, but they'll get better too.
Thanks for visiting! Click on a cupcake to connect with me on social media!