You're just getting started with a gluten free diet and you need a list of gluten free foods you can eat. You might be feeling a little overwhelmed. Or maybe someone has just told you that there is "gluten in everything." Don't worry. There's still lots to eat!
What is Gluten?
Gluten is a protein found in wheat, rye, spelt, and barley. It is used to make flour, bread, pasta, and baked goods. It's also sometimes used as a filler or thickener in processed foods or seasonings or in some flavorings. It is in a lot of things, but thankfully, it isn't in everything.
If you're not sure what to avoid on an ingredient label, click here for Other Names For Gluten
A List of Gluten Free Foods
 Below you will find examples of gluten free foods you can eat. This is by no means a complete list. If you get overwhelmed, I've included a printable list at the end of this post so you can take it to the store.
Scroll down for a printable list to take to the store.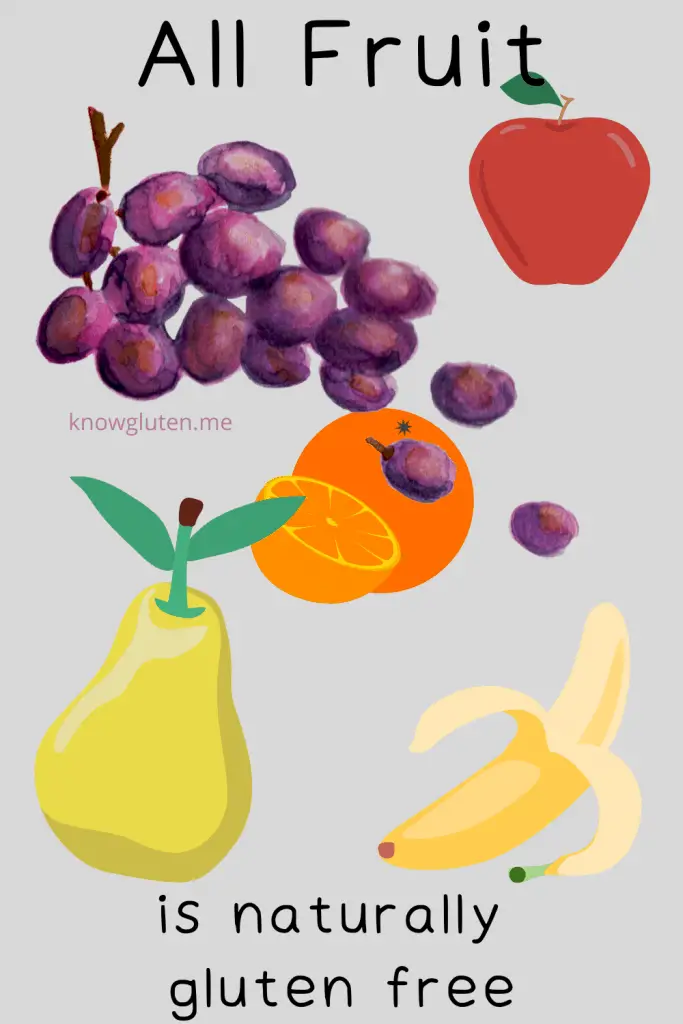 Fruit is Naturally Gluten Free
All fruit is naturally gluten free. Grab and apple or a banana for a quick snack, or make a fruit salad for a lovely after dinner treat. I have a fruit smoothie for breakfast almost every day in the summer. This list includes fresh fruit. If you buy frozen, canned, or other packaged fruit, check the label for added ingredients that may contain gluten.
apples
oranges
grapes
bananas
grapefruit
mangoes
canned peaches
apple sauce
dried apricots
raisins
Vegetables are Naturally Gluten Free
All vegetables are gluten free. The produce section is the easiest place to shop in the grocery store. This list includes all fresh, unseasoned vegetables. Always read the label if you buy frozen, canned, or other processed vegetables. You don't have to stop at salad. Throw some gluten free alfredo sauce on spaghetti squash, or make some easy potato tacos out of gluten free frozen French fries.
tomatoes
green and bell peppers
mushrooms
potatoes
corn
broccoli and cauliflower
squash and pumpkin
zucchini
all types of lettuce
cabbage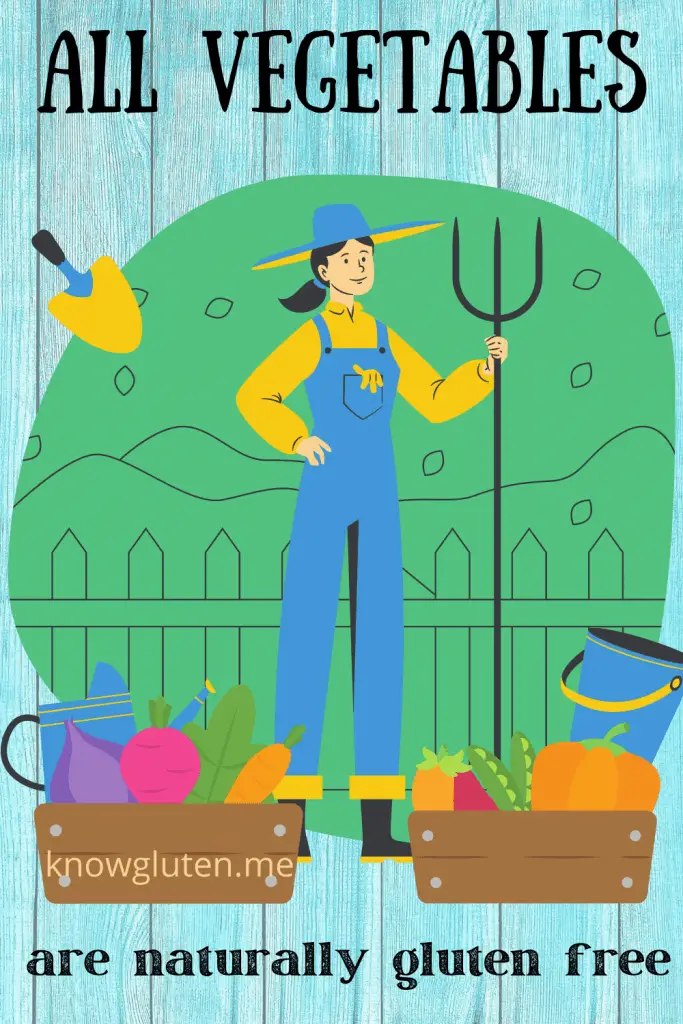 Many Condiments are Gluten Free
Many of the condiments you already use are gluten free. Some are naturally gluten free, and some have gluten free options. Always check labels on processed foods to make sure they don't contain gluten.
Ketchup
Mustard
Mayonnaise
Fish Sauce
Gluten Free soy sauce
Relish
Salad dressings labeled gluten free or made without gluten ingredients
Salt and Pepper
You don't necessarily have to buy products that say "gluten free" on the label. Click here to read why.
Unprocessed Unseasoned Meat is Gluten Free
Unprocessed unseasoned meat is naturally gluten free. Watch for gluten when you're buying processed meats or meat that already has sauce on it. Some companies use gluten ingredients in their fillers, sauces, or seasonings.
Beef
Pork
Fish
Eggs
Most ham
Most bacon
Sausages labeled Gluten Free
Hebrew National hot dogs
If you need help reading labels, you can click here for a list of Other Names for Gluten
Many Dairy Products are Gluten Free
Dairy products are naturally gluten free, but that doesn't mean that a stroll down the milk and cheese aisle is without danger! Some companies add gluten ingredients to their dairy products. Avoid yogurt or other packaged dairy with cereal or cookies on top or added fiber mixed in. Some ice cream flavors contain gluten in the add-ins like cake batter or cookie dough. When you're shopping for dairy products, always read the label. But don't be discouraged! There's still lots of gluten free food in the dairy section!
Milk
Cheese
Many types of yoghurt
Many types of ice cream
Butter
Most brands of cottage cheese.
Specialty Gluten Free Products
There is now a huge market for specialty gluten free products. In fact Nabisco just came out with Gluten Free Oreos! Because these products are made to be gluten free, they're usually made in a gluten free facility. Some brands are great, some, not so great. But it's worth sampling to find your favorites
Uldi's Gluten Free bread and hamburger Buns
Glutino Gluten Free crackers and cookies
Gluten Free cake mixes
Gluten Free Bisquick
Glutenfreeda's Burritos
Amys Kitchen Gluten Free products (over 100!)
Many Pantry Items are Gluten Free
You probably already have many naturally gluten free items in your pantry. Any unprocessed grain or legume besides wheat, spelt, rye, or barley, is naturally gluten free. (Oats may be contaminated with gluten, so if you buy oats, make sure you buy oats labeled gluten free.) For more processed foods, always read the label to avoid gluten ingredients.
Plain white rice
Polenta
Grits
Rice stick noodles from an Asian grocery
Corn tortillas
Bush's vegetarian baked beans
Plain canned or dried beans
Quinoa
Instant mashed potatoes
Unseasoned Nuts and Nut Spreads are Gluten Free
Plain and salted nuts and nut butters without added flavors are naturally gluten free. Some companies even go the extra mile and label their products gluten free. When you're buying packaged food, always read the label for gluten ingredients. I have yet to see nut butter with added gluten, but that doesn't mean it isn't out there! And some nut seasonings do contain wheat. A note here: If you share a kitchen with gluten-eaters, make sure you have your own jar of nut butter. The crumbs from gluten bread and toast can get in the jar and that makes it not gluten free anymore.
Almonds
Peanuts
Cashews
Pistachios
Peanut Butter
NUTELLA (yes, Nutella!)
Almond Butter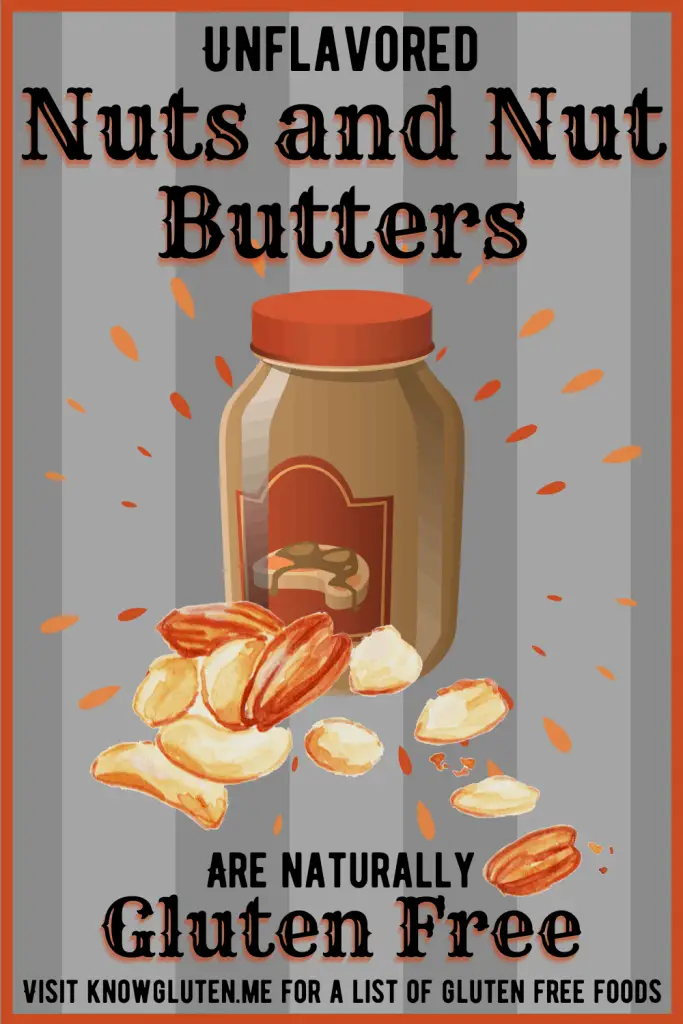 Some Snack Foods are Gluten Free
Some of your favorite snack food is naturally gluten free! In fact some companies, like Frito Lay go out of the their way to cater to the gluten free crowd. As always though, read ingredients when buying packaged food.
Popcorn
Corn tortilla chips
Many potato chips
Some Cereals are Gluten Free
Gluten free cereal is my very favorite packaged product to shop for because the boxes are very clearly labeled GLUTEN FREE. Plus, I could pretty much live on cereal if I had just a little less willpower. Gluten free has gone mainstream enough that gluten free cereals are usually with the other cereals. My favorite brands are Chex and Malt o' Meal (the cereal in the bag)
Many varieties of Chex cereal (it will say GLUTEN FREE on the box)
Gluten Free Rice Krispies
Fruity Pebbles
Gluten free cornflakes
A Printable List of Gluten Free Foods
Click HERE for a printable list to take shopping or put on the fridge.