Tilapia is a a naturally gluten free food, and is a perfect busy night supper. One of my favorites. Perfect for those "throw something in the oven, we need to eat and leave," nights. I like it best with a romaine salad. I keep a few leaves whole for tomorrow's lunch. 
Okay. Here's what happened. I made the tilapia, and just snapped a couple of pictures in my dark kitchen, right before it went in the oven. My plan was to "plate" the leftovers in the morning when I had some natural light. My plan was to also make some amazing tilapia lettuce wraps with green apple dressing. Only, everyone loved it so much that there weren't any leftovers. (This mostly bothered me because we were now out of tilapia and I was totally craving the lettuce wraps and had to quickly cook flounder for them the next day.) So, the picture doesn't do justice to the amazing flavor.
This really couldn't be easier to make. If I have time, I'll wash it in a brine because some brands of tilapia have sort of a farmed taste, but if you don't have time to do that, just sprinkle some red wine vinegar over top.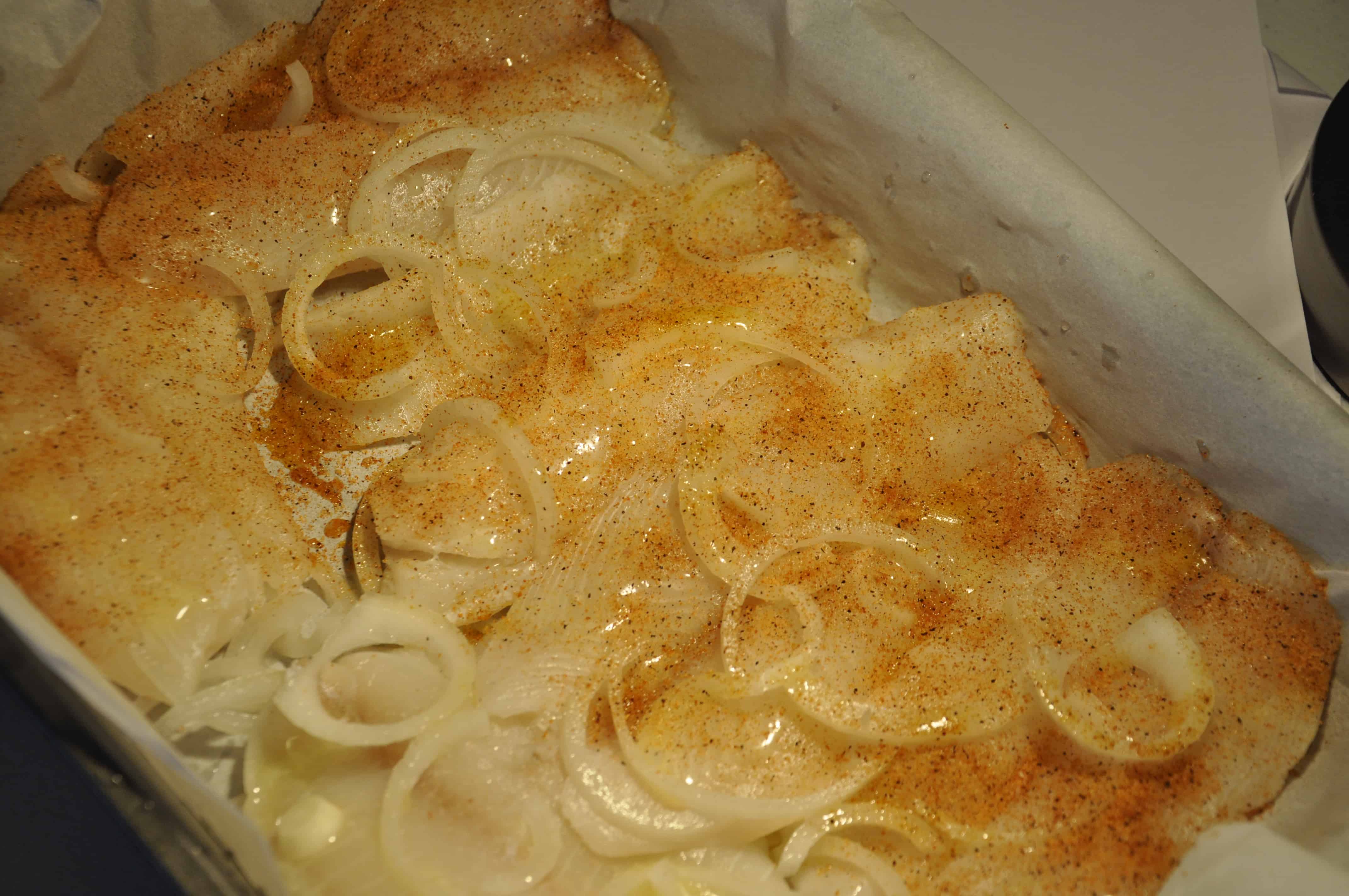 Baked tilapia on a bed of sweet onions
Click here for a printable recipe: Gluten Free Baked Tilapia on a Bed of Sweet Onions
Ingredients:
Tilapia filets, one for each person (if you're planning on leftovers, cook 2 each)
1 sweet onion, thinly sliced
2 T melted butter
Red wine vinegar
Salt and pepper (or favorite seasoning, we used Louisiana Cajun Seasoning but made on just salt for the 3 year old)
For optional brine:
1 3/4 cups cool water
1/4 cup red wine vinegar
2-3 T sea salt (it should taste salty, but not really really salty)
3 tsp sugar
Directions:
If using brine:
In a 2 cup measuring cup, combine brine ingredients.
Place fish in large bowl or ziplock bag.
Pour brine over fish and let sit 5 minutes.
Drain well.
After brine (or if you didn't use it):
Thinly slice onion and lay in the bottom of a large parchment lined casserole dish or cake pan.
Lay fish on top.
Drizzle melted butter over fish.
Sprinkle with red wine vinegar, salt and pepper.
Bake at 400F for 15 minutes or until fish flakes.
If you think you made "extra" hide some for tomorrow's lunch.