Hey Friends!
The Freedible Thanksgiving Campaign is underway!
Want to participate? Here's how!!
Help freedible Bring Millions of Americans Back to the Table this Thanksgiving!
Why Am I so Excited About freedible?
Freedible is revolutionary in the culinary world. Freedible's
cookbook
contains recipes from members, blogger and brands and is searchable by food restriction so you can safely choose recipes that fit the restrictions of everyone at your table. There are also groups you can join to connect with others who need to eat like you do. The
blogs
section provides a place for you to share your tips for dealing with your own food restrictions or learn from others. The searchable
bloggers' directory
 puts you in touch with experts in your food restriction field. And you'll see ads from the brands that you can eat. Freedible is not limited to people with food restrictions (though if you're reading this post, I can assume you've either eliminated gluten or you're thinking about it), everyone is welcome and it's completely free to join. My user name is
jodi @ knowgluten if you want to friend me!
Share a recipe in the Cookbook!
If you're a blogger, the cookbook is a great way to promote the great recipes you have on your site. Just share the ingredients and fill out the allergen information so that it's searchable by all the Custom Eaters who'll be visiting Freedible looking for Thanksgiving recipes. Then give a link back to the recipe on your blog. We'll tweet it, and if you share a picture, we'll pin it!
Your recipes don't have to be free from the top 8 allergens. The neat thing about freedible is it isn't exclusive to just one or a few food restrictions. Your recipe is PERFECT for someone!
Share a Blog Post!
Only a Custom Eater really knows what's involved in bringing everyone to the table and we'd love to hear how you do it!. You don't need a blog to share a post, you can write your post right on Freedible. It's the perfect platform for people with lots of information to share, but no time to maintain a blog.
If you have a blog, Share a link to your blog post on how you accommodate your family's dietary restrictions, your own experiences or how to tips. My own extended family has gluten free, diabetic and vegetarian! Family meals are always an adventure!
CLICK HERE TO SHARE A BLOG POST
Participate in the Twitter Parties:
Become a Thanksgiving Host!
A host invites others to come to the table. Invite your friends and family to join you on Freedible and share their own favorite Thanksgiving recipes. Everyone is welcome! Share about Freedible's Thanksgiving Campaign on your facebook page, twitter and G+.
You can find more info on being a Thanksgiving Host HERE
 Grab the Button!
If you're a blogger and you share a recipe or post, you can grab the "I helped" button for your side bar. If you're not a blogger, you can share the image on your facebook, twitter and G+ to let your friends know you helped bring millions of Americans back to the table this Thanksgiving.
There's a special button for our hosts and you can get it here. Share it on your blog, facebook and twitter.
Click the Read More under your button for instruction on how to save it and share it!
Still getting started on Freedible?
freedible is free to join and welcomes everyone. You DON'T have to be a specialty blogger or someone dealing with severe food allergies.  If you'd like to get started, this post will help you find your way around.
Five Tips for Getting Started on Freedible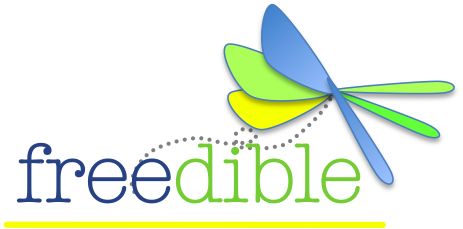 Thanks for visiting! Click on a cupcake to connect with me on social media!