Reasons to love these gluten free Hello Dolly Bars: They're fast, they're easy to make, they're rich and sweet and chewy, and they will make you famous at potlucks (probably). 
Do You Believe in Magic?
What are Hello Dolly Bars? They're a layer bar. Sometimes called a Magic Bar. You start with a buttery crumb crust, then you sprinkle on a layer of chocolate chips and top it with a layer of shredded coconut. Then you pour sweetened condensed milk evenly over the whole thing. When you bake it, the sweetened condensed milk will turn into a caramel and hold all the layers together. Like magic! It's amazing.  
Fun and Easy!
These gluten free Hello Dolly Bars are such a fun dessert. And so easy to make. Almost too easy! (For my waistline I mean). I actually made this batch without even dirtying a bowl. I combined the cookie crumbs and the butter in a freezer Ziplock bag. After I had flattened it into the baking pan, I just sprinkled the chocolate chips and coconut on top and poured on the sweetened condensed milk and baked it. 
I made the crumbs in a personal sized blender, but you could easily make them by rolling a bag full of cookies with a clean rolling pin. I used Kinnikinnick S'moreables (they're a gluten free graham cracker) for my crumbs because they're both gluten and nut free. You could use any similar gluten free cookie you like.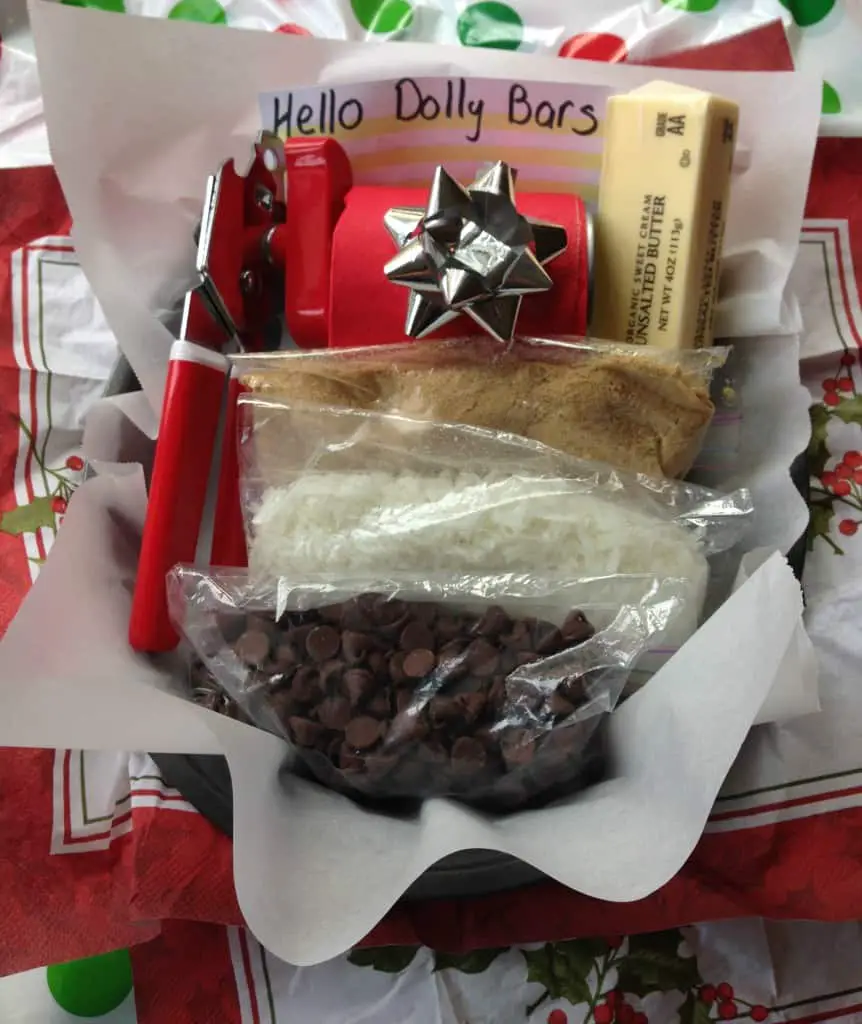 Give it as a Gift!
If you're the type to give out  treats at Christmas, this is the perfect gift for neighbors. They're so rich, you could get away with just one square each. 
If you have a friend who loves to cook, you could package up the ingredients in a new baking pan or a gift basket as a fun diy gift. 
If you have kids visiting, or you're looking for a quick activity for your own kids to help with, pre-measure the ingredients. Then you can present them with a fun pre-assembled baking activity. 
Isn't it fun baking with friends? Here are more gluten free treats you can bake together.
Ingredients
Gluten Free Cookie Crumbs
For this recipe I used Kinnikinick S'moreables. They're a gluten free graham cracker. You can also buy Kinnikinik graham style cookie crumbs (this will save you time crumbling those cookies!) You can use gluten free vanilla wafers or even gluten free chocolate chip cookies.
If you want Chocolate Creme Oreo style cookies as a crust, I have a recipe for Cookies and Cream Hello Dollies here.
Butter
Butter or margarine will work in this recipe. If you are planning to package it up as a gift, you might want to put the butter in a little airtight container in case it gets squishy. 
Chocolate Chips
You can use whatever gluten free chocolate chips you like. (Regular chocolate chips are naturally gluten free, but always read labels on packages to make sure.) I use Semi-Sweet Tollhouse Chocolate Chips, mostly because they come in the largest bag so I won't run out when I really need them.
Shredded Coconut
This is the shredded coconut you find in a bag in the baking section in your local grocery store. It's sometimes called sweetened shredded coconut, or coconut flakes. 
Sweetened Condensed Milk
The sweetened condensed milk is what holds it all together. When you pour it evenly over the top, it turns the Hello Dolly Bars from a bunch of layers into a chewy amazing dessert.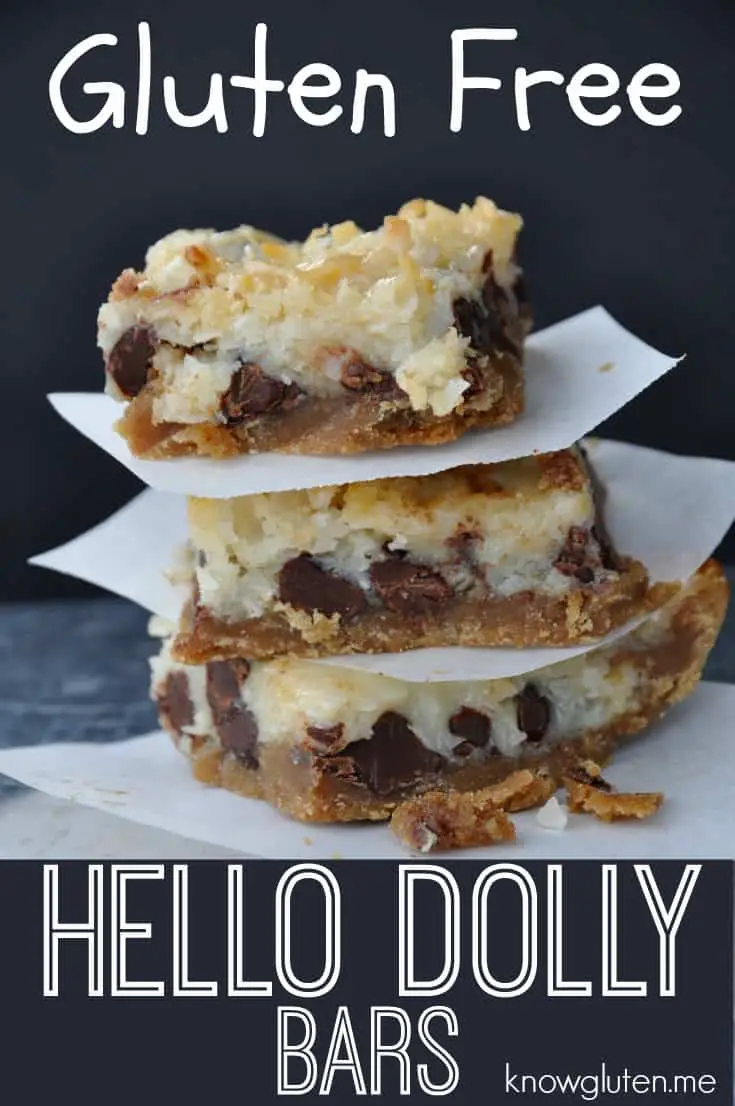 Easy Gluten Free Hello Dolly Bars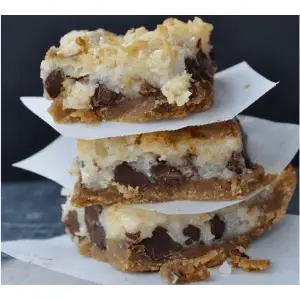 Reasons to love these gluten free Hello Dolly Bars: They're fast, they're easy to make, they're rich and sweet and chewy, and they will make you famous at potlucks (probably).
Ingredients
1 1/2 cups gluten free nut free cookie crumbs
1/2 cup softened butter
1 1/2 cup chocolate chips
1 1/2 cup shredded coconut
1 can 15oz can sweetened condensed milk
Instructions
Preheat oven to 400F
Combine crumbs and butter.
Press mixture into the bottom of a parchment lined 8×8″ square or 9″ round cake pan to form a crust.
Sprinkle crust evenly with chocolate chips.
Sprinkle coconut evenly over chocolate chips.
Pour sweetened condensed milk evenly over coconut.
DO NOT STIR.
Place pan in oven and bake for 20-30 minutes until the top is lightly browned.
Let cool completely on the counter then refrigerate for 30 to firm up before cutting.
These bars can be stored in an airtight container in the fridge for up to 2 weeks and in the freezer for a couple of months. (They also taste fantastic frozen)
Nutrition Information
Yield
20
Serving Size
1
Amount Per Serving
Calories

207
Total Fat

16g
Saturated Fat

8g
Trans Fat

0g
Unsaturated Fat

8g
Cholesterol

13mg
Sodium

91mg
Carbohydrates

16g
Fiber

2g
Sugar

11g
Protein

3g