This gluten free chicken rice bake is the perfect family dinner when things get busy. Just add the ingredients to a casserole dish and out comes a complete meal. Quick and easy and satisfying. And only one baking dish to wash.
Things have been a little busy here lately! They're starting to slow down, but I'm finding that my time in the kitchen has been seriously reduced.
As much as I love baking and cooking all day, I've really needed to put it on the back burner (ha!). So I'm on the hunt for quick (super quick) and easy meals. 
Flashback to the 70's
In my gluten eating days I used to make that easy Campbell's Soup chicken and rice bake. You might have tried it. You probably learned it from your mom. Or maybe even your grandmother! It was all the rage in the 70's.
It was made from cream of mushroom soup, water, chicken, and rice. Quite tasty! And easy! (And also called casserole, but we won't talk about that.) But it wasn't gluten free.
Gluten Free Meal Prep
So, I made my own version. A gluten free chicken rice bake. Super easy. Still really tasty, and this time, gluten free!!
It will keep for 3-5 days in the fridge in an airtight container, so it's great for meal-prep for busy nights. Softball and dance on Tuesdays? No problem. Dinner is done. Reheat and eat.
Looking for more easy meals? Cook up a pan of ground beef and try one of these four tasty meal ideas!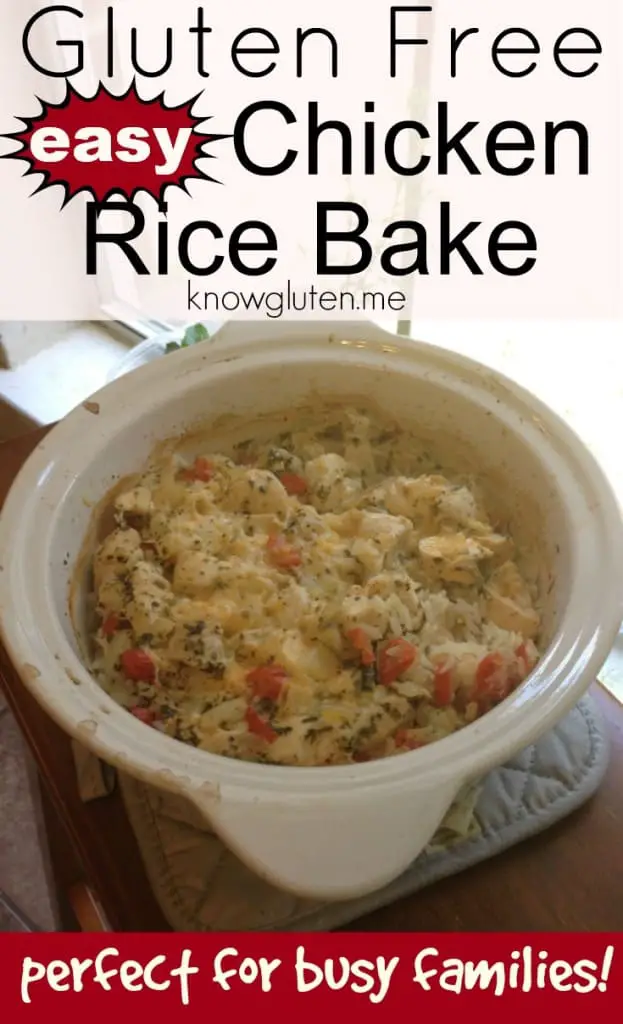 Ingredients
Uncooked White Rice
I use long grain white rice in this recipe. You can use regular old grocery store rice, basmati rice, or jasmine rice and get good results. I haven't tested this recipe with brown rice or with a short grain rice like arborio so I'm not sure you'll get the same results if you use them.
Broth
You can buy pre-made broth, or make up your own broth with a gluten free powder or soup base like Better than Bouillon soup base. I use the Better than Bouillon Seasoned Vegetable. (I use it in everything, it's one of my kitchen staples). If you don't have any broth but you have everything else and you want to make this now, you can sub in lightly salted water. Just add salt a little at a time until it just tastes salty.
Chicken
You can use either raw boneless skinless chicken chopped into small cubes (it will cook with the rice), or leftover cooked chicken. You'll need about a pound. You don't have to be exact with the measurements. I add about a cup and a bit. 
When things get extra busy, I'll cook the chicken in my crockpot. This is my best crockpot chicken recipe.
Onion
Dice the onion into very small pieces. If you have someone in your life who will not eat onions, you can leave it out. It won't ruin it.
Tomato
You can use either a fresh tomato chopped into small pieces, or a cup of canned diced tomato or a drained 10oz can of mild Rotel.
Italian Seasoning
The Italian Seasoning adds such a nice flavor without being overwhelming.
Shredded Cheese
I like the Shredded Italian Cheese Blend, but the Mexican Cheese Blend or something similar will work just as well. If you want it to taste really cheesy, use cheddar. If you are dairy free, you can omit the cheese. The chicken rice bake will still taste great.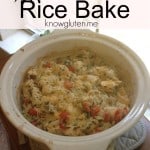 Gluten Free Chicken Rice Bake
Ingredients
1

cup

uncooked white long grain rice

2

cups

broth

or lightly salted water

1

lb

raw boneless skinless chicken chopped into 1″ pieces

or cooked leftover chicken or 1 can chickpeas drained

1/2

onion diced

1

Chopped tomato

1/2

Tablespoon

Italian Seasoning

1/4

cup

shredded Italian cheese blend
Instructions
Combine all ingredients except cheese in a 2.5qt or larger casserole dish with a lid.

Cover and bake at 400F for 45 minutes to 1 hour (or until liquid is gone, rice is soft and chicken is cooked, cooking times may vary depending on the size and shape of your dish so peek at it after 30 minutes)

Remove from oven and top with cheese, replace lid and let rest out of the oven for 10 minutes or until cheese is melted.