Almost as easy as making an ice cream sundae! This is one of my favorites for special events.
So, some interesting things have happened in my house recently. My twins have turned 17 and unexpectedly graduated from high school. This might take some explaining. We homeschool. Plus, we move ALOT. This means that our graduation requirements change all the time. We live in Louisiana right now, and the girls found out they have more than enough credits to meet Louisiana's Core 4 graduation requirements (this happens when you start a high school program at 12 and school year round. Technically, they could have graduated last year, one of the weirder things about homeschooling.) So, instead of the wonderful year of advanced math and science I had planned, they've decided to graduate and do something totally new.
It's sort of fitting for the girls who tried to arrive on the scene 29 weeks into their gestation and still showed up 6 weeks early, to leave the nest a full year before they were "supposed" to. Needless to say (well, if you're a mom reading this, it's needless to say, if  you're a 17 year old, you might not know) it's caused me a little bit of anxiety. All of a sudden, I'm in the world of standardized tests and college brochures and gap year programs and part-time jobs.
So, the blog has taken a bit of a back seat right now while I use my mental energy to focus on all these changes. But I did make an amazing (and totally easy) ice cream cake for their birthday that I really wanted to share with you. The pictures were taken during the party so they're not the best, but the cake was so good and so simple to make. Just make a gluten free brownie mix and then pour on some hot fudge sauce, spoon on some ice cream, pour on caramel sauce and then top with cool whip (don't worry too much about amounts, I just eyeballed it.) Wow. As good or better than a store bought ice cream cake. I might even make it regularly when we have company.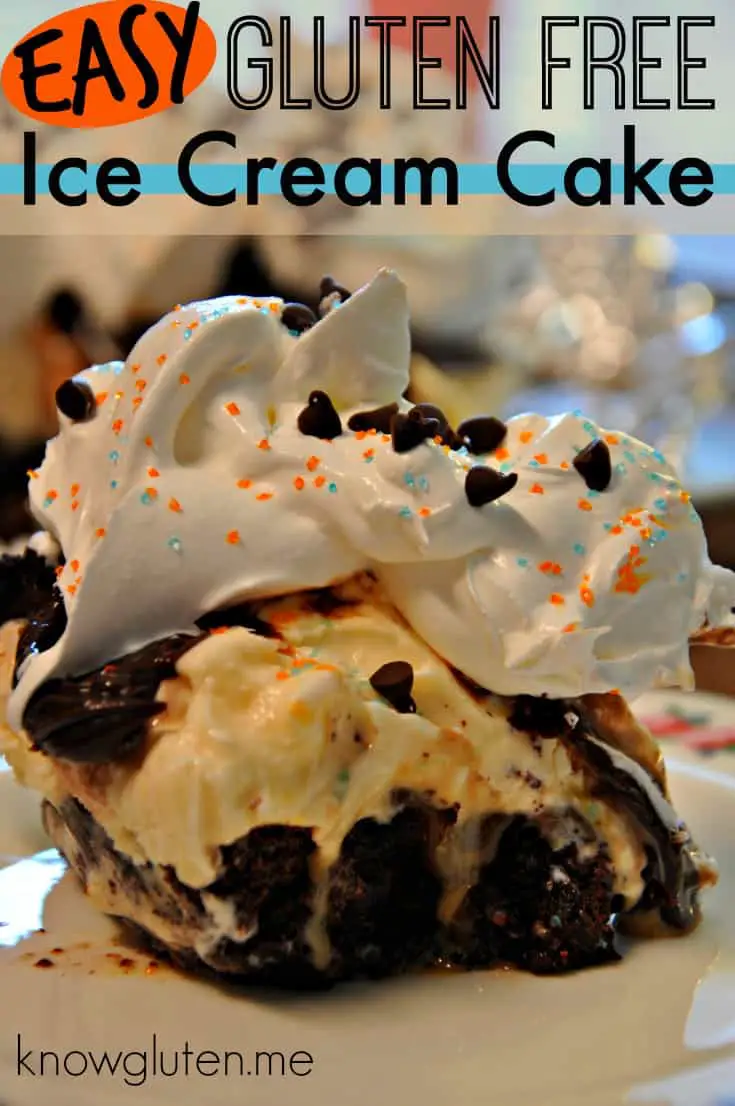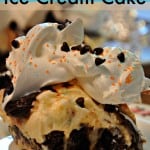 Easy Gluten Free Hot Fudge Caramel Brownie Ice Cream Cake
Ingredients
2

Betty Crocker Gluten Free Brownie Mix

1

Stick

1/2 cup butter

4

Eggs

1

cup

of your favorite gluten free Hot Fudge Topping

1

cup

of your favorite gluten free Caramel Topping

try this easy recipe to make your own

About 1 liter gluten free vanilla ice cream

I like Breyers

1

container Cool Whip

Sprinkles or mini chocolate chips for decoration

I use Tollhouse chocolate chips
Instructions
Line your brownie pan with parchment paper or foil.

Make Brownie Mixes according to directions, set aside to cool in pan. (One brownie will be your base, you'll use half of the other brownie in your topping. The other half is for the chef to snack on)

Take ice cream out of the freezer and let soften for about 10 minutes.

Break up half of your "topping" brownie into 1/2″ chunks.

While the first brownie is still in the pan, add your toppings in these layers: Base brownie, then caramel sauce, ice cream, hot fudge sauce, brownie chunks, cool whip and sprinkles.

Place cake in freezer to firm, at least two hours (over night is better).

To serve, lift cake out of pan by parchment paper or foil. (the bottom might stick to the foil, but it won't be any problem when you're cutting slices)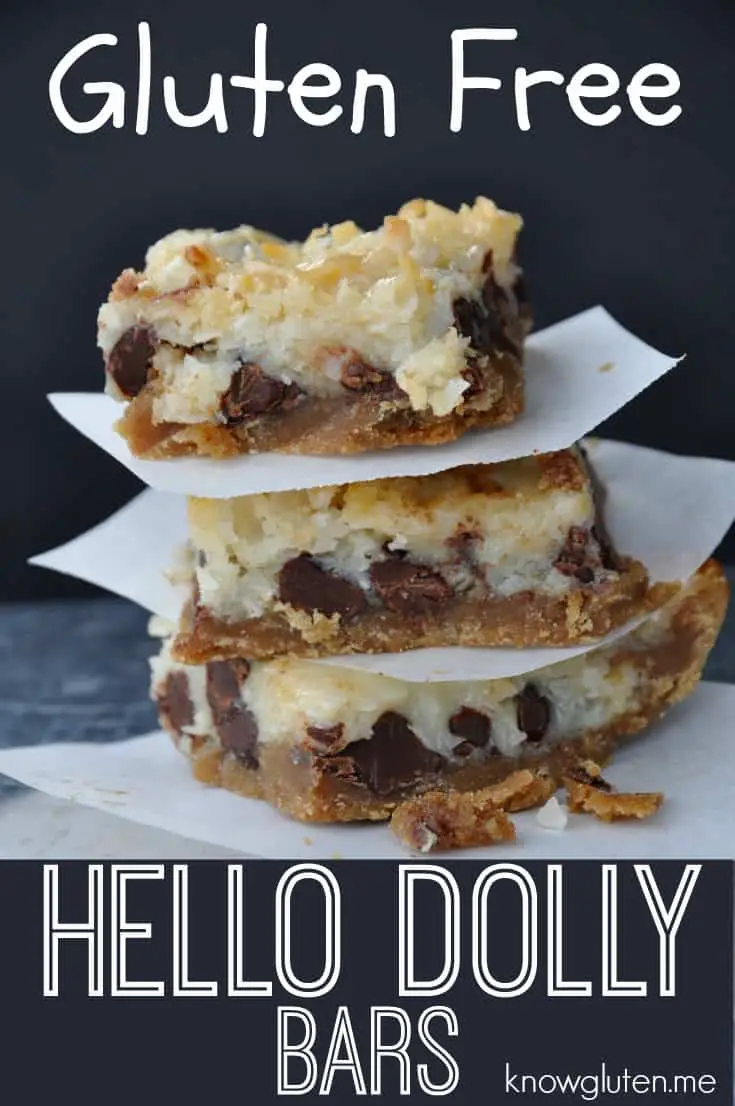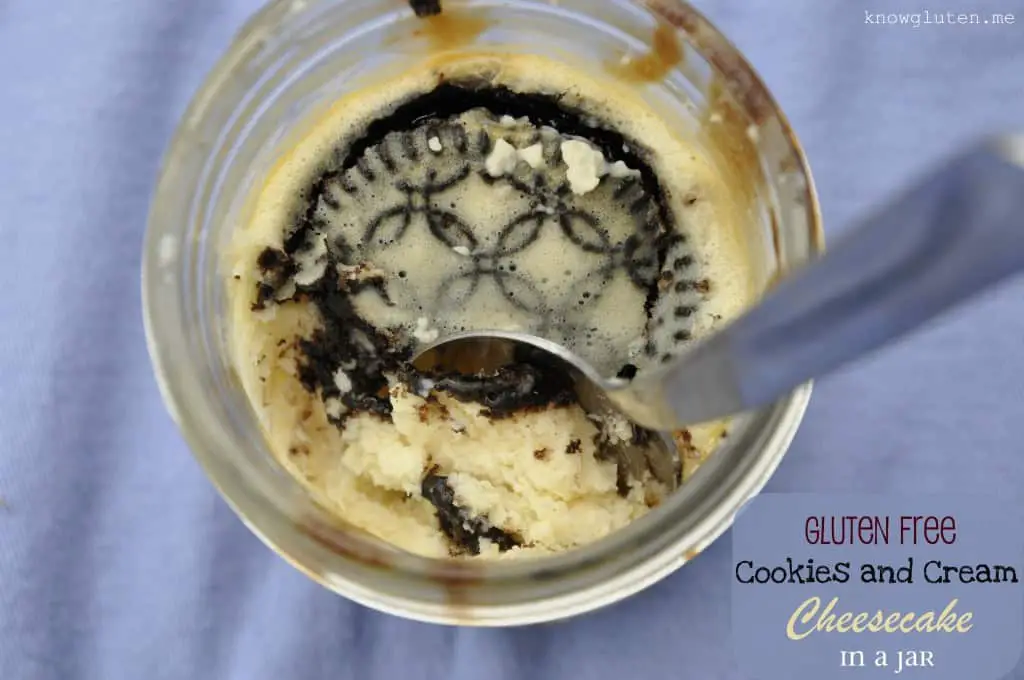 Thanks for visiting! Click on a cupcake to connect with me on social media!