This Gluten Free Alfredo Sauce is impressive enough for company, but quick and easy enough to make for an everyday dinner.
This is a new-to-me recipe. I've always bought Alfredo Sauce in a jar. Ya know, because I thought it was easier. I figured something so amazing had to take hours to make. But really, it only takes a few minutes. And if you make it yourself, you know exactly what went into it, so you can guarantee that your Alfredo Sauce is gluten free. 
I have found that a name brand Parmesan Cheese (like Kraft) makes a great sauce, but the cheaper brands leave a bit of a granular texture. For the smoothest sauce, you might want to use fresh Parmesan. (I personally haven't tried it with anything but the stuff in the plastic container and it turned out fantastic, so fresh isn't a requirement.
How to Serve Gluten Free Alfredo Sauce
How do you serve gluten free Alfredo sauce? You could toss it into your favorite gluten free pasta. I look for brands that are made of a corn and rice flour blend because I like the texture the best. For a lower carb option, use it to top spaghetti sauce or pour it over chicken, salmon, or steamed broccoli.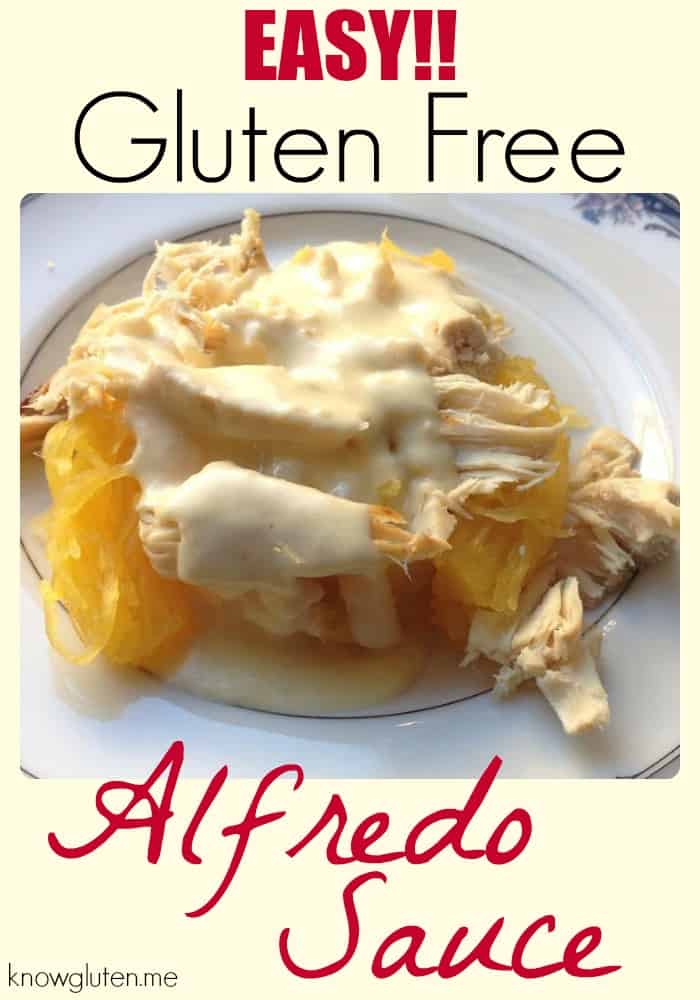 Ingredients
Butter
I use salted butter in this recipe. If you use unsalted, you'll probably just have to add a little salt at the end. I haven't tried it with margarine, but I'm sure it would turn out just fine.
Garlic
For this recipe, you can use fresh minced garlic. If you want to save a little time, you can get the jar of pre-minced garlic. It's usually in the produce section of the grocery store. If you don't have either of these things, a couple of shakes of garlic powder is a good substitute.
Heavy Cream
Great for the keto crowd! Lots of fat in that heavy cream! It also makes this gluten free Alfredo sauce taste amazing.
Grated Parmesan Cheese
I use Kraft because it's the most affordable decent quality Parmesan cheese in my local store. I haven't tried this recipe with freshly grated Parmesan cheese, but I bet it would be great.
Italian Blend Shredded Cheese
I buy the Kraft or Borden brands of shredded cheese because I find that they melt the best. If you can't find the Italian blend, any unseasoned blend should work. (Stay away from the "fiesta" type blends that add taco seasoning. I think it would ruin the taste of the alfredo sauce.)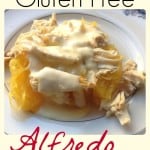 Gluten Free Easy Alfredo Sauce
Alfredo Sauce is impressive enough for company, but quick and easy enough for everyday meals.
Ingredients
2

tbsps

Butter

2

clove

crushed garlic

1 1/2

cups

Heavy Cream

1/2

cup

Parmesan Cheese

Grated

1/2

cup

Italian Blend Shredded Cheese

Salt to taste
Instructions
In a medium saucepan, melt butter over medium heat.

Add garlic and lightly saute for 3 minutes until fragrant.

Pour in cream and let simmer until it's been reduced by 1/2 a cup.

Remove from heat and stir in cheeses until melted.

Add salt if required.