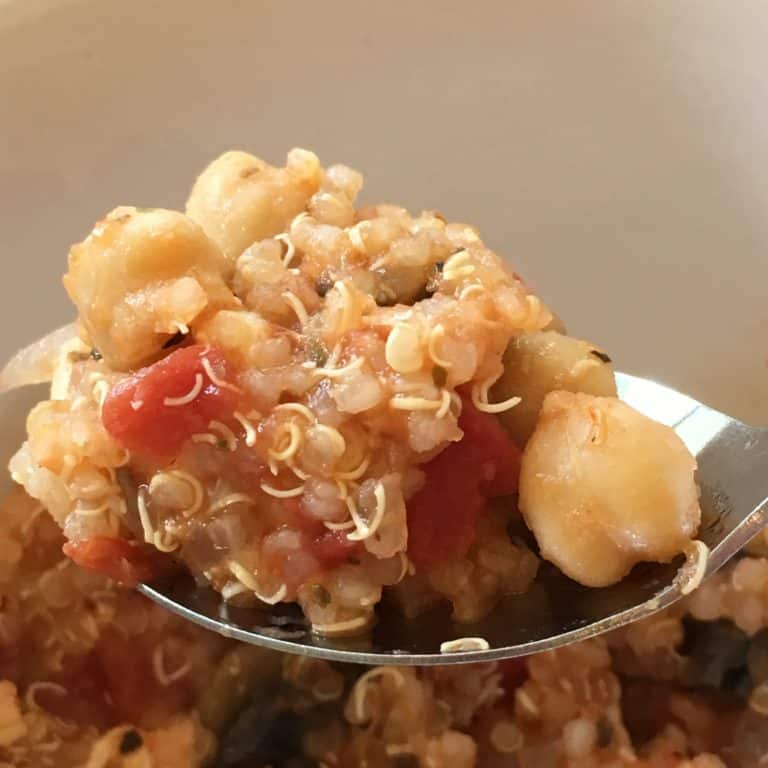 gluten free vegan quinoa casserole
I first started making this gluten free vegan quinoa casserole because of a very common problem. Not enough time. When my mom friends and I talk about healthy eating and how hard it is to stick to a healthy diet, the number one complaint we all have is, it just takes so much time.
Even Gluten Free Can Be Unhealthy
It's so much easier to run through the drive-thru at Chick Fil A and grab a gluten free sandwich than to make actual food. We're busy. Some of us homeschool. Some of us are swamped with work. All of us have kids who have activities. Meals for mom are an afterthought. Especially if mom is eating something different from the rest of the family because of a gluten free diet.
The Emergence of Casseroles
When I think back to my own childhood in the 70's and 80's, I remember it was hard for moms then too. Kids didn't have the same extreme after school schedules our kids have today, but our moms were trying to live in a brave new world of women's liberation. They were getting jobs, raising kids, and taking care of all the housework. And every night, they had dinner on the table. How was that possible? Casseroles. Open a can of this, dump it on a pile of that, mix it together, heat it, and serve.
Where Did The Casseroles Go?
For some reason we've gotten away from casseroles. Maybe because we ate the same thing as kids week after week? Maybe because all the food is mixed together? To be honest, my kids won't eat anything with the words quinoa or casserole in the title, so I started making this casserole for me. So I would have something healthy and tasty in the fridge to reheat when I was hungry. This recipe lasts me 4 meals. It's one of my favorite dishes and not being hungry means that I can concentrate on making the kids meals that they'll actually eat, like my chicken rice bake (they'll eat it because it's a bake, you see, not a casserole).
A True Casserole
This casserole is true to casserole style. You have to cook quinoa (I do it in a rice cooker, so it's a hands off activity), and sautee a couple ingredients, but then you just open cans and mix things together and heat.  
Gluten Free and Vegan Quinoa Casserole
This quinoa casserole is both gluten free and vegan. That means it's dairy free and egg free. I'm finding that more and more of my readers have other food allergies and sensitivities and I myself have started eating a plant based diet, so I'm trying to incorporate more dairy and egg free dishes into the blog. I do still cook for my omnivore family, so this site isn't turning completely vegan.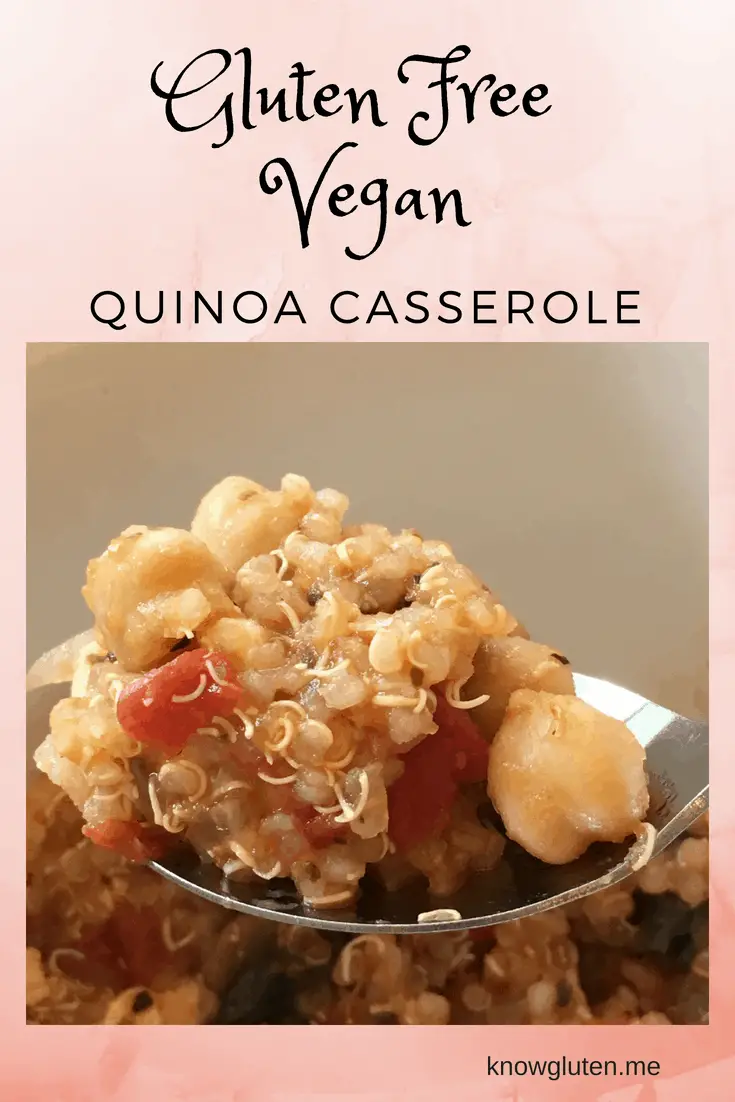 Gluten Free Vegan Quinoa Casserole
Ingredients
Ingredients
1

cup

uncooked quinoa

½

cup

sliced mushrooms

¼

cup

onion

diced

1

can chickpeas

drained

1

can rotel

1

cup

pasta sauce

Salt to taste

Smoked paprika to taste

optional

Daiya Mozzarella Cheese

optional
Instructions
Directions
Cook quinoa according to package directions.

Sautee mushrooms and onions until tender

Spoon cooked quinoa into a large bowl.

Stir in sauteed mushrooms and onions, chickpeas, rotel, and pasta sauce.

Taste and add salt and smoked paprika.

Spoon into large microwavable container, or small one serving microwavable containers.

Top with Daiya cheese if desired.

Lightly cover and microwave until heated through. (single serving containers take about a minute)