The Problem:
Okay, here's the scenario: You want to try your hand at gluten free banana muffins. You buy bananas. Finally, enough time has passed that the bananas are the right mushiness to make muffins, but there's only one banana left. How do you make gluten free banana muffins with one brown banana?
So now, what do you do? That banana is too mushy to eat, and banana muffin recipes call for THREE brown bananas. Yes, you could freeze the banana for smoothies, but then you wouldn't get muffins. Yes, you could do math and figure out how to third the banana muffin recipe, but you wanted to eat, not retake the SATs.
The solution:
Thankfully, this recipe exists. It actually exists because the above scenario happens to me all the time. Weekly maybe. So the 8 year old and I messed around with amounts until we made muffins that tasted just like the big batch. The first couple of tries were really dry. I think we were overestimating how much moisture one banana would bring to the muffins. But I think we hit on something really good.
A benefit to making muffins, particularly gluten free muffins, with just one banana is that you make a smaller batch. I find gluten free baked goods don't last quite as long as regular baked goods, and only about a quarter of the time as grocery store baked goods. (Pretty sure future archaeologists are going to uncover some Little Debbies and be able to safely enjoy them with their coffee). This recipe makes about 6 or 8 depending on how big you make the muffins. Just remember, the more muffins you make, the faster they'll bake.
(That sounds like existential grandmother muffin wisdom. I made an appropriate meme)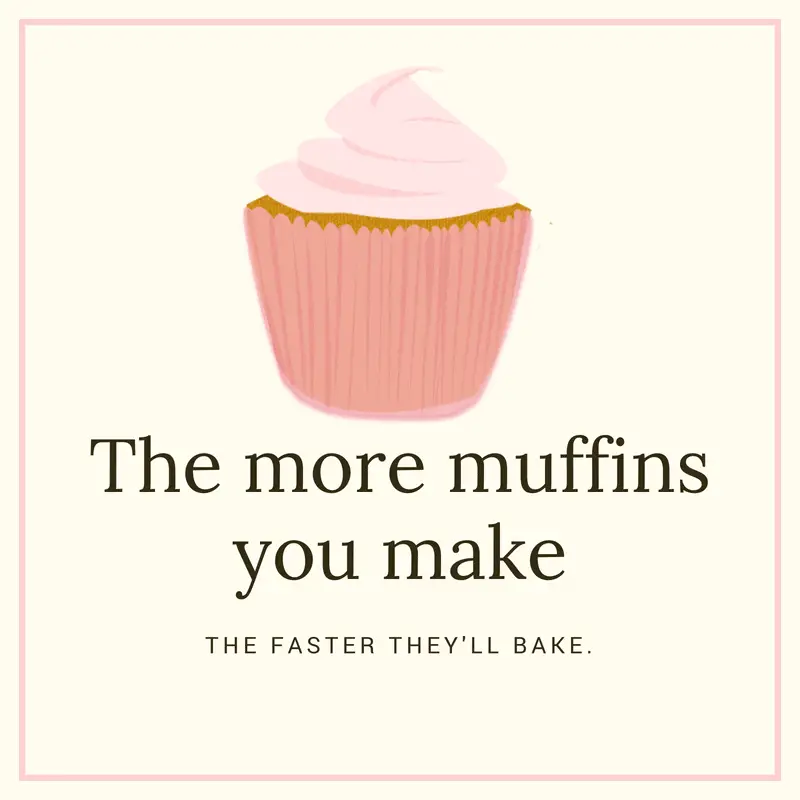 Some baking tips:
I personally really like parchment paper cupcake liners over regular cupcake liners for gluten free baking because they stick less. It didn't matter when I was eating gluten and a giant bag of flour cost me a couple bucks, but gluten free ingredients are a little more expensive and I want to make sure I'm eating my whole muffin, not throwing half away with the paper.
Bob's Red Mill All Purpose Gluten Free Flour is the base for  these muffins. It's easy to find, and if your store doesn't have it (and won't bring it in for you) you can easily order it online. (At least in North America). It's more "muffiny" and it's rice free. Rice tends to cause some inflammation in a certain arthritic family member, and we want him to enjoy muffins too.  
I spoon the batter into the muffin tins using a large ice cream scoop or a quarter cup measuring cup, then I spoon the remaining batter into the tins to even them up.
Differing Tastes:
A note about the chocolate chips: You don't need them. If you want them, add them. You certainly don't need the amount that my 8 year old puts in (in my opinion). So we left the amount you put in up to you. Start by adding ⅓ cup if you want them and see if that's enough. Add more if you like your muffins really chocolaty. We've had batter that looks like lightly coated chocolate chips, those muffins turned out just perfect (according to my 8 year old). We've also made these muffins without chocolate chips, which was just perfect for the 8 year old's big sister.
We whip these up in only a few minutes. I hope you find them as easy and tasty as we do!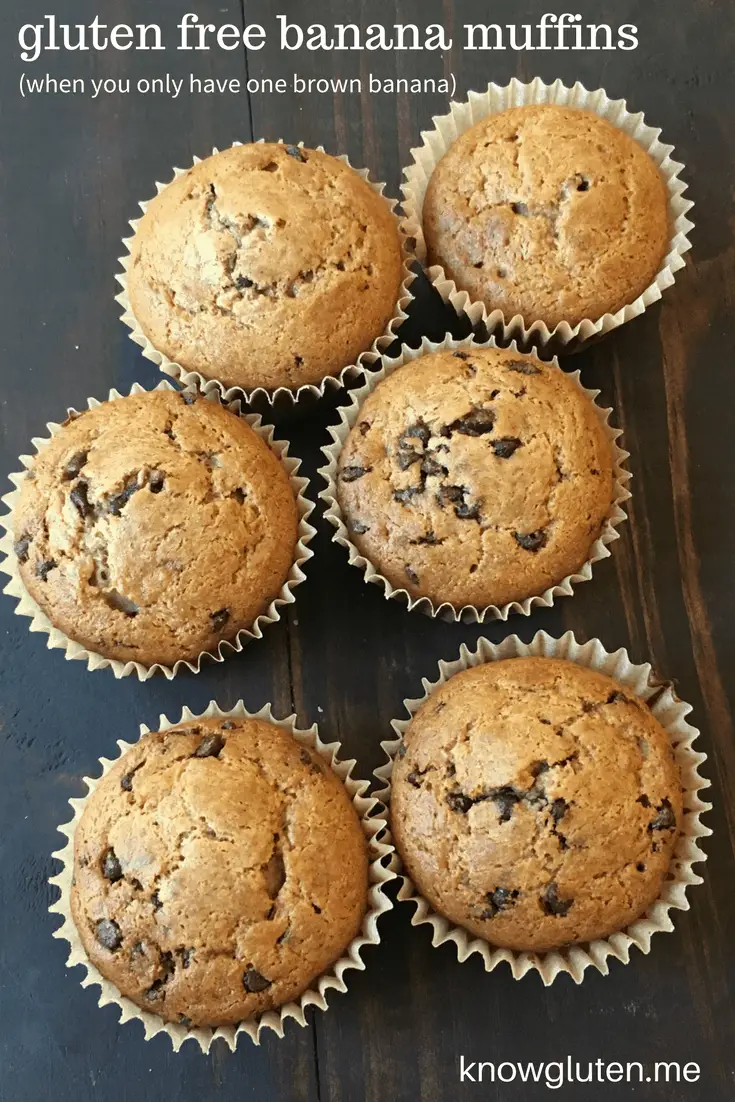 Gluten Free Banana Muffins With One Brown Banana
A gluten free muffin recipe for that one lonely brown banana sitting on your kitchen counter.
Ingredients
Ingredients:
1

banana

1

egg

3

Tbsp

vegetable oil or melted butter

¼

cup

milk

⅓

cup

brown sugar

⅔

cup

Bob's Red Mill All Purpose Gluten Free Flour

½

tsp

baking soda

½

Tbsp

cinnamon

1

tsp

vanilla

1

Pinch

salt

Mini chocolate chips: to taste
Instructions
Directions:
In a medium size bowl, mash banana with a potato masher or electric mixer.

Add remaining ingredients and mix well.

Spoon into lined muffin tins using a ¼ cup measuring cup.

Bake at 350F for 20-25 minutes. Tops should spring back when lightly touched.