Lentils are one of my very favorite gluten free, vegan entrees for a few reasons.They're the perfect "last minute" dish. No soaking or thawing required. They're very easy to make. You just pop them in the pressure cooker with some herbs or spices and without really needing to babysit them, they make a saucy dish that's perfect on its own or over rice. 

Lentils are naturally gluten free and go well with all sorts of flavors, from curry to Mediterranean, so even though you've cooked the same thing, you haven't cooked the same dish. They're very inexpensive. A one pound bag of lentils at my supermarket is a dollar. I can get an even larger bag at the International Store for the same price. 
And they're impressive! Lentils are one of those things that most people usually only order in restaurants and have no idea how easy they are to make, and so are very impressed when you serve them for a dinner party.
Gluten free lentils are one of my favorite things to cook in the winter. They're made with pantry staples, like lentils and Rotel, but the fresh herbs make them "spring" to life. 
Ingredients
Lentils
There are so many different kinds of lentils, but for some reason, most grocery stores only carry one. This is the one you want. It's in the store brand bag and it clearly says "Lentils" on it. These lentils are tiny tanish/greenish/light brownish disks. In the US you should only pay about a dollar for a one pound bag. You might pay a little more for organic. Some people recommend sorting and rinsing your lentils, some don't. I sort and rinse mine, just a habit I've picked up from living overseas and finding the occasional stone in my lentils. 
Do you have a bag of red lentils? Try this spicy curry lentil soup!
Onion
You'll need a medium yellow onion for this recipe. You're going to finely dice it and saute it. Don't get overly concerned with the size of your onion. Just whatever you grab from the bag is fine.
Minced Garlic
I buy the minced garlic in the jar in the produce section and I think between my husband and I, we go through a large jar every week. We like our garlic. We also have a king sized bed. If you don't have the minced garlic, you can mince a couple of cloves of fresh garlic, or use a half teaspoon of garlic powder. Hate garlic or can't eat it? That's ok. There are lots of other flavors in this dish, leaving out the garlic won't ruin it.  
Water
I used filtered water because I have a filter thing on my fridge, but regular tap water is fine. You're going to have 2 measurements of water. You're going to use about a quarter cup right at the beginning while sauteing the onions, garlic, and rosemary. When the onions start to turn translucent, you're going to pour in a splash of water to get the brown residue off the bottom of the pot and you're going to simmer it until the water is pretty much gone. This also brings out more of the taste of the rosemary. 
The second measurement of water is for cooking. The 3:1 ratio of water to lentils makes a nice creamy, saucy dish.
Rosemary
I use fresh rosemary, but I just cook it with the onions and garlic at the beginning and then remove it so that the flavor isn't overpowering. I leave the sprigs intact so that I can easily remove them before adding the lentils. If you don't have fresh rosemary, you can use ½ teaspoon of dried. Just add it to the lentils and water when cooking. If you don't have dried either, you can substitute the rosemary and oregano for a tablespoon of dried Italian Seasoning. 
Oregano
I'm lucky enough to live in an area where my garden grows all year. I have a giant oregano bush that is threatening to take over one of my raised beds, so I use a lot of fresh oregano in my cooking. I pick the oregano, and then remove the leaves from the stems before adding them to any recipe. The stems aren't easy to eat.  If you don't have access to fresh oregano, don't worry. You can use a couple of teaspoons of dried oregano or replace the oregano and rosemary with a tablespoon of Italian Seasoning. The taste won't be exact but it should still be really good. 
Rotel
I use mild Rotel in this lentil recipe, I prefer the flavor without the heat. If you love heat in everything, feel free to use regular Rotel. Drain the can and just add the tomatoes and chilis. 
Better Than Bouillon Vegetable Soup Base
Please buy some of this. It will make your life so much more flavorful. I use ½ tablespoon, but I really don't like a lot of salt. Increase the amount until it tastes salty enough for you. If you don't have Better Than Bouillon, you can use salt to taste. Start with ½ tsp. 
Yield: 4 servings
Creamy Lentils in the Pressure Cooker - Gluten Free, Vegan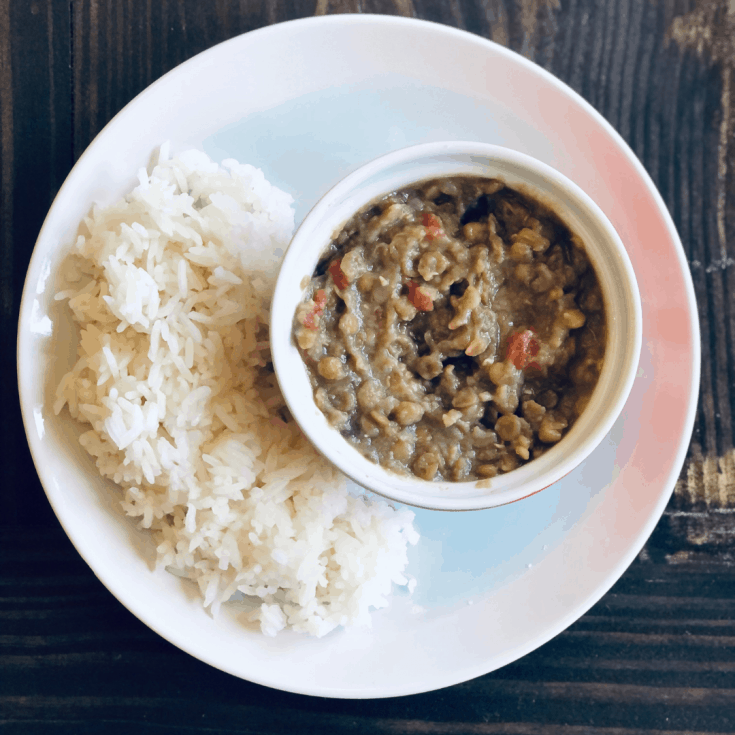 Winter blues got you down? Warm up with this cozy, creamy, lentil dish. Fresh herbs make this cheap and easy pantry staple "spring" to life.
Additional Time
30 minutes
Ingredients
1 cup Brown Lentils
1 Diced Onion
3 cups Water + ¼ cup for deglazing
1 tbsp Minced Garlic
2 sprigs Fresh Rosemary
2 tbsp Fresh Oregano Leaves - Removed from Stems.
1 can Mild Rotel - Drained.
½-1 tbsp Better Than Bouillon Seasoned Vegetable Base (or salt to taste)
Instructions
Spray your pressure cooker with Pam Spray.
Place over medium heat, add diced onion, mince garlic, and whole rosemary sprigs, saute while gently stirring until the onions start to turn translucent. 
Add ¼ cup of water and continue cooking and gently stirring until the water is evaporated.
REMOVE ROSEMARY SPRIGS
Stir in  Lentils and 3 cups of water.
Close cover securely and place the pressure regulator on top.
Turn on high and the pressure regulator starts gently rocking back and forth, set a timer and cook for 3 minutes.
Remove from heat and let the pressure drop naturally.
Once the lid unlocks, remove it and stir in oregano leaves, drained Rotel, and Better than Bouillon.
Serve immediately on its own or with rice.
Can be stored in the fridge in an airtight container for up to 5 days.
For an electric pressure cooker, after adding lentils and water, cook on high pressure for 10 minutes and let pressure drop naturally, then add the oregano, drained Rotel, and Better Than Bouillon. 
Notes
No fresh herbs? Don't worry, just substitute them for one tablespoon of Italian Seasoning. Put it in right before you lock the lid.