A gluten free vegan rice bake! An entire tasty meal that only makes one baking dish to clean! All the dinner problems are solved!
One pot rice bakes were a staple of the 70's and 80's; unfortunately, being vegan was not. Most rice bakes (like my gluten free chicken rice bake) contained meat and the rice was considered a baked-in side. Wow, times have changed!! Almost 10 million Americans are vegan in 2021! That's a lot of people needing dinner ideas! 
Now add being gluten free into the mix. It gets a little harder to find a quick and easy dinner. Don't worry, I got ya covered. This rice bake is EASY, and vegan, and gluten free. And it's inexpensive and tastes good! I mean, you can't get much better than that. 
All you do is 
Add the ingredients into a baking dish with a lid. 
Bake it at 350F for an hour.
Sprinkle it with vegan cheese shreds, if you want, and let them melt.
Serve to your happy and grateful gluten free, vegan family.
How to Serve Vegan Rice Bake
I make this when my granddaughter comes to visit and we just heap it in bowls and eat it with spoons. If you want to be fancy, you can serve it on a plate with a salad or gluten free roll on the side. If you're not vegan, this rice bake makes a flavorful side for pork or chicken.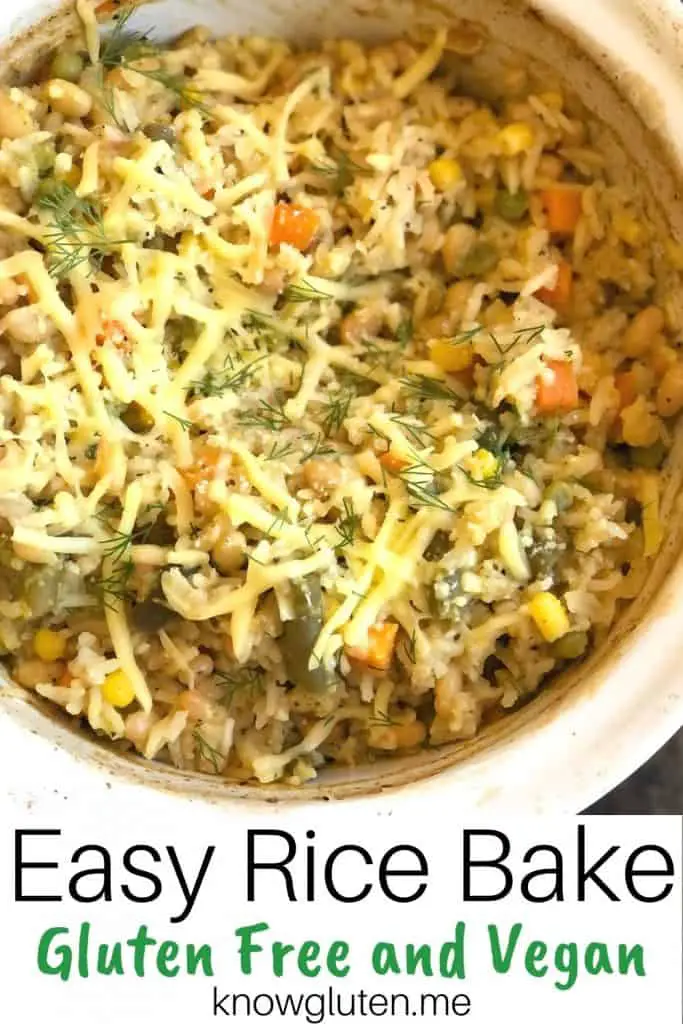 Ingredients
White Rice
I use white rice in this recipe. Don't use brown rice, it requires a bit more water and it won't come out the same. I used Jasmine rice, but you can use any long grain white rice. Basmati would be really good in this vegan rice bake.
Broth
If you're vegan, use a vegan broth. Check the labels when using a prepared broth, sometimes they contain Malt as a flavoring. Malt is made from Barley and contains gluten. I personally prefer Better than Bouillon Seasoned Vegetable Base. I replace the broth with 2 cups of water and 2 tsp of Better than Bouillon. Two teaspoons doesn't seem like a lot, but it's very flavorful.
If you need help reading labels, you'll find my post Other Names for Gluten helpful
White Beans
Just a can of white beans. I've used Navy Beans, Cannellini Beans, and Great Northern Beans. Just open the can and drain out the liquid. Super easy.
Frozen Mixed Vegetables
I keep these on hand for my granddaughter who eats them frozen as a snack. Yum? These are just the mix with peas, corn, and tiny chopped up carrots and beans. 
Mrs Dash Garlic and Herb
Mrs Dash has come a loooonnnngggg way from the original salt free seasoning and has a large variety of herb and spice mixes. I think the garlic and herb is the best one for this rice bake, but if you hate garlic or herbs, feel free to use whatever type of seasoning you like. Tony's or another Cajun seasoning would be good too, you just wouldn't need as much.
Mustard
Regular old ninety-nine cent prepared yellow mustard. It adds such a nice flavor! I add some in the vegan rice bake, and then add some on top when I eat it. The amount stirred into the recipe doesn't make it taste overly mustardy, it just gives it a teensy bit of tang. 
Vegan Cheese
There are vegan cheese shreds and there are vegan cheese shreds. Some melt better than others. I like Daiya and So Delicious for melting. This is totally optional. It's for decoration and for a little bit of extra creaminess. If you're watching calories, fat, or your budget, it won't change the taste much to leave it out.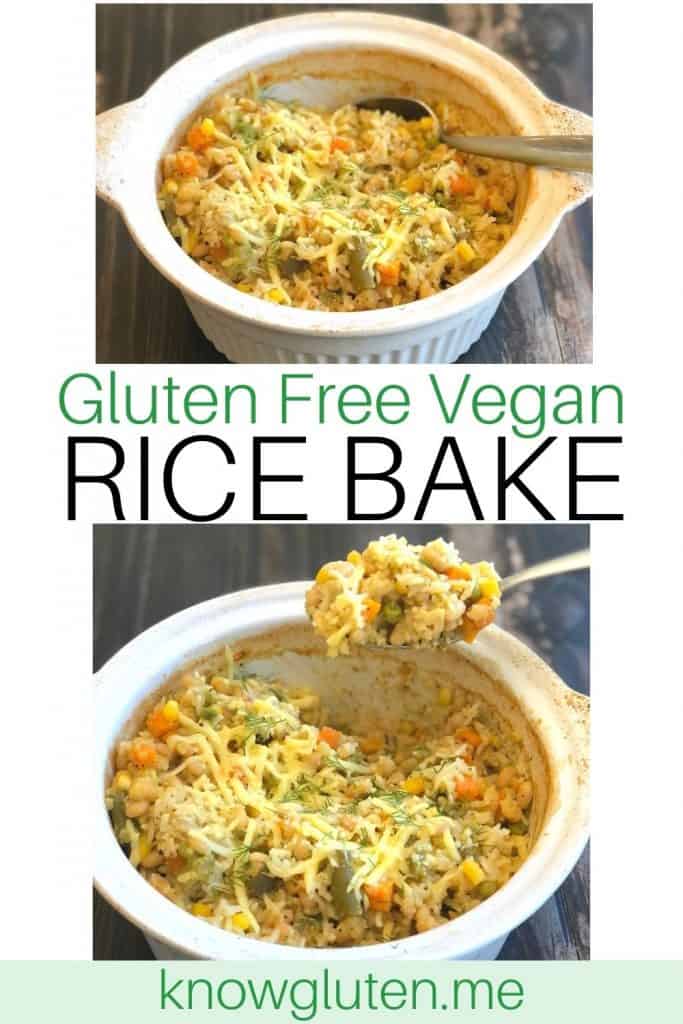 Follow along!
Bookmark this page and use the handy little green heart in the corner to save your favorite posts for later. Or use the share symbol beside it to save it to your own social media.
If you enter your email below you'll be notified whenever I post something new, or you can follow me on Pinterest or Facebook.
Thanks again for visiting! I hope you find your stay helpful!
Yield: 6-8 servings
Vegan Rice Bake - Gluten Free and Easy!
A gluten free vegan rice bake! An entire tasty meal that only makes one baking dish to clean! All the dinner problems are solved!
Total Time
1 hour
5 minutes
Ingredients
1 cup Rice
2 cups Broth
1 15oz can Navy Beans -Drained
1 ½ cup Frozen Mixed Vegetables
2 Tbsp Mrs Dash Garlic and Herb
2 Tbsp Prepared Yellow Mustard
¼ cup Vegan Cheese Shreds - Optional
Instructions
Combine ingredients in an oven safe baking dish with a lid.
Bake covered at 350F for 1 hour or until liquid is absorbed.
Remove from heat, sprinkle with vegan cheese shreds. 
Replace the lid for 5 minutes to allow shreds to melt.
Serve warm.
Can be stored in the fridge in an airtight container for up to 5 days and reheated.