Every time I go to the grocery store, I get asked about my food. Partly because I live in a smaller town in the South and people just talk to you in the grocery store. Kinda nice. And partly because I buy food that most people here just don't buy. Or I buy it in weird massive quantities. We juice, so we buy huge amounts of vegetables. We always get comments on this. And because I'm gluten free, we buy all that weird Bob's Red Mill stuff. More comments.
But I don't just get comments. I get questions. People want to know how I'm going to cook things. I'm often giving quick cooking lessons in the checkout aisle. (Again, small town, South, nobody really minds the holdup. We're already waiting for someone to find her check book). Often enough that I'm thinking of buying index cards so I can pass out recipes.
Last week it was salmon. We were out of salmon, and Walmart has really decent frozen wild caught salmon. The other (as in, the only other) grocery store only gets wild salmon once a year, and it's fresh, and it's $30/lb. We're not huge eaters, so a $5 bag of 4 fillets usually lasts us 2 meals. I usually buy 3 or 4 bags at a time. And the inevitable question. "Whatcha going to do with all that salmon?" The lady in front of me in line
loves fish, but had only tried salmon once, in a restaurant, where it was dry and overcooked. I gave her the quick lowdown on how to pan fry. But then later, I was thinking, poached salmon is pretty good. I should have told her how to do that instead. So, I'm going to tell you, hope that I run into her again, and maybe give her the link to this recipe.
Poached salmon is one of my favorites. As long as you have the salmon, you probably have everything else you need, or you're at least familiar with the other ingredients, celery, onion, lemon juice or vinegar or white wine. It's super easy to make, and it just sounds fancy. Doesn't it? What are you having for dinner? Oh, you know, poached salmon. It's the dietary equivalent to "oh, this old thing?" You can serve it with a sauce if you like. I don't. I usually serve it with some extremely sinful side dish (like cheese grits or garlic herb spaghetti squash) and steamed vegetables. I either toss leftovers into an entree salad, or reheat in a frying pan with a little bit of olive oil and some fun seasoning like Cajun spice or curry powder.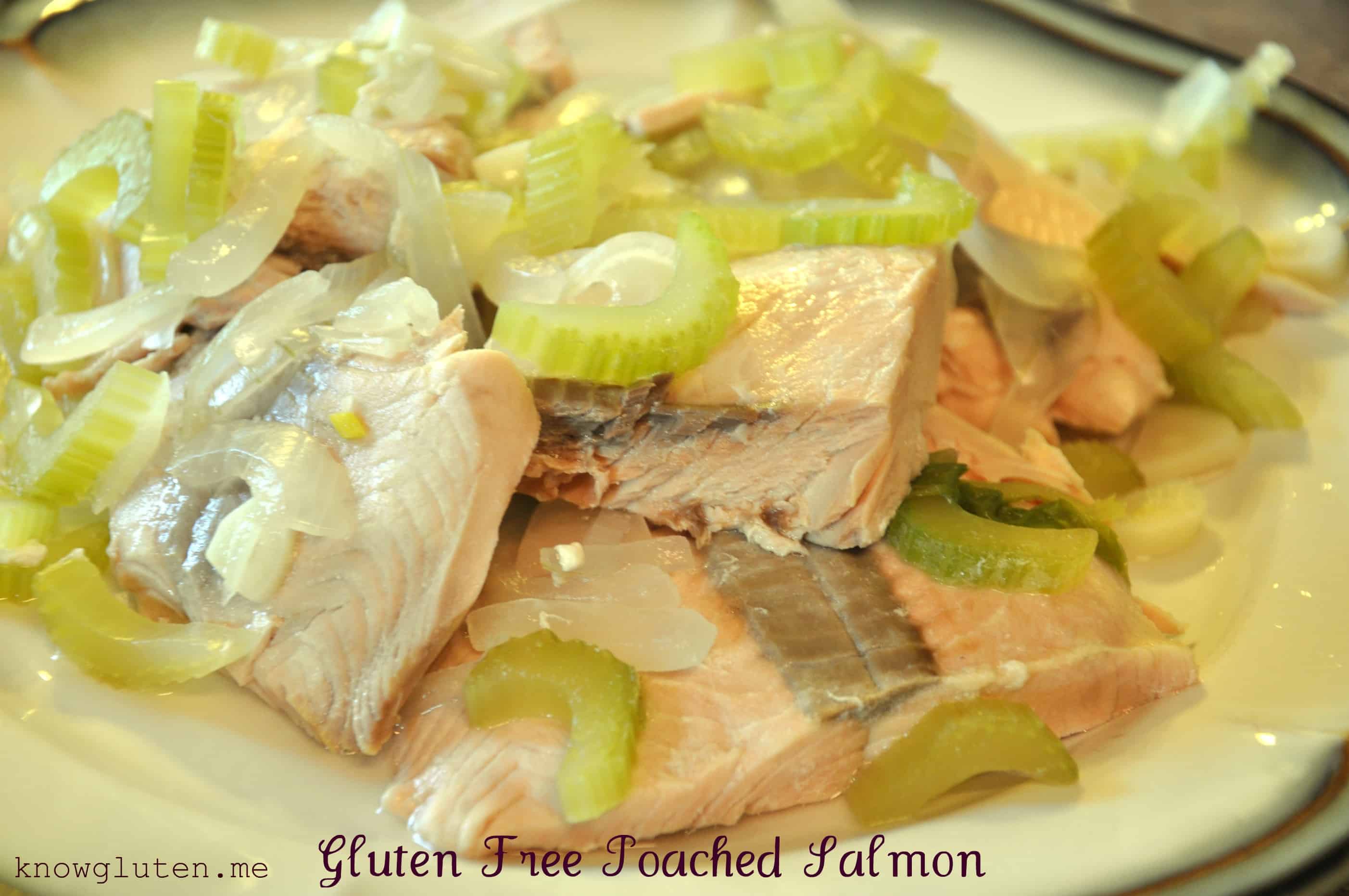 This is the last dinner in our series. Click to find more Simple Gluten Free Dinners and Elegant Leftover Lunches
Gluten Free Poached Salmon
Click here for a printable recipe

Ingredients:
4 Skinless salmon fillets
2 stalks celery
1/2 onion
3 cloves garlic
Water to 1.5″ deep in a large flat bottomed skillet or in a big pot.
1T salt
1/4 cup red wine vinegar, white wine or lemon juice
Directions:
Slice celery, onion and garlic until very thin.
Add to water and bring to a boil.
Cover and boil veggies until tender (about 5 minutes
Reduce heat to a simmer (tiny bubbles)
Add vinegar (or lemon juice or wine) and salmon
Cover and cook about 5 minutes or until salmon is pale and flakes easily.
Do people question you on your weird gluten free purchases? What are your favorite weird dinners?
Are you on Bloglovin? You can follow my blog there!



Thanks for visiting! I'd love to connect!