This gluten free broccoli and mushroom topping is one of my very favorites. It's simple, but so tasty. Use it in omelettes, crepes, or stir fries, or on rice bowls or pasta. 
It would be fantastic in this vegan omelette or this grain free sandwich wrap.
When I was a kid, I worked in some of the fancier restaurants in town. One of the perks of working in a fancy restaurant, is that sometimes they let you try the fancy food. One of my very favorites (and obviously most memorable since that was twenty cough thirty years ago) was a crepe made with a naturally gluten free broccoli and mushroom filling. 
I honestly can't remember what exactly went in the filling, just that it was very simple and tasted amazing. There was just enough seasoning to bring out the flavor of each ingredient without overpowering it. The broccoli and mushrooms weren't drowned in sauce, just lightly flavored. I've since recreated it, using much less fancy ingredients I'm sure, and I use it in everything. 
This recipe is easily doubled or halved. This recipe is written for two, but if you have a bigger family, or a bigger appetite, or if you meal plan, you can just double the ingredients. If you're just cooking for one, you can halve it.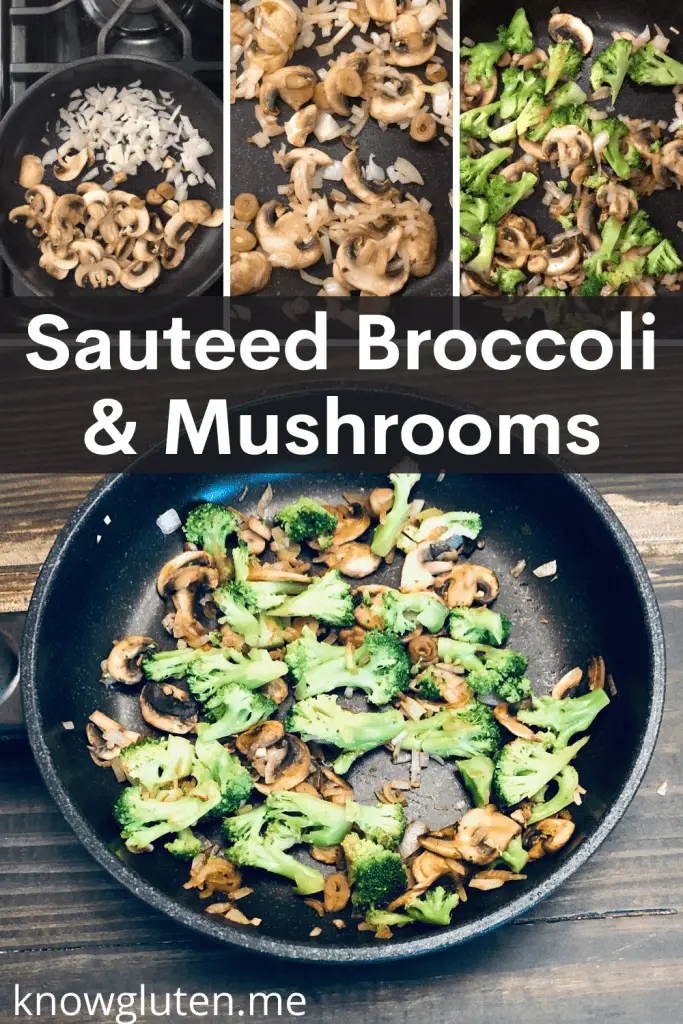 Ingredients
Frozen Broccoli
Quick and easy is the name of the game here. No messing around with parboiling, or pre-cooking, or chopping. Frozen broccoli is already a little bit soft so it's perfect if you're planning to saute it. Just thaw it and drain it. 
Easy ways to thaw it (choose one or use your own way):
Leave the bag in the fridge for a few hours (not my favorite way).
Place the broccoli in a strainer and run lukewarm water over it.
My favorite way, dump the broccoli into a bowl and then fill it up with hot water, it thaws almost instantly. 
Mushrooms
You can use whatever kind of mushrooms you like. If you buy them pre-sliced, you'll make this recipe even easier. I'll often grab just a pack of the white button mushrooms or some Baby Bellas for dishes like this. I also have a couple of packs of dehydrated shiitake mushrooms in the freezer. If you're someone who likes mushrooms occasionally but you find that half the pack goes bad before you eat them, you might want to try dehydrated mushrooms. I buy mine at an Asian grocer for a price comparable to a pack of mushrooms, and they last for months in a freezer bag in the freezer. To use them, I just put them in a bowl and pour some really really hot water over them and let them sit for a few minutes to soften. They're also great to have on hand to throw into soups or stir fries.
Onions
I use yellow onions for this, but if you want to get fancier, you can use sweet onions or purple onions. Both would be really good. Depending on what you're serving this filling in or on you can either dice or thinly slice the onions. I find diced better for a filling (omelettes, crepes) and sliced is better for stir fries. 
Garlic
I use the minced garlic that you can get in a big jar in the produce section of most grocery stores. We use a ton of garlic and we've discovered that we just don't want to take the time to peel and mince that much garlic ourselves every day, so we buy this. I don't think one of those giant jars even lasts a month in our house. If you prefer, you can use either fresh garlic that you have peeled and minced yourself, or garlic powder. Each will change the taste subtly, but you'll prefer the taste if you use ingredients you're familiar with.
Salt and Pepper
Just add salt and pepper to taste. You know what you prefer.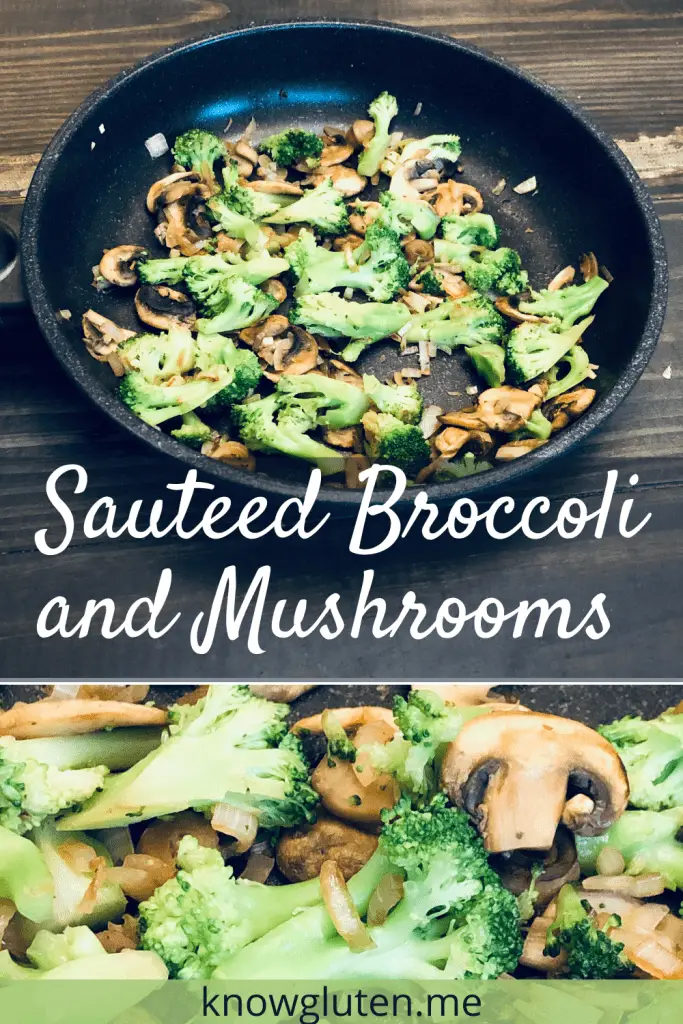 Yield: 2 servings
Gluten Free Broccoli and Mushroom Filling - Vegan, Paleo
This gluten free broccoli and mushroom topping is simple, but so tasty. Use it in omelettes, crepes, stir fries, or pasta.
Ingredients
½ cup Sliced Mushrooms
1 tbsp diced onion.
1 cup Frozen Broccoli Florets - Thawed
Salt and pepper to taste
Instructions
Thaw and drain broccoli and set aside.
Spray a small frying pan with Pam Spray.
Add mushrooms, onions, and garlic and saute over medium-high heat while stirring occasionally until the mushrooms are soft and the onions start to turn brown at the edges. 
Add thawed broccoli, stir gently and cook until just heated through. 
Sprinkle with salt and pepper to taste. 
Use on omelettes, or crepes, or in pasta, rice bowls or stir fry