Light, fluffy, moist, and delicious. A few simple hacks make these the best Gluten Free Bisquick Pancakes you've ever had.
I belong to several online gluten free groups, and it's remarkable how often people complain about the texture of goods made with gluten free Bisquick. Particularly the pancakes!
It's great that they exist, but gluten free baking mixes really do need some help from the baker. 
Now how do you take these pancakes that are a little dryer, a little crumblier, and give them the flavor and texture they're missing? 
Just a few simple hacks. In this recipe, we take gluten free bisquick pancakes and add a little more fat, a little more moisture, and a hint of maple syrup to the gluten free bisquick baking mix.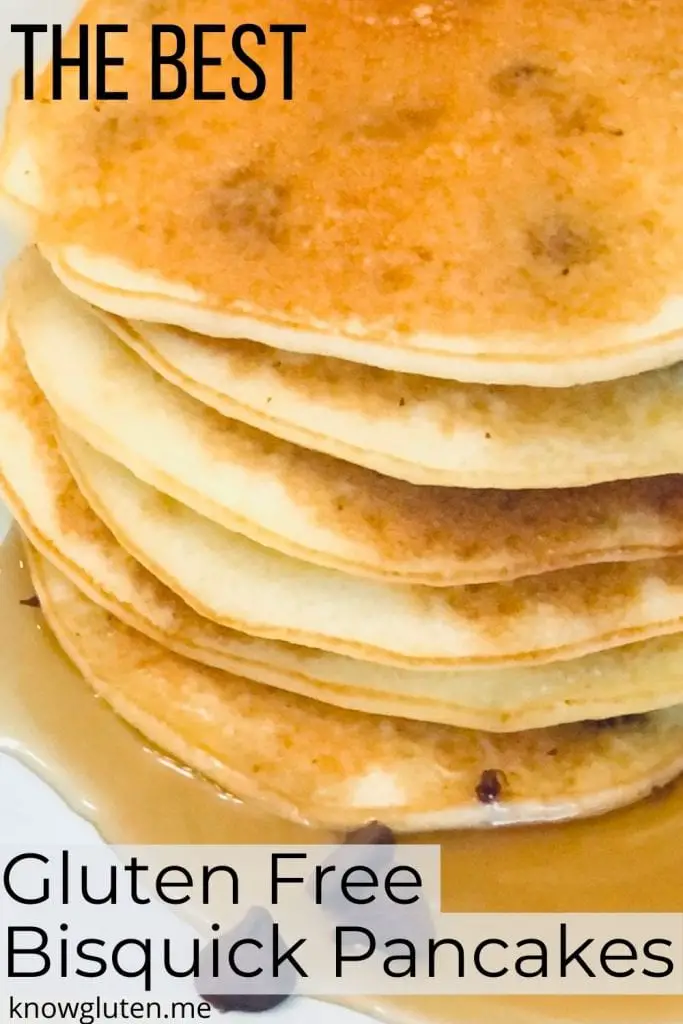 Ingredients
Gluten Free Bisquick
Of course! Gluten Free Bisquick Baking Mix is made to mimic its gluten counterpart. It's an all in one baking mix with the leavening and binding built right in! I use it all the time. In fact I even have two super simple mug cake recipes I make with it. One sharing size gluten free mug cake, and a chocolaty vegan mug cake (also gluten free).
Milk
You're going to use a little more milk in this recipe than the original calls for. That's ok. The pancakes will still be nice and fluffy. 
Eggs
There's an extra egg in this recipe. It just works. Maybe it adds to the fluffiness? I don't question. I just enjoy.
Melted Butter
Yeah baby, the melted butter adds so much more flavor than the cooking oil. Make sure it's melted though, it counts towards the liquid in the recipe.
Maple Syrup
You won't even need to add any syrup on top, because it's cooked right in! The maple syrup gives these gluten free bisquick pancakes a rich and pancakey flavor. 
Mini Chocolate Chips
These are optional. At least, in your house these are optional. Chocolate chips are necessary in almost every baked good in our house. Mini chocolate chips work way better in pancakes because they don't sink to the bottom of the batter. 
Fat for Frying
How you fry a pancake makes such a difference. Frying them in fat gives them that crispy edge and helps them brown nicely. My very favorite thing to use is Butter Flavored Crisco. It doesn't burn the way butter does, but still gives a nice buttery flavor. 
The Best Gluten Free Bisquick Pancakes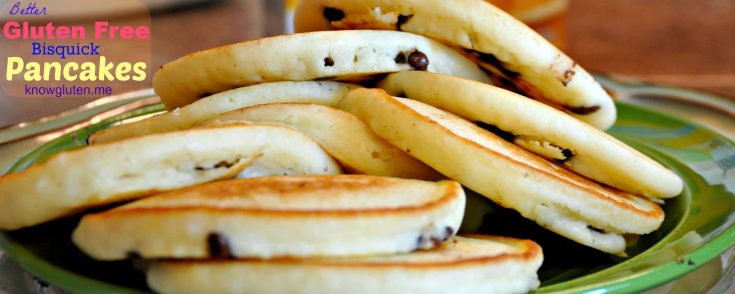 Light, fluffy and moist, a few simple hacks make these the best Gluten Free Bisquick Pancakes.
Ingredients
1 cup Gluten Free Bisquick
1 1/4 cup milk
2 eggs
2 Tablespoons melted butter
1 teaspoon vanilla
4 Tablespoons pure maple syrup
Fat for frying
Instructions
Pre-heat a large non-stick skillet on the stove top over medium-low heat or electric skillet to 300.
Add all ingredients to a mixing bowl.
Mix with whisk or electric beaters until completely combined.
Melt a small pat of shortening on the skillet and tilt to make sure it's well coated.
Drop batter by 1/4 cups onto skillet.
Cook until the edges are firm and the tops are full of bubbles.
Flip over and cook the other side.
Re-grease the skillet with butter for each new batch of pancakes.