These gluten free vegan banana muffins are a must-have in our house so I make them often. I've always made them gluten free, but a few months ago I finally worked out a recipe that was both gluten free and vegan.
They just taste like really good banana muffins. They're light, and fluffy, and moist, and very tasty. And that's good, because we eat them alot. One, because they're an easy snack to grab; and two, because we keep our house pretty warm and bananas go brown very quickly.
This is a small batch. Depending on how much batter you scoop into the muffin tins (and how many chocolate chips you add), you'll get between 9 and 12 muffins. They're best the first day, but you can save them in an airtight container if you have leftovers. Like all homemade gluten free baked goods, they do get dry, so 2 days is probably the max. Good news is, they're really quick and easy to make, so you can always have fresh muffins.
Love gluten free vegan baked goods? Try this amazing gluten free vegan chocolate cake!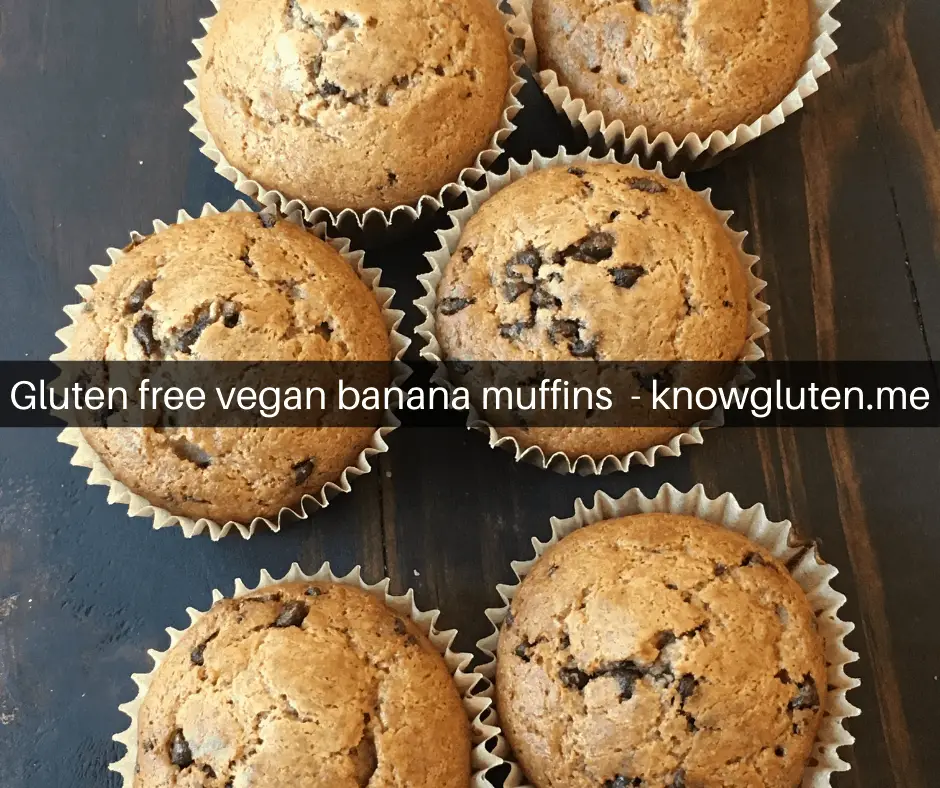 The Ingredients
One Brown Banana
This recipe calls for only one banana. Actually, the recipe was born out of a need to use up that last brown banana. Because, ya know, you have that one brown banana sitting on the counter, and every muffin recipe calls for 3 bananas, and darn it you just don't want to have another smoothie, and you really don't want to be that person that throws out a perfectly good, but brown, banana, (or am I the only one who has an existential crisis over bananas?) And again, gluten free muffins are just so much better fresh, so small batches are better. I use a potato masher to mash the banana, you can also use a fork. Make sure you mash it really smooth and get all the lumps out.
Bob's Red Mill All Purpose Gluten Free Flour
You'll notice that a lot of my baking recipes call for this flour. This is NOT the rice based 1 to 1 flour with the blue label. This flour is denser and darker and has a blend of gluten free grains and legumes. I find it has a superior texture to any of the rice based gluten free flours on the market. Finished products are much more like gluten baked goods, not crumbly like many of the rice blends.
Flax Egg
A flax egg is a nifty little invention. It's flax meal mixed with water. 1 tablespoon flax meal to 3 tablespoons of water. You let it sit for a few minutes and it gets gooey like eggs, so you can use it to replace eggs in some vegan baking recipes. Flax is gluten free and is also a good source of ALA, an essential fatty acid.
Non-Dairy Milk
I've tried Original Silk Soy milk, Unsweetened Silk Soy Milk and Unsweetened Ripple Milk to make these gluten free vegan banana muffins. Each time, the muffins turned out really well so I'm sure you can use whatever non-dairy milk you have on hand.
Brown Sugar
Don't panic if you don't have brown sugar. White sugar will do in a pinch. (A pinch. ha.)
Baking Soda
Baking soda helps muffins (and other baked goods) rise and it's naturally gluten free and vegan.
Xanthan Gum
Xanthan gum is both gluten free and vegan. It's used in gluten free baking to "replace" the sticky power of gluten. (Gluten, sounds like glue, and actually helps hold keep baked goods from crumbling.) You don't need alot so one small bag will last you a long while. I bought my most recent bag over 2 years ago.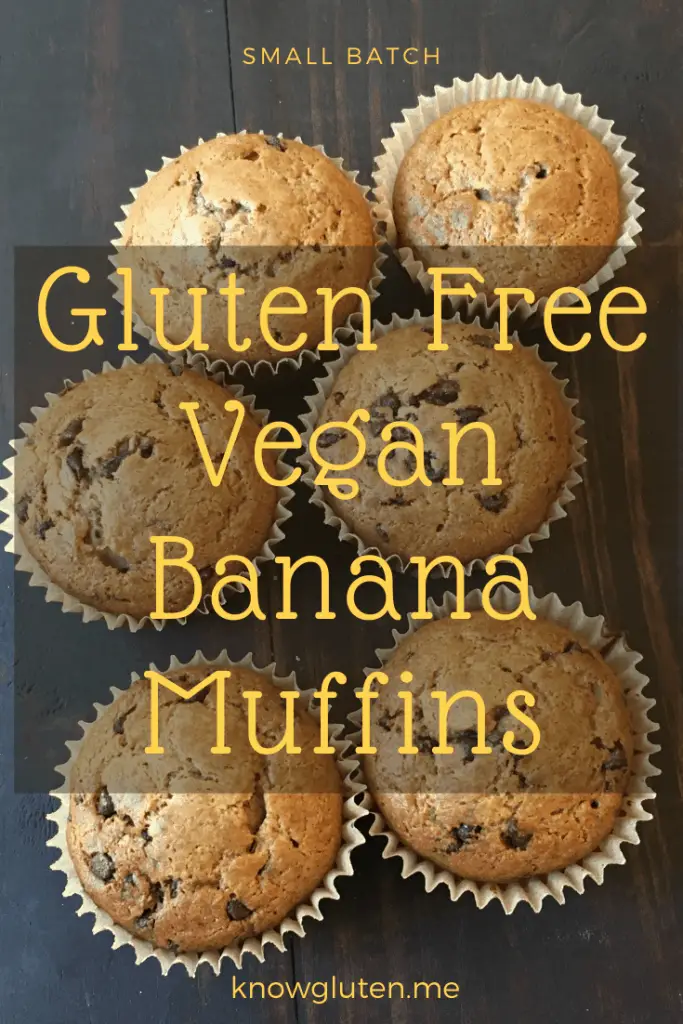 Cinnamon
Cinnamon really enhances the flavor of these muffins. You can add pumpkin spice seasoning instead of the cinnamon if you want, but I really just love the flavor of a little bit of cinnamon. We vary how much we put in. Sometimes we feel like a really spicy muffin so we add a lot and sometimes we just want a hint. A nice balance is about 1 ½ tsp of cinnamon, but we've occasionally added a tablespoon.  
Vanilla Extract
I use McCormick's Imitation Vanilla Extract. McCormick's is cheap, easy to find, and tasty, and so I've just stuck with it.
Chocolate Chips
These are completely optional. Or, rather, they're completely optional in your house. In my house, the debate is whether or not I've put in enough. Because most chocolate chips contain dairy, I use Enjoy Life Morsels (I prefer dark), Nestle Simply Delicious Chocolate Chips, or Trader Joe's Semi Sweet Chocolate Chips. They're all gluten free and dairy free/vegan. If I were making them for myself, I'd put in about half a cup. When I make them for the kids, I add a whole cup. My husband prefers them with no chocolate chips, but he's usually not home when we make them, so he misses his chance to vote.
Planning a gluten free vegan brunch? Whip up a batch of gluten free vegan omelettes to go with these muffins!
Video for all you visual learners
My daughter has had a Youtube Channel for a few years. Right now it's mostly dedicated to Gacha Character Skits. But back when she was nine, she recorded us making her favorite gluten free vegan banana muffins. If you want some truly cringe-worthy entertainment (I'm the cringe worthy one), or you want to give some likes to a young creator, check it out below.)
Gluten Free, Vegan Banana Muffins – Small Batch
A very moist and tasty banana muffins free of gluten, dairy, and egg
Ingredients
1

tbsp

flaxmeal

3

tbsp

warm water

1

very ripe banana

1/4

cup

soy or other non dairy milk

1/2

cup

brown sugar

1

cup

Bob's Red Mill Gluten Free All Purpose Baking Flour

1

tsp

baking soda

1/8

tsp

xanthan gum

2

tsp

cinnamon

2

tsp

imitation vanilla extract

1/2

cup

non dairy chocolate chips

or to taste
Instructions
In a small bowl, mix flaxmeal and warm water (this is your "flax egg)

In a large mixing bowl, mash the banana until very smooth

Add oil, non dairy milk, and brown sugar and stir until well combined

Sprinkle the flour, baking soda, xanthan gum, and cinnamon over the top of wet ingredients and stir for at least 30 seconds to fully combine.

Stir in vanilla and flax egg

Fold in non dairy chocolate chips

Spoon batter by 1/4 cupfuls into parchment lined muffin tins

Bake for 15-20 minutes until the tops are browned and spring back when lightly touched