Here's a fast and easy gluten free vegan cherry cobbler! It only takes a few minutes to make, so it's perfect when you need a last minute dessert!
My daughter called me the other day. A friend had dropped off a whole bunch of frozen peaches and she was looking for a cobbler recipe. Then, like always happens when I talk about food, I had a problem. I had no peaches, but I did have an intense craving for cobbler. 
Thankfully, one of the many bizarre things I bought in the early pandemic panic was a selection of cans of pie filling. (Because of course when the world is falling apart, you're going to spend a lot of time making pie. Not sure what my logic was there, but here we are, a year later, with lots of pie filling.) So now I could make any variety of cobbler! (I'm thinking that the other cans of cherry pie filling would be a really good topping for this gluten free vegan chocolate cake.)
I personally really love gluten free cherry cobbler, and I have a couple of cans of cherry pie filling. But because the cherry pie filling is so sweet on its own, I didn't want a super sweet topping. I also wanted it to be both gluten free and vegan. And I wanted it to be quick and easy to make (because, now I have to use up that pie filling).
So I'm using gluten free Bisquick in this recipe. There's not a ton of sugar in the topping, and it is so easy to whip up. You can have a nice warm dessert in just over half an hour. Pair this cobbler with some vegan ice cream, or Coco Whip, or one of the dairy free ReddiWhip varieties, and you've got a complete well-rounded gluten free vegan meal. (No? That's just me?)
Are you looking for a super simple way to start a gluten free diet? I became an affiliate of Freshly so that I could help with that! They send pre-made gluten free meals to your door. You just have to pop them in the microwave. If you sign up with Freshly using this link, you'll get a special discount reserved for my readers. (and I'll earn a commission on the sale.)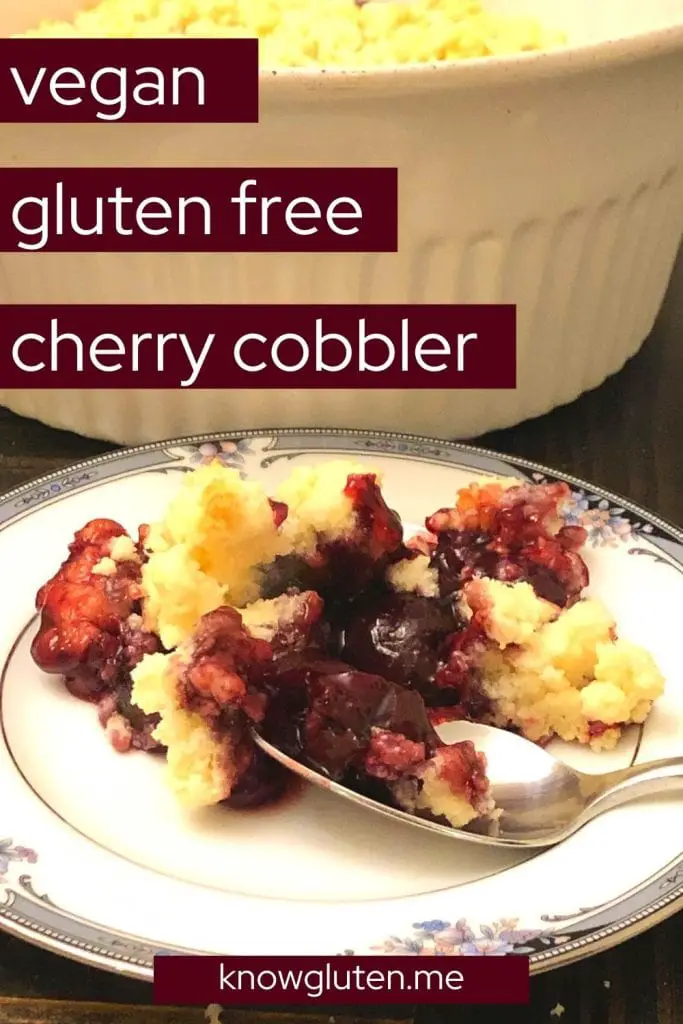 Ingredients
Cherry Pie Filling
Use your favorite cherry pie filling for this. I find that the more I spend on a can of cherry pie filling, the more cherries I get inside. So if you want a lot of cherries in your cobbler, buy the more expensive can, if you want mostly cherry flavored syrup with a few cherries, buy the cheaper one.
Gluten Free Bisquick
Instead of using cake mix in my cobbler, I use gluten free Bisquick. This way the topping isn't as sweet and for sure doesn't contain dairy or eggs, so the whole cobbler is vegan. Because Bisquick is a baking mix, you don't need to add any baking powder or baking soda. It's all mixed in.
Sugar
Just use regular old white granulated sugar in this recipe. There's not a lot, just enough to give the topping a hint of sweetness so it doesn't overpower the cherry pie filling.
Non-Dairy Margarine
You can use whatever type of non-dairy margarine or plant butter you like. I use Country Crock because it's inexpensive and does the trick.
Non-Dairy Milk
I use unsweetened soy milk, but any non-dairy milk will do. Keep in mind that sweetened milk will make the topping sweeter.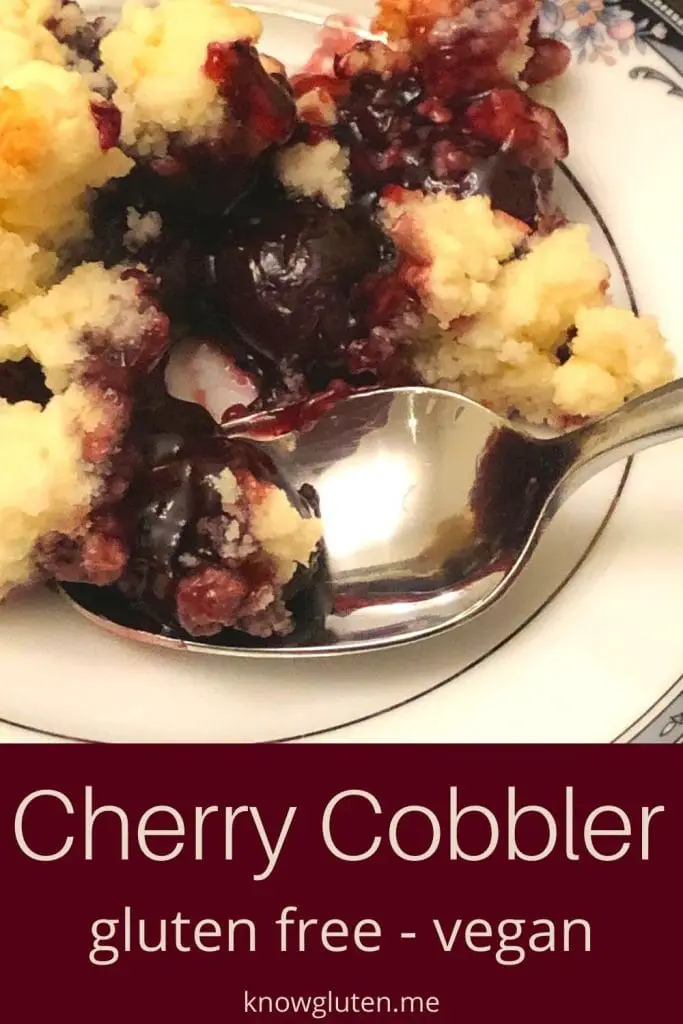 Yield: 8 servings
Gluten Free Cherry Cobbler - Quick, Easy, and Vegan!
Here's a fast and easy gluten free vegan cherry cobbler! It only takes a few minutes to make, so it's perfect when you need a last minute dessert!
Ingredients
1 15oz can Cherry Pie Filling
1 cup Gluten Free Bisquick
¼ cup Sugar
2 Tbsp melted Country Crock Margarine
¼ cup Non-Dairy Milk
Instructions
Preheat your oven to 400F.
Spoon cherry pie filling into a 1.5L casserole dish or a 8x8 cake pan.
Combine all other ingredients in a bowl until the ingredients make a crumbly mixture.
Sprinkle the mixture evenly over the pie filling.
Bake for 20 minutes. The top of the crumble will start to turn a golden brown.
Remove from the oven and serve immediately.
Leftovers can be stored in the fridge in an airtight container. You can serve leftovers cold or reheated.