This beautiful gluten free vanilla bundt cake is a company pleaser! Serve it with a simple glaze or dress it up with chocolate buttercream. It's egg free, dairy free, and vegan!
My friend's son just had his First Communion. He was so excited! (We were all pretty excited for him too.) I wanted to bring over a special treat for the party. He's not a huge fan of chocolate, so I thought a pretty vanilla cake would be perfect. (If you are a huge fan of chocolate, you can try this gluten free vegan chocolate cake. It's a favorite here.)
A note here. I brought over a pretty vanilla gluten free bundt cake. It was a nice cake, but not perfect. After a little bit more experimenting, I came up with this one. It's freaking amazing. And of course I'm going to make one for my friend. I did make this glaze though, and it's really nice. I included the recipe in this post.
What do I like best about this cake? The texture. It is a CAKE!! And it feels like a cake in your mouth. It's moist and spongy, and not at all grainy. The second best thing about this cake is the taste. It tastes amazing. Deep, rich vanilla. The third best thing? It's super easy to make, so you can look like a fantastic baker, even if you're a novice.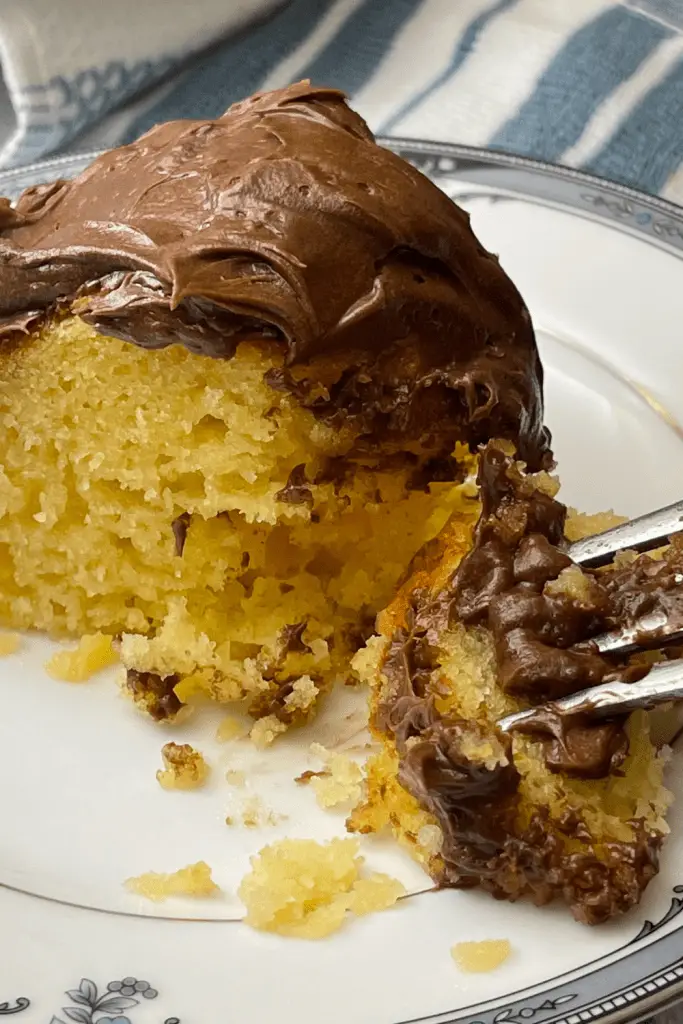 How to Serve this Cake
There are a couple of options for serving this cake, 
First is with the simple glaze that I included in this post. This will make it a nice mild dessert for after a rich meal. The cake itself has an amazing flavor and the glaze just brings that flavor out. Nothing overwhelming. Just a nice easy gluten free vanilla bundt cake. 
The second way is to serve it with some canned chocolate buttercream frosting. This makes it taste just like a birthday cake. Suddenly this already great cake is spectacularly special. The transformation reminds me of those movies where the pretty bookish girl puts on a dress and a little bit of lipstick and is suddenly a supermodel. Same cake, two different looks. I'm not really sure why the chocolate frosting puts it over the top. It just does. I'm not going to question it.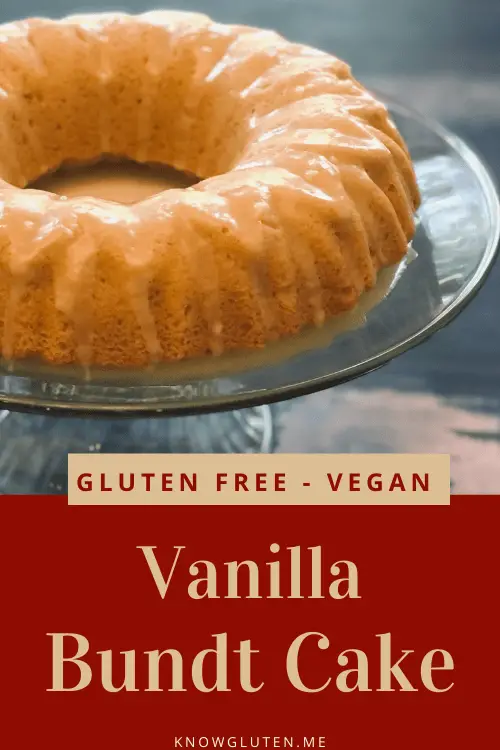 Ingredients
Gluten Free Bisquick
Surprise!! Who knew you could make a freaking cake out of Bisquick? This was the result of some major experimenting. The first successful cake I made with Gluten Free Bisquick was a lemon cake. That recipe's coming next week after I edit the photos. 
Sugar
Normal old white sugar here. There's not a lot of sugar compared to the amount of Bisquick, but that's because there's added sugar in the soy milk and pudding, and too much would be just too much. 
Jell-O Vanilla Cook and Serve Pudding
That deep vanilla flavor? All artificial and provided by Jell-O. Please always read the label when using packaged foods. As of writing this post, Cook and Serve Jell-O Pudding does not contain gluten ingredients and is safe to eat if you're gluten free. 
Vegetable Oil
I just use regular off-brand vegetable oil. You can use any flavorless liquid oil.
Sweetened Non-Dairy Milk
I use Silk Original Soy Milk. I'm sure any non-dairy milk will work just fine. If you use unsweetened milk, the cake will not be as sweet. 
Vanilla Extract
Another little hit of vanilla. I use artificial vanilla extract, you can use your favorite gluten free vanilla extract. (Most vanilla extracts are naturally gluten free, but always read labels to make sure no gluten ingredients were added.)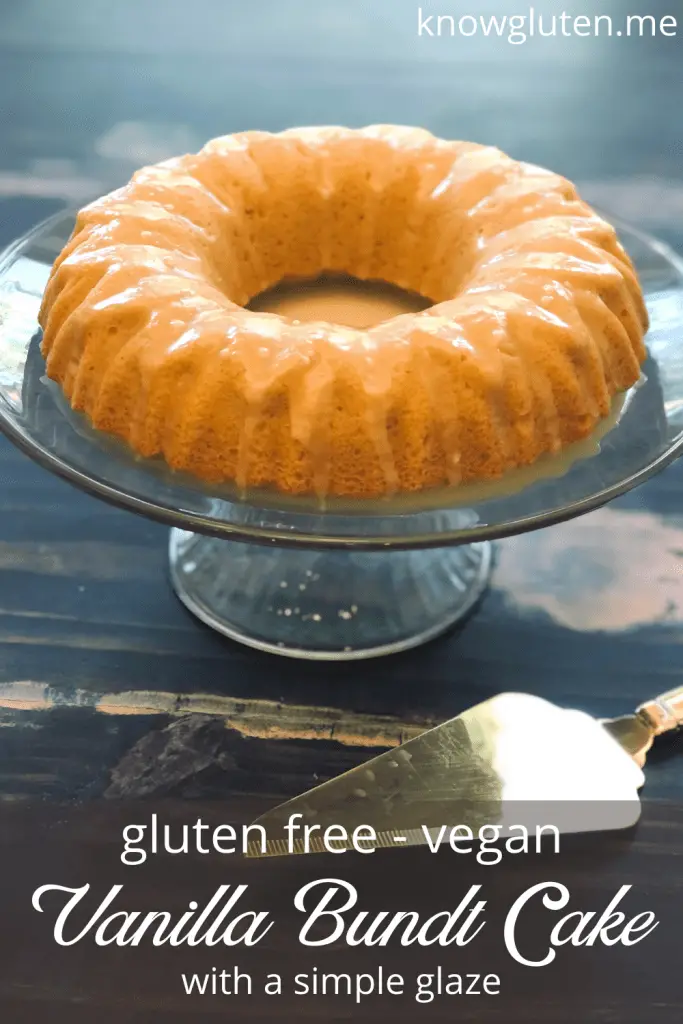 Yield: 1 cake
Gluten Free Vanilla Bundt Cake - Egg Free, Vegan!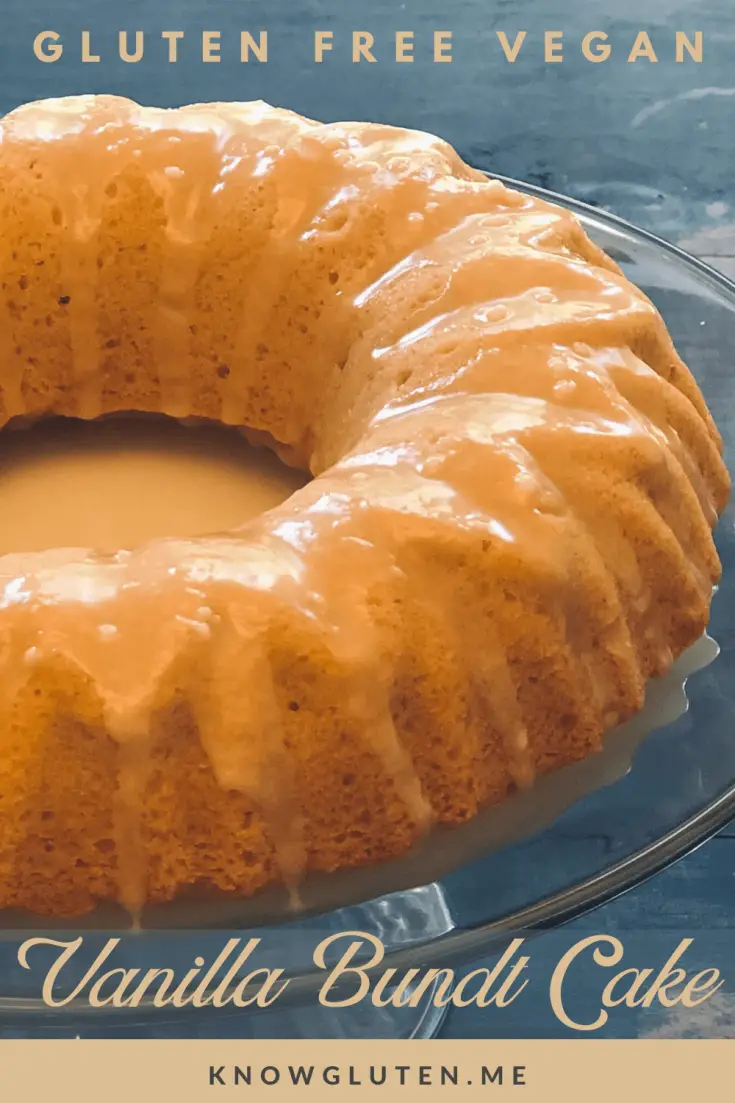 This beautiful gluten free vanilla bundt cake is a company pleaser! Serve it with a simple glaze or dress it up with chocolate buttercream.
Ingredients
Cake
2 cups Gluten Free Bisquick
1 cup Sugar
1 4 serving package Jell-O Vanilla Cook and Serve Pudding
⅓ cup Vegetable Oil
1 ½ cup Soy Milk
1 Tbsp Vanilla Extract
Glaze
1 Tbsp Margarine, melted
1 cup Confectioners Sugar (Powdered Sugar)
2 Tbsp Soy Milk
Instructions
Cake

Preheat your oven to 350F.
Spray Bundt pan with non-stick spray
In a mixing bowl, mix all the ingredients together until smooth. 
Pour the batter into bundt pan sprayed with Pam Spray
Bake at 350 for 35-40 minutes until a toothpick inserted in the middle comes out clean (the top will be light brown and toasty looking).
Cool completely and then invert onto a serving tray.
Evenly drizzle glaze over top or frost with canned buttercream frosting.
Glaze

Melt margarine in a large microwave proof bowl.
Sift in the powdered sugar (sifting will remove any little lumps, not totally necessary, but makes a better presentation.)
Stir in the soy milk.
Note: Pouring the glaze into a liquid measuring cup or small pitcher makes it easier to drizzle over the cake.