This gluten free lemon cake is so amazing you'll want to stop everything and make it right now. It's a perfect Starbucks copy-cat, and it's vegan!
This gluten free lemon cake was inspired by a recent trip to Walmart. I was behind a couple of people who had a cart full of baking supplies. When I say full, I mean, 72% of the baking aisle was now in their cart. I wondered about it. Are they having a party? How many people would be invited to this party? 500?  Or did I miss some fantastic sale or coupon?
I texted some people to report my unusual findings (as one does). And then I couldn't contain myself any longer, and I did what anyone else in Louisiana would do. I started a conversation. 
"So, what are y'all doing with all the baking supplies?" waving my hand in the general direction of their cart, "I have to ask."
Well, it turns out, they own a restaurant! Chefs to Go in Jackson Louisiana. And they are the absolutely nicest people you've ever met. I'm not sure if they have gluten free options, but it would be worth the drive just for a cup of coffee and conversation with these great people. 
Even though Jackson is pretty small, they do fantastic business, and every day sell completely out of cake. Every day the cakes are different. All are spectacular and creative. And they were kind enough to give me some cake baking tips!
I went home inspired and baked this cake, and following their suggestion, added pudding mix! I've been trying so long to make a good lemon cake that was both gluten free and vegan. Some were too soft, some were too tough. This one, with the lemon pudding, was not only just right, it was absolutely fantastic.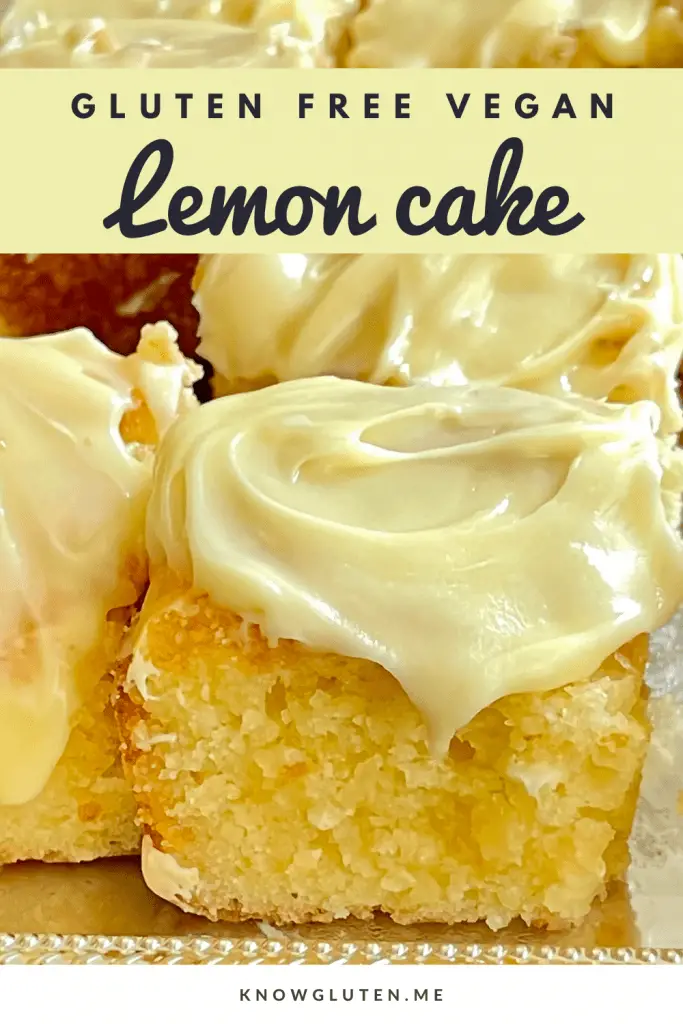 Ingredients
Gluten Free Bisquick
The recipe I posted last week, the gluten free vanilla bundt cake, also uses Bisquick. After these two resounding successes, you're going to see more Bisquick based cakes. Like, what the heck. Who knew that you could make such a good cake with Bisquick?
Sugar
Yup, lots of sugar in this recipe. Just the regular old white granulated sugar.
Jell-O Cook and Serve Lemon Pudding
Thank you Chefs to Go!! This was their suggestion and it made such a difference! Yes, I have known that you can add pudding mix to cakes, but I've never tried it or actually met anyone who has a proven track record with it before I met them. Now I know why they sell out of cake every day. I have only tried this recipe with the Cook and Serve variety of Jell-O Pudding. I don't know how it will turn out with the instant pudding. 
Salt
You do need a little bit of salt in this recipe because you're going to use oil as the fat instead of salted butter or margarine.
Sweetened Soy Milk
I use Silk Original Soy Milk in the red container, but any non-dairy milk should work. I prefer to use sweetened soy milk because of the added sugar. 
Vegetable Oil
I use regular old store brand vegetable oil in this recipe. You can use any sort of neutral taste liquid oil. Don't use melted butter or margarine, you'll get a different texture. 
Duncan Hines Creamy Lemon Supreme Frosting
Let's not reinvent the wheel here, friends. This frosting is really really good. This might be a lazy shortcut, but it's a great tasting one.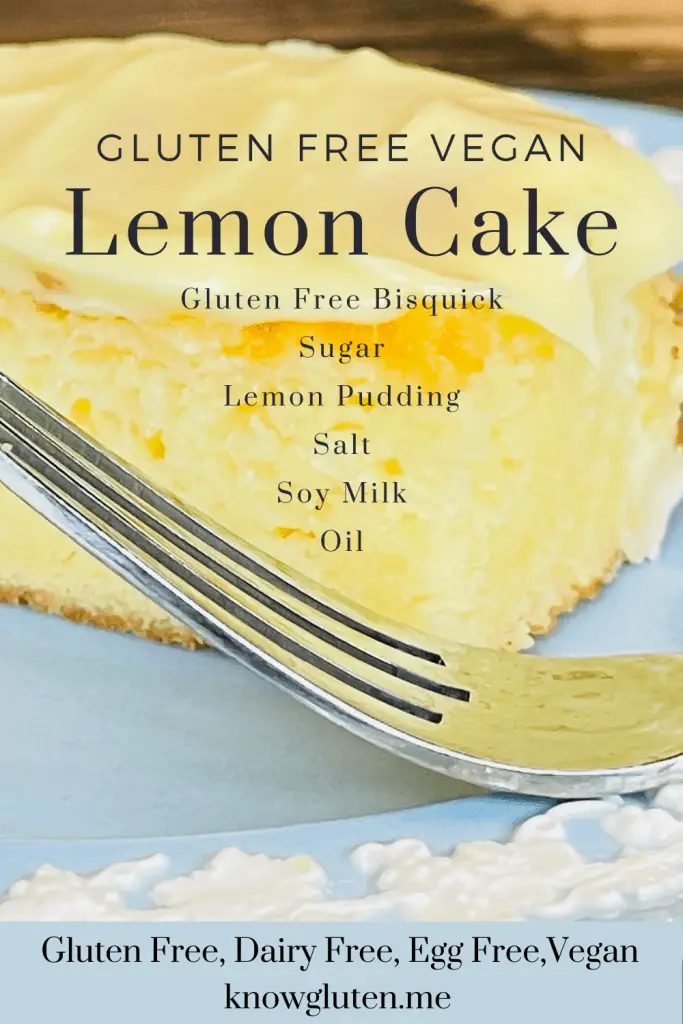 Yield: 1 9x9 cake
Gluten Free Lemon Cake - Vegan Starbucks Copycat
This gluten free lemon cake is so amazing you'll want to stop everything and make it right now. It's a perfect Starbucks copy-cat, and it's vegan!
Ingredients
Cake
1 ¾ cup Gluten Free Bisquick
1 cup Sugar
1 6-Serving Package of Jell-O Lemon Cook and Serve Pudding
½ tsp Salt
1 ½ cup Silk Original Soy Milk
⅓ cup Vegetable Oil
Frosting
Duncan Hines Creamy Lemon Supreme Frosting
Instructions
Preheat oven to 350F
Combine all ingredients *except frosting* in a bowl and mix until smooth.
Pour batter into a 9x9 cake pan and bake for 30-35 minutes.
Cake is done when the top starts to slightly brown and a toothpick inserted in the center comes out clean.
Cool Completely and frost with Duncan Hines Creamy Lemon Supreme Frosting.