When I was surviving my first set of three year olds (my now 16 year old twins) I lived on nachos. Layer chips, salsa and cheese on a plate, microwave and eat as quickly as possible between emergencies. Now, 13 years later and on 3 year old number 4, my between emergency tastes have grown a bit more sophisticated. I still often need something really quick and easy to put together and something that I can potentially microwave, but I'd rather have something that doesn't give me that carb and sodium bloat (that my 26 year old self was somehow able to avoid) and I'd rather eat Brie. I'm sortof tired of cheese-from-a-bag.
This is a quick and easy gluten free dish so you don't really need a recipe or directions, but I'll provide them anyway for those that scan instead of read (I'm so guilty of that). And even though it's a great quick snack, it's fancy and pretty enough to serve at brunch.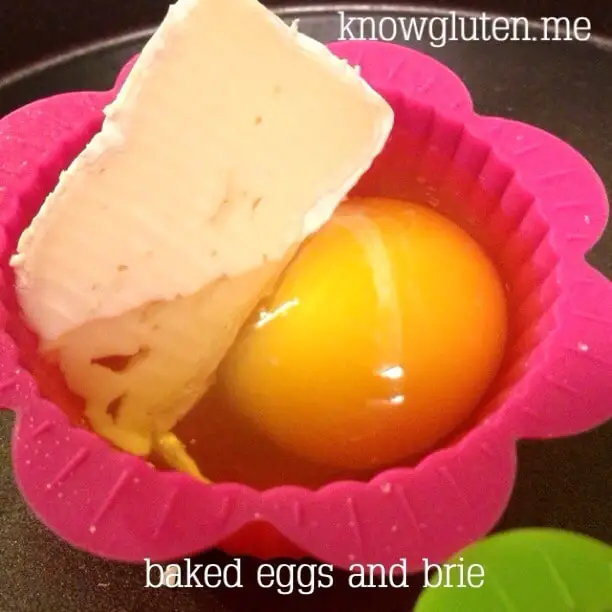 Baked Eggs and Brie
Ingredients:
1 egg per person
1 wedge of Brie per person
Optional: 1 Tablespoon heavy cream
Optional: 1 Tablespoon salsa
Cooking spray
Sea salt to taste
Directions:
Lightly spray silicon baking cups, small ramekins or muffin tins with baking spray (Pam Spray).
Crack one egg in each cup.
Lightly salt to taste.
Lay wedge of Brie over each egg.
If desired, spoon 1T of heavy cream over each egg.
Bake at 350F for about 10 minutes or until eggs are set. (Some people like their eggs a bit softer, I like mine almost hard boiled)
If desired, spoon salsa over egg before eating.
Eat quickly, standing at the counter, with a spoon before someone needs something else.
Note: This egg can also be microwaved, but since microwave cooking strengths vary, I'd try cooking it for 1 minute at a time until you figure out how long it will take in yours.
Link Parties:
This post is linked up at Call Me PMc's Saturday Dishes
Thanks for visiting! Click on a cupcake to connect with me on social media!