Not Just A Fad
More people are realizing that they have a problem with gluten in food. As more consumers become more gluten conscious, the Gluten Free Food market has become very profitable. Lots of companies are taking advantage of what is sometimes considered a fad by including the words Gluten Free on their product labels even when they can't guarantee that the product is 100% gluten free. No problem if you
are
just eating Gluten Free because it's a fad. Not so great if you have Celiac Disease, an autoimmune condition that is triggered by gluten, or Non-Celiac Gluten Sensitivity, both which cause debilitating reactions if
even the tiniest amount of gluten is consumed. 
For a perfect example of a company that was actively advertising Gluten Free despite gluten in the product, check out My Gluten Free Girlfriend's post: Celiac Alert Sprouted Wheat in Athena Gluten Free Greek Yogurt Bars. Because of pressure from her and others in the Gluten Free Community, the gluten fee labeling is being changed. Yay for not lying to people!
Labels Can Be Misleading, Three Things to Look For:
When buying prepackaged products, you need to pay attention to three parts of the label; the Ingredients, the Allergy Information, and finally any sort of Gluten Free certification or the words GLUTEN FREE on the label.
1. The Ingredients:
Look for words that you recognize as real food, for example carrots, beets, potatoes or beef.  Make sure those food are gluten free. If you're not sure, here's a list of Gluten Free Foods, and here's a list of the Other Names For Gluten. Occasionally, you'll run into very vague words like:  "Natural Flavors".  These can sometimes be from gluten containing sources, like barley. Some companies, like Kraft Foods, will list any allergens in brackets on their labels, like this:  Natural Flavors (wheat), some companies won't.
2. The Allergy Information:
The allergy information lets you know if the product contains any allergens. If you want more information on the laws governing food allergy labeling check out this handy pamphlet from the USDA.
The following label is an example of a common gluten free labeling practice.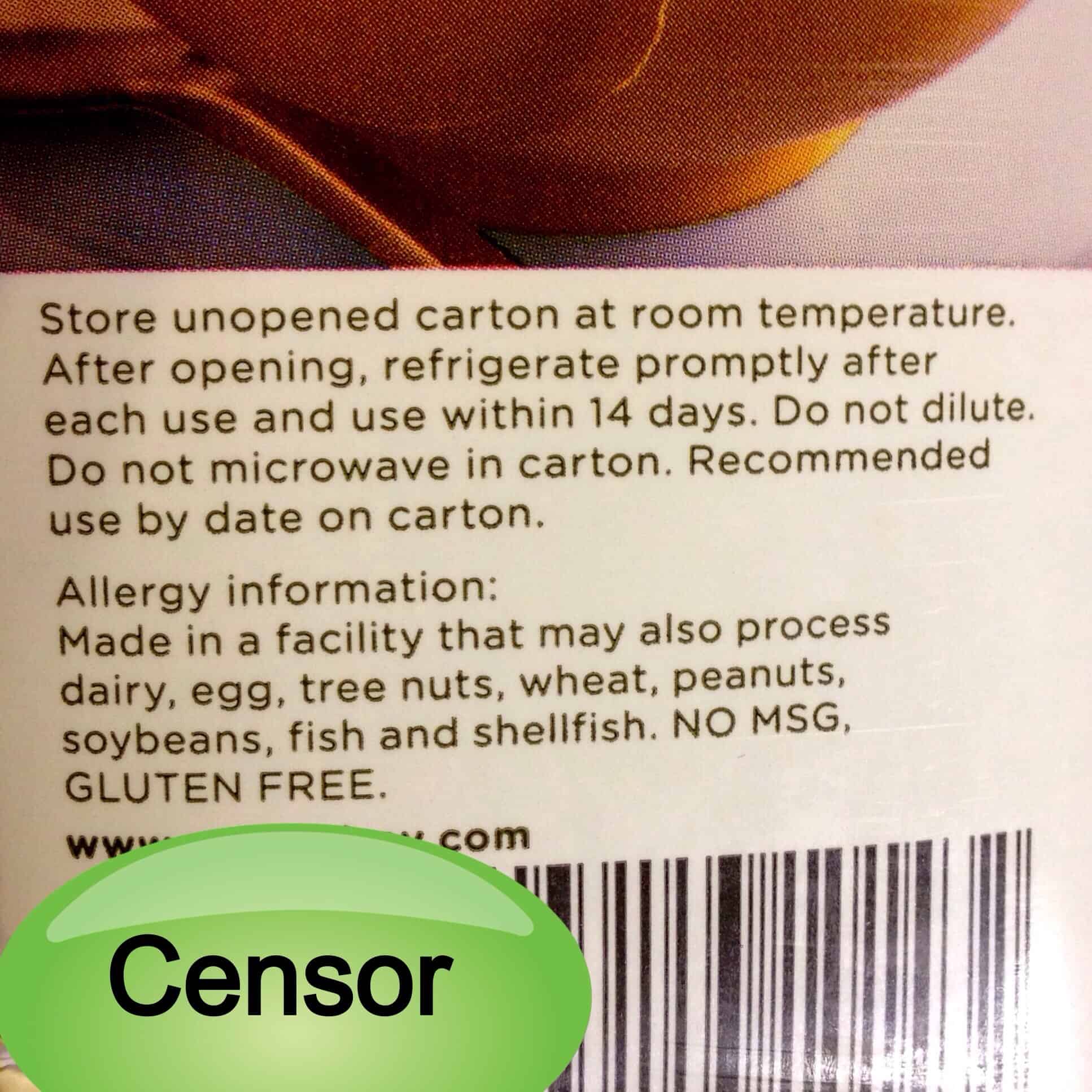 Notice the GLUTEN FREE in large letters? I sure did, when I was shopping, quickly, with a preschooler and a ten year old along for the trip, distracted, and trying to remember to finally pick up toilet paper. In fact GLUTEN FREE was the only thing I noticed about this label. I totally missed the Allergy information that states:
Made in a facility that may also process dairy, egg, tree nuts, WHEAT, peanuts, soybeans, fish and shellfish.
Not cool. This means that the manufacturers of this product can NOT guarantee that this product is gluten free because it could be contaminated by gluten in the factory. This means that it is NOT CELIAC SAFE. 
3. Gluten Free Information:
The example above says Gluten Free on the label. In this case it means that none of the ingredients contain gluten. It does not mean that they guarantee that there's absolutely no gluten in the product or that the product is Celiac Safe.
Even better than Gluten Free on the label, is an endorsement from the Celiac Disease Foundation, the words, "Processed in a Gluten Free Facility", or a product from a respected Gluten Free manufacturer like Bob's Red Mill or Glutino. A good example is Gluten Free Bisquick, shown below: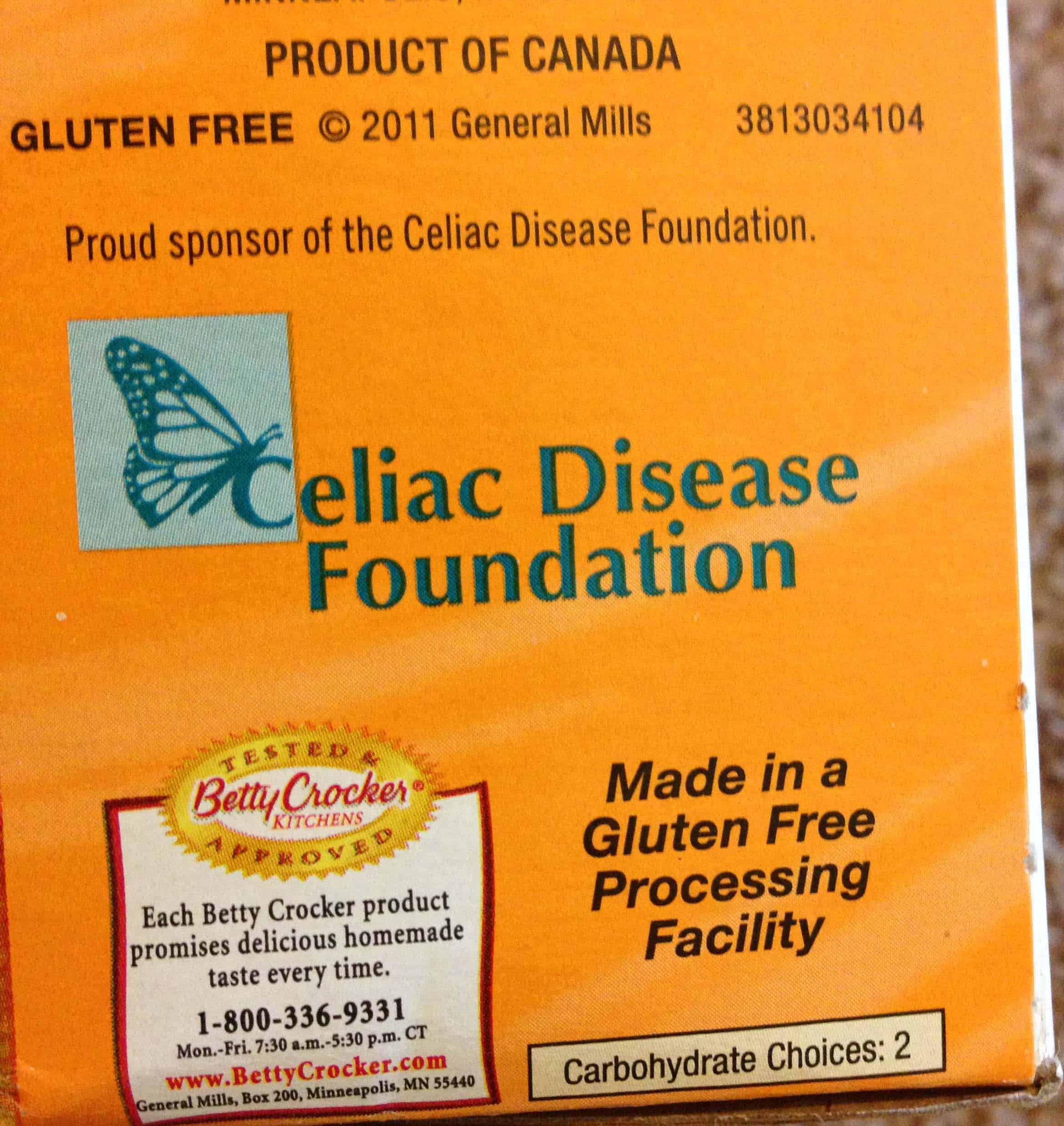 Final Thoughts:
If you have Celiac Disease or Non-Celiac Gluten Sensitivity, your Gluten Free product might not be safe for you to eat. To completely avoid gluten, stick with non-processed foods that are naturally gluten free. If you are buying  processed foods, (because, hey, they're so much more convenient, and we don't all have time or desire to make our soda crackers from scratch, right?) be sure to Check the labels, stick with respected brands, look for products that have been manufactured in gluten free facilities.
Are you new to a gluten free diet or just thinking of getting started? Check out my handy guide: Go Gluten Free in 8 Easy Steps