Three year olds seem to have a sixth sense. When you've had little sleep and have a lot to do, they absolutely need your undivided attention all day. Welcome to my morning. So far I've played princesses and blocks, starred in a play with lots of sword fighting and a bear in which everyone dies at the end, and made three year old's breakfast. Laundry, dishes, and my breakfast lunch are on the back burner for now. (I'm sneaking in this quick post while we peruse the PBS kids website). Luckily I've got half a can of pumpkin in the fridge from the grain free pumpkin muffins I made yesterday and that means Pumpkin Smoothies!! I love smoothies, they're quick to make, healthy and let me "eat" breakfast on the move. They're an absolute must for me because I often don't have time to prepare a gluten free meal for myself.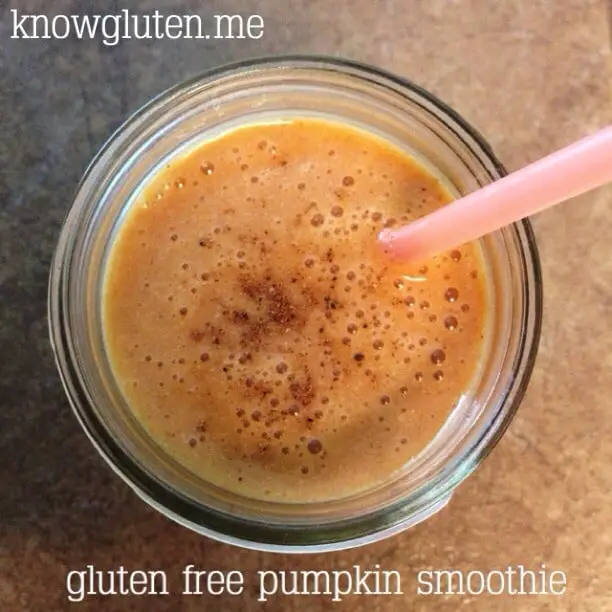 I find that the best liquid for a pumpkin smoothie is freshly juiced carrot and ginger juice, but if you don't have a juicer you can use your favorite milk or other liquid (sweetened almond milk would be good).
Gluten Free, Dairy Free Pumpkin Smoothie
Ingredients:
1 cup of carrot and ginger juice or your own favorite liquid for smoothies
1 small handful frozen strawberries
1/2 of a banana
3 T canned pumpkin
2 T flax meal
1 tsp vanilla
1/4 tsp cinnamon
Sprinkle of nutmeg
Optional: honey or maple syrup to sweeten.
Directions:
Place all ingredients except nutmeg into a magic bullet or blender.
Blend until smooth.
Pour into a glass.
Sprinkle with nutmeg and serve.