These Gluten Free Cookies and Cream Hello Dollies are a fun and easy twist on an already tasty and easy classic. 
Hey Friends!! This post from 2015 has gotten a much needed update! Don't worry! It's the same recipe, I just removed some outdated stuff and added helpful ingredient info.
Hello Dollies were front and center on our dessert tray this Christmas. They're so fast and easy to make, it was no problem to keep constantly replacing the ones that got eaten. They also get tons of compliments, so they're my favorite dessert if I need to bring something for a pot-luck or party. They'll keep for a couple of weeks in the fridge, and they freeze well. You can thaw them at room temperature, or just eat them frozen. They're just as good frozen, but even chewier. 
What are Hello Dollies?
If you've never had Hello Dollies, you need to make this cookies and cream version as soon as possible. On the bottom is a cookie crust, then there are layers of coconut and chocolate chips. The whole thing is covered by a coating of sweetened condensed milk and it's all baked together until the chips melt and the milk caramelizes. It's amazing and rich and chewy. And it takes like 10 minutes max to put together. Some people call these Magic Bars, maybe because of
the way they magically hold together without mixing, but probably because of the magical taste and texture.
The Ingredients
Gluten Free Chocolate Vanilla Creme Cookies
This would be a fantastic way to use the new gluten free Oreos! I usually buy Glutino brand because it's the easiest to find in my area.
Chocolate Chips
You can just use your favorite chocolate chips. I buy big bags of Tollhouse (in the yellow bag), but any regular chocolate chip will do. Plain old milk chocolate chips or semi-sweet chocolate chips are naturally gluten free, but always read labels on processed food to make sure you're getting a gluten free product.
Sweetened Shredded Coconut
You'll find this in bags in the baking section of your grocery store. It can be called shredded coconut, sweetened shredded coconut, or coconut flakes.
Sweetened Condensed Milk
These are in small tins in the baking section in your grocery store. Make sure you grab the sweetened condensed milk, it contains the sugar that will caramelize when you bake the Hello Dollies. 
I hope you enjoy!!

Yield: 16 bars
Gluten Free Cookies and Cream Hello Dollies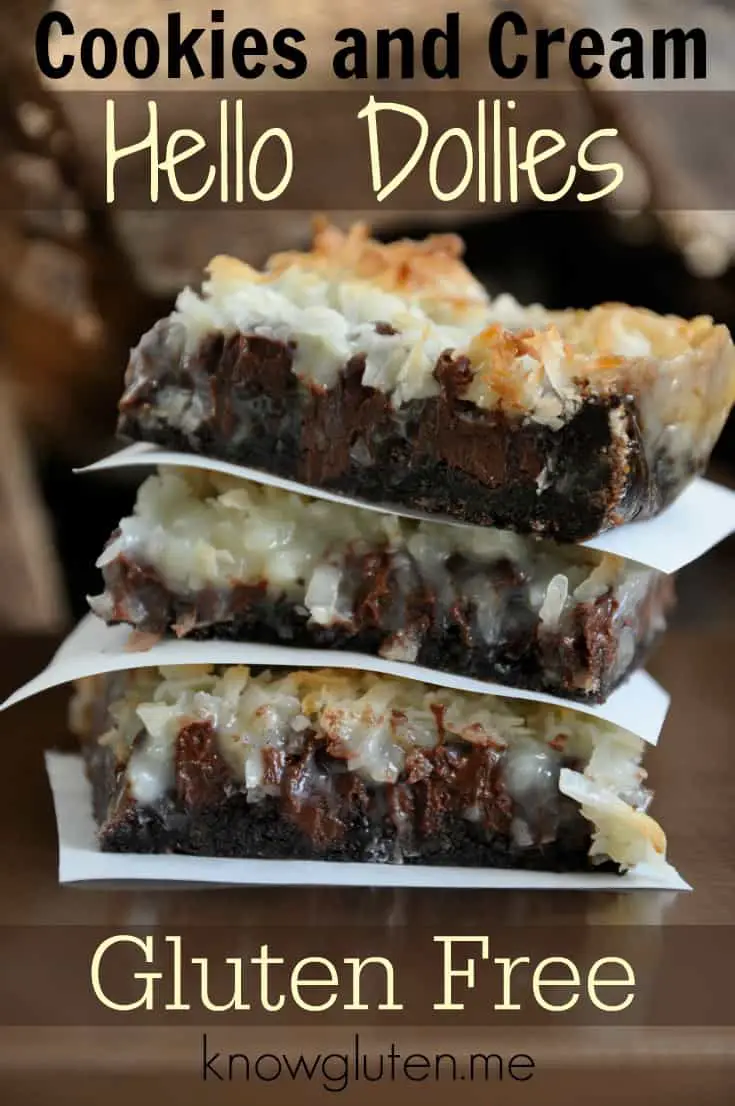 Rich and chewy and so easy to make. Start bringing these to parties and you'll soon become famous for your Gluten Free Cookies and Cream Hello Dollies.
Additional Time
30 minutes
Ingredients
15 gluten free chocolate vanilla creme cookies
1 ½ cup chocolate chips
1 ½ cup shredded coconut
1 15 oz can sweetened condensed milk
Instructions
Preheat your oven to 400F
In a food processor or blender, process the cookies until they become crumbs. I use a Ninja Pulse.
Press the cookie crumbs into the bottom of a parchment lined 9x9" pan.
Sprinkle the chocolate chips on top of the crust in an even layer.
Sprinkle the coconut on top of the chocolate chips in an even layer.
Pour the sweetened condensed milk evenly over the coconut.
***DO NOT STIR***
Bake at 400F for 15-20 minutes or until the edges and top start to brown.
Let cool completely.
Refrigerate until firm.
Cut into squares and serve.
Can be stored in an airtight container in the fridge for up to 2 weeks and in the freezer for several months. 
Looking for more gluten free desserts?