My daughter came home from college and made the most amazing gluten free carrot cake yesterday.
She always loves to take regular gluten recipes and "experiment" with them to see if she can make a gluten free version that's as good as the original. This time she totally hit the nail on the head. The gluten free carrot cupcakes she made were light and fluffy with none (absolutely none) of the gluten free taste you can sometimes get with homemade baked goods. Her recipe uses Bob's Red Mill All Purpose Gluten Free Flour, which means it's also rice and corn free. The cupcakes themselves are dairy free, but she topped them with a cream cheese frosting.
Gluten Free Carrot Cake Tip:
This recipe skips a typical step in making carrot cake. Instead of grating the carrots, you'll use a high speed blender to puree the carrots with the wet ingredients. Instead of finely shredded carrots, you get a sortof carrot mash, like thin baby food. If you don't have a blender that will make carrot slurry, grate the carrots first.
Cake Ingredients
Carrots
For this recipe, you'll peel the carrots, then blend them in a blender. If you don't have one, finely grate the carrots. To make blending easier, you can chop them into chunks. 
Eggs
I use store bought large size eggs for this recipe. They'll go into the blender with the carrots. 
Vegetable Oil
I use store brand vegetable oil, but you can use any non-flavored cooking oil. Soy oil and canola oil will work just fine.
Vanilla Extract
I personally prefer artificial vanilla extract and my favorite brand is McCormicks, but you can use any vanilla extract. 
Rum Extract
This adds a really nice taste to the carrot cake. I was surprised! It doesn't make the cake taste "rummy" it just adds some depth.
Bob's Red Mill Gluten Free All Purpose Baking Flour
In gluten free baking, the type and brand of flour is actually pretty important. This particular flour is made without corn or rice and is primarily legume based. It's a pretty dense gluten free flour, perfect for carrot cake. It's not like the cup for cup versions at all. Switching out for another flour will give you different results. 
Cinnamon
This is just the ground cinnamon from your grocery store's baking section. You probably already have some in your kitchen. It adds a really nice flavor to the cake.
Sugar
Just regular old white granulated sugar. 
Baking Powder
The baking powder is what helps the cake rise. Most, if not all,  baking powder brands are gluten free (I personally haven't encountered a brand that isn't), but it's a good habit to always check the labels on packaged food.
Xanthan Gum
Xanthan gum is used a lot in gluten free baking. You only need a teensy tiny bit (any more and it affects the taste of your baked goods). It steps in and does the "glue" job that gluten would normally do and holds your cake together. Many gluten free flours already have it added in, but the Bob's Red Mill Gluten Free All Purpose Baking Flour doesn't.
Salt
Because this recipe uses vegetable oil instead of butter or margarine, you need a little bit of salt for flavor. Just a bit more than a pinch.
Frosting Ingredients
Cream Cheese
Soften your cream cheese at room temperature before using. It will make it much easier to use.
Brown Sugar
Brown sugar is so great in this cream cheese icing! It makes it a richer color and adds a depth of flavor. I really liked it.
Rum Extract
More rum flavor! You taste this a little bit more than in the cake, but it's still not rummy, just rich. 
Gluten Free Carrot Cake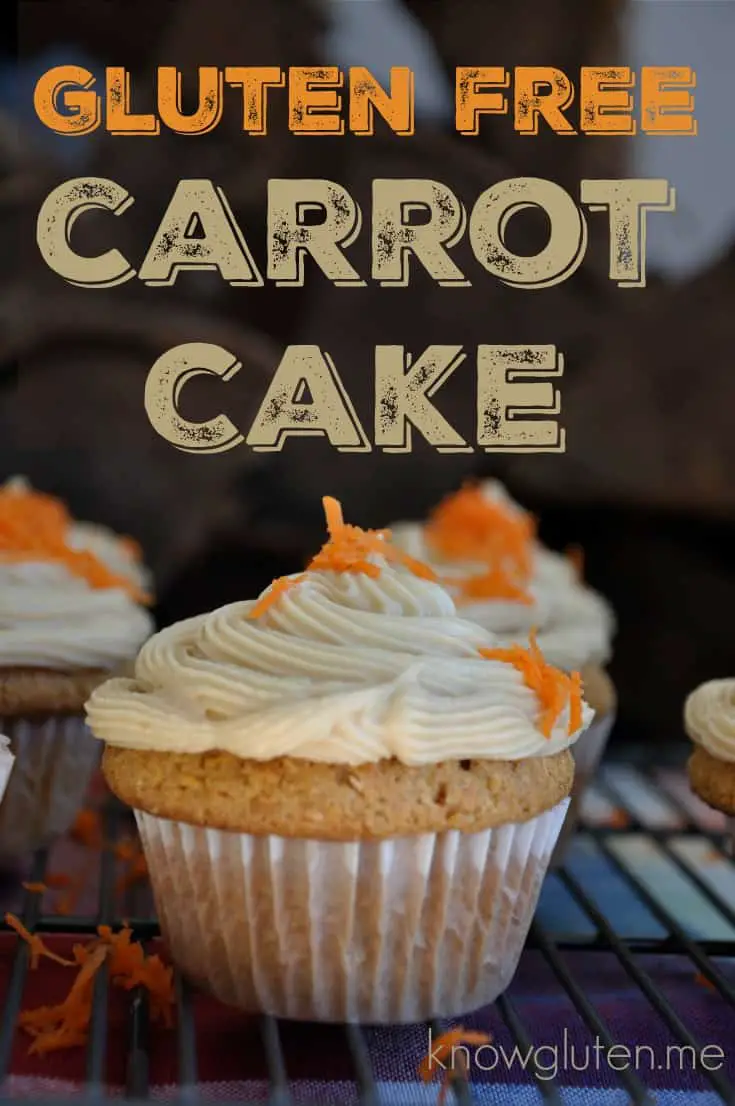 A fast and easy gluten free carrot cake recipe! No grating carrots! You'll use a blender!
Ingredients
FOR THE CAKE
4 Medium Carrots - Peeled and Chopped
3 Eggs
¾ cup Vegetable Oil
1 tsp Vanilla Extract
½ tsp Rum Extract
1 Tbsp cinnamon
2 cups Bob's Red Mill Gluten Free All Purpose Baking Flour
1 ½ cups Sugar
1 ¼ Tbsp Baking Powder
½ tsp Xanthan gum
¼ tsp Salt
FOR THE FROSTING
1 8 oz Block of Cream Cheese - Softened
1 ⅓ cup Brown Sugar
½ tsp Rum Extract
Instructions
Cake
In a powerful blender, combine carrots, eggs, oil, vanilla and rum extracts and blend until carrots are completely puréed (if you don't think your blender is powerful enough to puree carrots, grate your carrots before this step) and set aside.
Mix together dry ingredients in a large bowl.
Pour blender contents into dry ingredients and mix until completely combined.
Spoon into lined muffin tins, ⅔ full.
Bake at 350F for 20-25 minutes or until the tops spring back when lightly touched and a toothpick comes out clean.
Cool completely before frosting.
Frosting

Mix all ingredients together with an electric mixer until combined.
Spread or pipe onto cooled cupcakes.