You might know this gluten free, vegan vanilla cake as Crazy Cake or Depression Cake. It's a fantastic cake to make when the cupboard (and fridge!!) is bare. Made popular during the Great Depression and the rationing of the World Wars, this cake requires no dairy or eggs. Not that it's without flavor! It's moist and sticky and definitely puts you in mind of your grandmother's "from scratch" vanilla cake. I serve this cake right out of the pan, no fuss no muss. We prefer it without frosting or with just a little bit of glaze made from mixing confectioners sugar with a little bit of soy milk, but you can remove it from the pan when cooled and frost it or decorate it however you like. 
Prefer Chocolate? Click HERE for an amazing gluten free, vegan chocolate cake.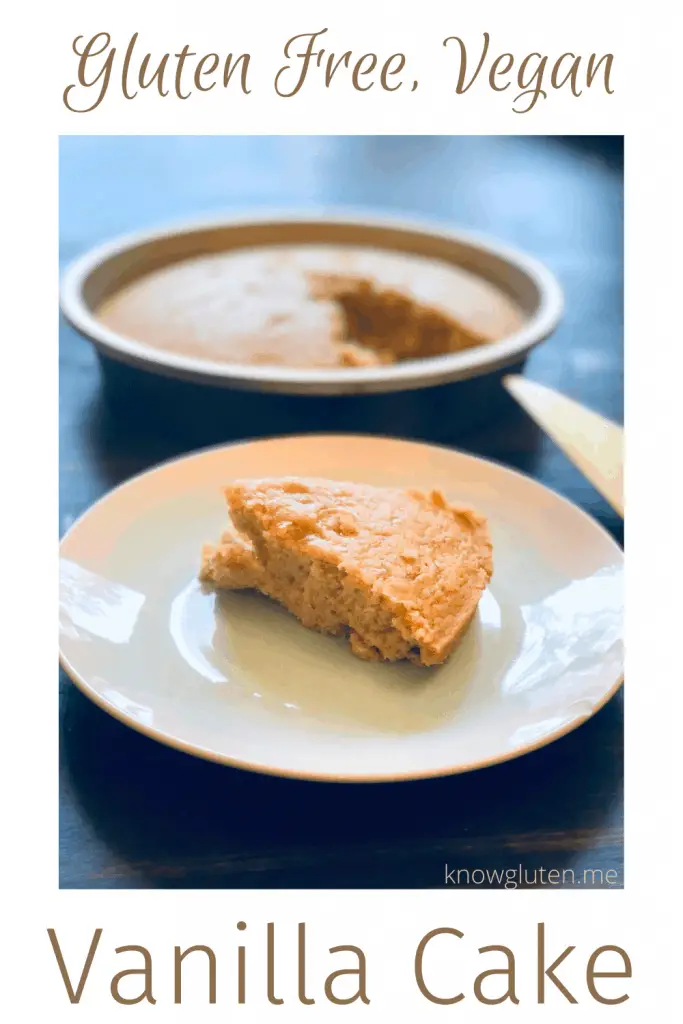 Ingredients
King Arthur's Measure for Measure Gluten Free Flour
This is by far my very favorite one to one replacement flour. I'm not sure what King Arthur does differently than the other brands, but I find that my cakes and cookies are much truer to their gluten-filled counterparts when I use their flour, especially for gluten free recipes that are also vegan like this vanilla cake.
Sugar
Of course!! This is cake!! Even though it's gluten free and vegan, it's still a sweet dessert! Lots of sugar in this one!
Baking Soda
Baking soda helps this cake rise. You don't need a lot. And you don't need to get fancy. Baking soda is naturally gluten free, so any brand will do.
Salt
You don't need a lot of salt in this recipe, but you do need enough to compensate for the salt that would have been in the butter. Just a pinch, but it makes the flavor so much better.
Water
No milk in this recipe! Imagine making a cake with just water! It's crazy! (Probably why it's sometimes called Crazy Cake?). You really don't miss the milk at all. I like this because it saves my non-dairy milk for important things, like my coffee.  
Vegetable Oil
This recipe avoids the dairy in butter by replacing it with vegetable oil. I just use the regular old store brand "Vegetable Oil" but any liquid tasteless cooking oil will do. If you have soy oil or canola oil on hand, these will work just as well.
Vinegar
Vinegar gives the baking soda a bit of a boost (I think?) This is the era when people were switching over from yeast baking to baking soda baking and I've found a lot of recipes from this time that use baking soda and vinegar together. I have tried this type of cake with other acidic liquids like lemon juice, and I find that the vinegar gives the best results.  
Artificial Vanilla Extract
Yup, I use artificial vanilla. If you have a favorite natural vanilla extract, please feel free to use it. I use either McCormicks or Big Chief depending on where I did my grocery shopping.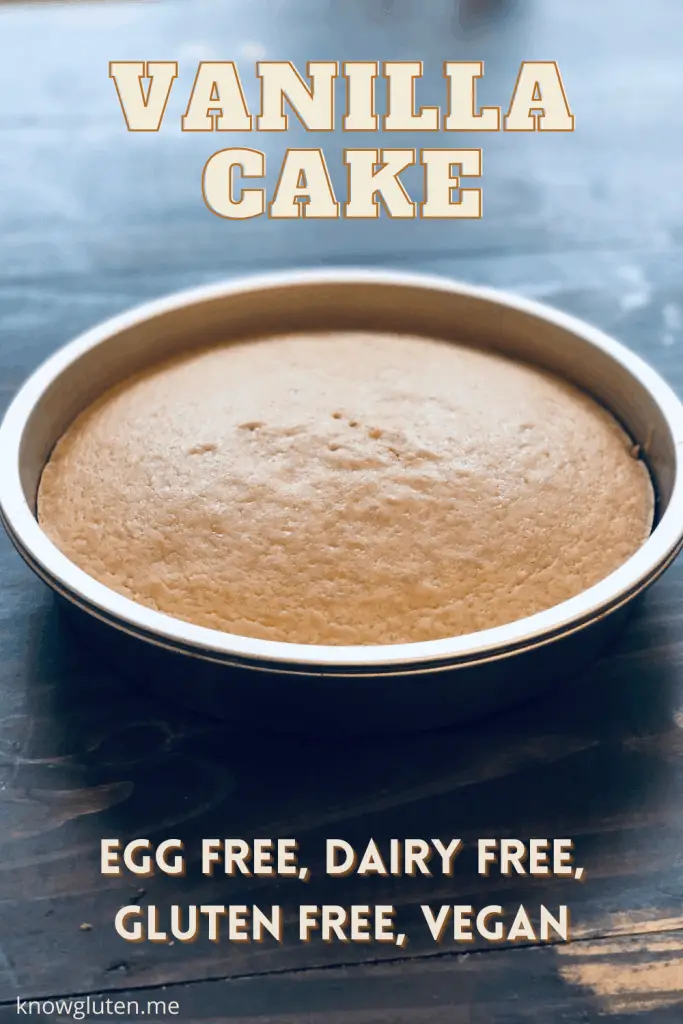 Yield: 8 pieces
Gluten Free, Vegan Vanilla Cake - no gluten, eggs, or dairy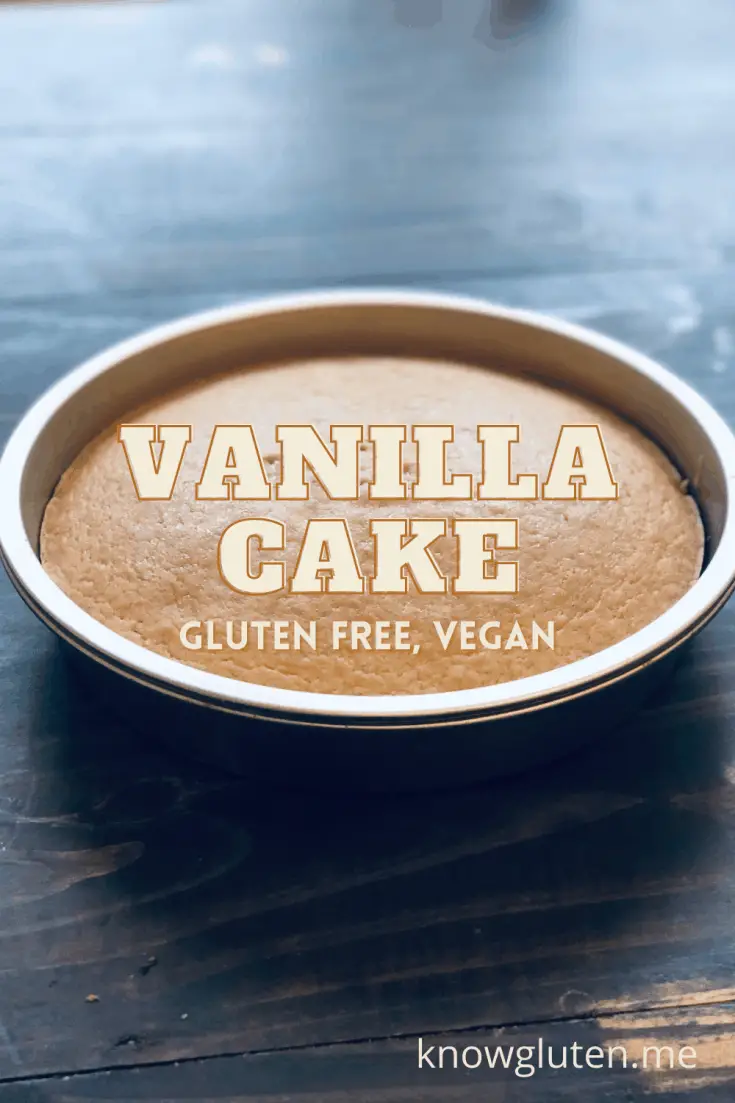 No gluten, eggs, or dairy, but tons of taste. This moist, sticky cake will remind you of your grandmother's "from scratch" vanilla cake.
Ingredients
1 ½ cup King Arthur's Measure for Measure Gluten Free Flour
1 cup White Sugar
1 tsp Baking Soda
½ tsp Salt
1 cup Water
5 tbsp Vegetable Oil
1 tsp Vinegar
1 ½ tsp Artificial Vanilla Extract
Instructions
Preheat your oven to 350F
Spray an 8x8 square baking pan or 9" round baking pan with Non-Stick Spray or line it with parchment paper..
In a mixing bowl, stir together flour, sugar, baking soda, and salt.
To a 2 cup or larger measuring cup add the water, vegetable oil, vinegar, and vanilla.
Pour the contents of the measuring cup into the mixing bowl and stir until the ingredients are combined.
Pour the batter into your prepared pan.
Bake on the middle rack of your oven for 35-40 minutes, or until the top springs back when lightly touched and a toothpick inserted into the center comes out clean.
Let the cake pan cool on a rack.
Cool completely before removing the cake from the pan and before frosting.