At our house, it really isn't a family celebration without this naturally gluten free Watergate Salad! It's so sweet and fluffy and fun. And, yup, you read that right, it's naturally gluten free. If you're new to this diet, you'll still recognize everything on the ingredient list. Yay!! 
I first posted this recipe on my grandmother's 95th birthday. She was the one who was always in charge of making it. (Actually, she was often the one in charge of making everything. She was the best cook.)
She cooked using all her senses. Things had to feel right, smell right, before they were done. She'd say things like "Cook the dumplings until they smell fluffy." And she excelled at traditional family fare like this Watergate salad.
When to Serve Watergate Salad
The best occasions to have gluten free Watergate Salad? Thanksgiving and Christmas are the traditional times that we ate it. It would also be soooo perfect for St Patrick's Day! It's GREEN! Easter dinner can only get better with a fluffy sweet marshmallow filled salad. Because we know you haven't had enough sugar on Easter. 
Is Watergate Salad Gluten Free?
When you use packaged products, always read the labels. A product doesn't have to say "gluten free" in order to be gluten free, it just has to be made without gluten.
If you need help reading labels, you can find an easy list of gluten ingredients here. 
All the ingredients in this recipe are naturally gluten free. The only one that you might have to watch is the Pistachio Pudding. Packaged puddings are usually thickened with cornstarch, but there could be one out there that uses wheat as a thickener. (I've never seen one in North America though).
Even so, I always use Jell-O Pistachio Instant Pudding because it is free of gluten ingredients. Kraft is really good about listing allergens on their labels.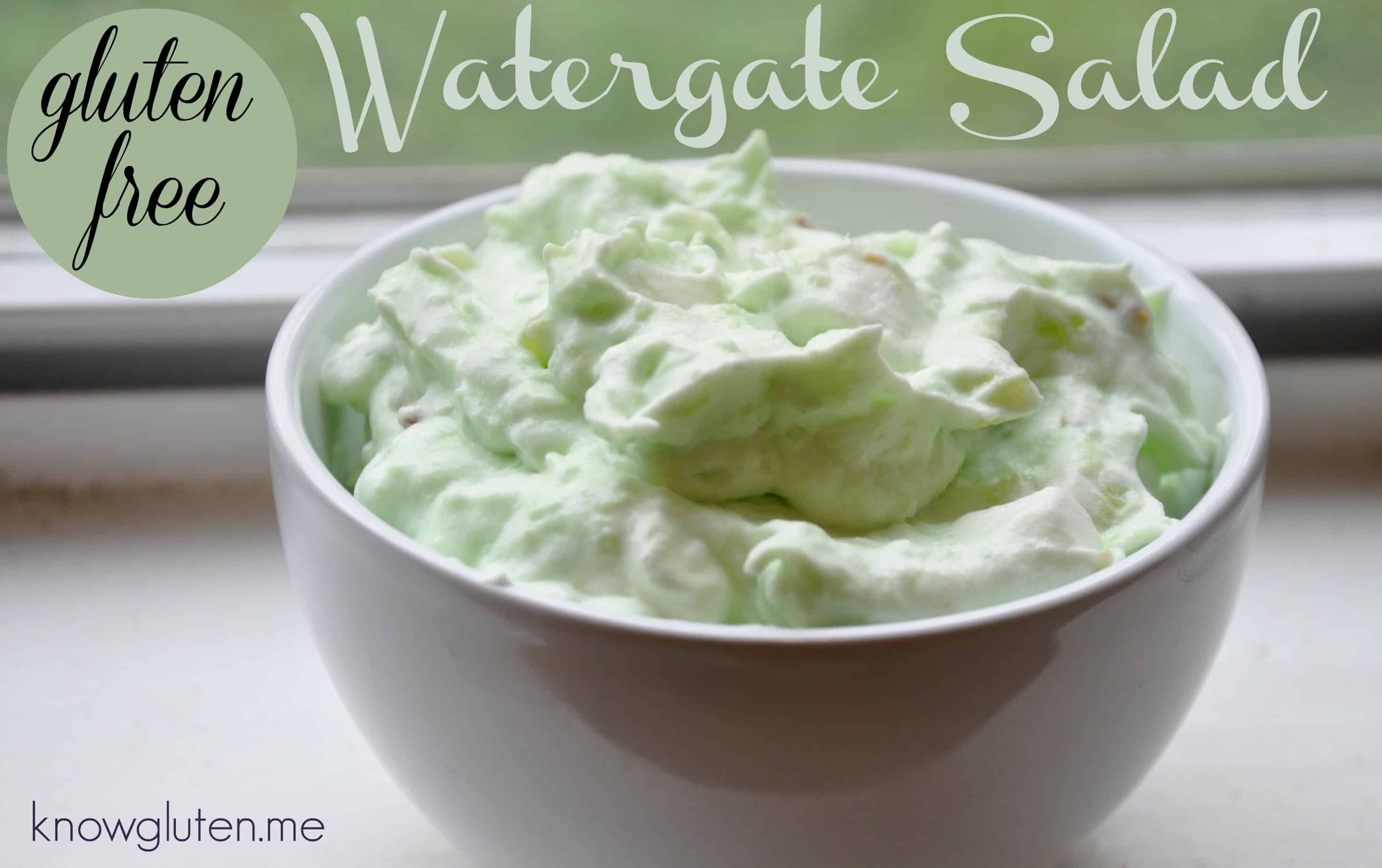 Ingredients
Crushed Pineapple
You can usually find this in the canned fruit section of your grocery store.  Make sure you buy the crushed pineapple and not the rings or sections. You're going to dump the whole can in, juice and all. Canned pineapple and all canned fruit is naturally gluten free.
You can find a quick list of Gluten Free Foods You Can Eat here.
Jell-O Instant Pistachio Pudding
Look for Jell-O brand or read the labels on the pudding you find to make sure it doesn't contain gluten ingredients.
Cool Whip Topping
Let the Cool Whip thaw in the fridge before you use it. It needs to be soft to mix into the other ingredients. If you're vegan, you can use a vegan alternative like Cocowhip, but I find it doesn't really set right. I think the pudding needs the milk protein to set. 
Mini Marshmallows
There are really, really rare occasions when marshmallows contain gluten, like malt flavoring or wheat to keep them from sticking. You'll be fine with something like Jet Puff or your store brand. Always read labels on packaged processed goods.
Follow along!
Bookmark this page and use the handy little green heart in the corner to save your favorite posts for later. Or use the share symbol beside it to save it to your own social media.
If you enter your email below you'll be notified whenever I post something new, or you can follow me on Pinterest or Facebook.
Thanks again for visiting! I hope you find your stay helpful!
Yield: 6 servings
Gluten Free Watergate Salad - Perfect for Holidays!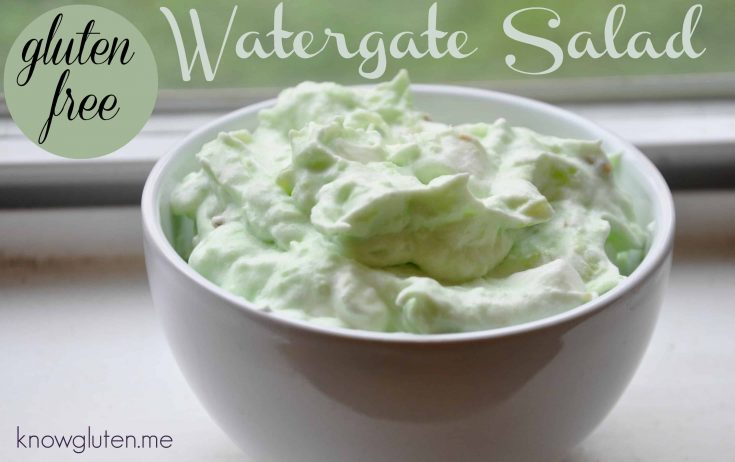 At our house, it really isn't a family celebration without this naturally gluten free Watergate Salad! It's so sweet and fluffy and fun.
Additional Time
30 minutes
Ingredients
1 can (20 oz.) crushed pineapple in juice, undrained
1 pkg. (3.4 oz.) JELL-O Pistachio Flavor Instant Pudding
1 cup JET-PUFFED Miniature Marshmallows
1-1/2 cups thawed COOL WHIP Whipped Topping
Instructions
Combine pineapple, pudding mix and marshmallows in a bowl.
Stir until pudding is dissolved.
Gently fold in Cool Whip.
Chill at least 1 hour until set.
Gluten free Watergate Salad can be kept in the fridge in an airtight container and is best eaten within two days.