This is a great meal for those crazy weeknights when I've forgotten to take something out for supper. I keep a bag of frozen wild Atlantic salmon filets in the freezer. They're individually shrink wrapped so they're really easy to thaw. I just fill the sink up with warm, not hot, water and soak the wrapped filets until they're thawed (usually about 15 minutes).
I'm not sure the salmon and sweet potatoes need a full recipe. I lightly salt the salmon with sea salt and fry it in a little butter until flaky. Salmon only takes a few minutes to cook.
For the sweet potatoes, I peel them and chop them into chunks, drizzle them with a little oil and roast them in the oven at 400F for about half an hour or until they're tender. Sometimes I add onion slices before roasting.
Pretty simple meal. But what makes it fantastic is the Cucumber-Peach relish. It's light, sweet and spicy and makes a boring meal so much better. I throw it together while waiting for the salmon to thaw and then let the flavors mingle while the rest of dinner is being prepared. It does keep for a couple of days (maybe even longer, it hasn't had a chance at our house) so it's a great relish to prepare ahead or use in left-overs.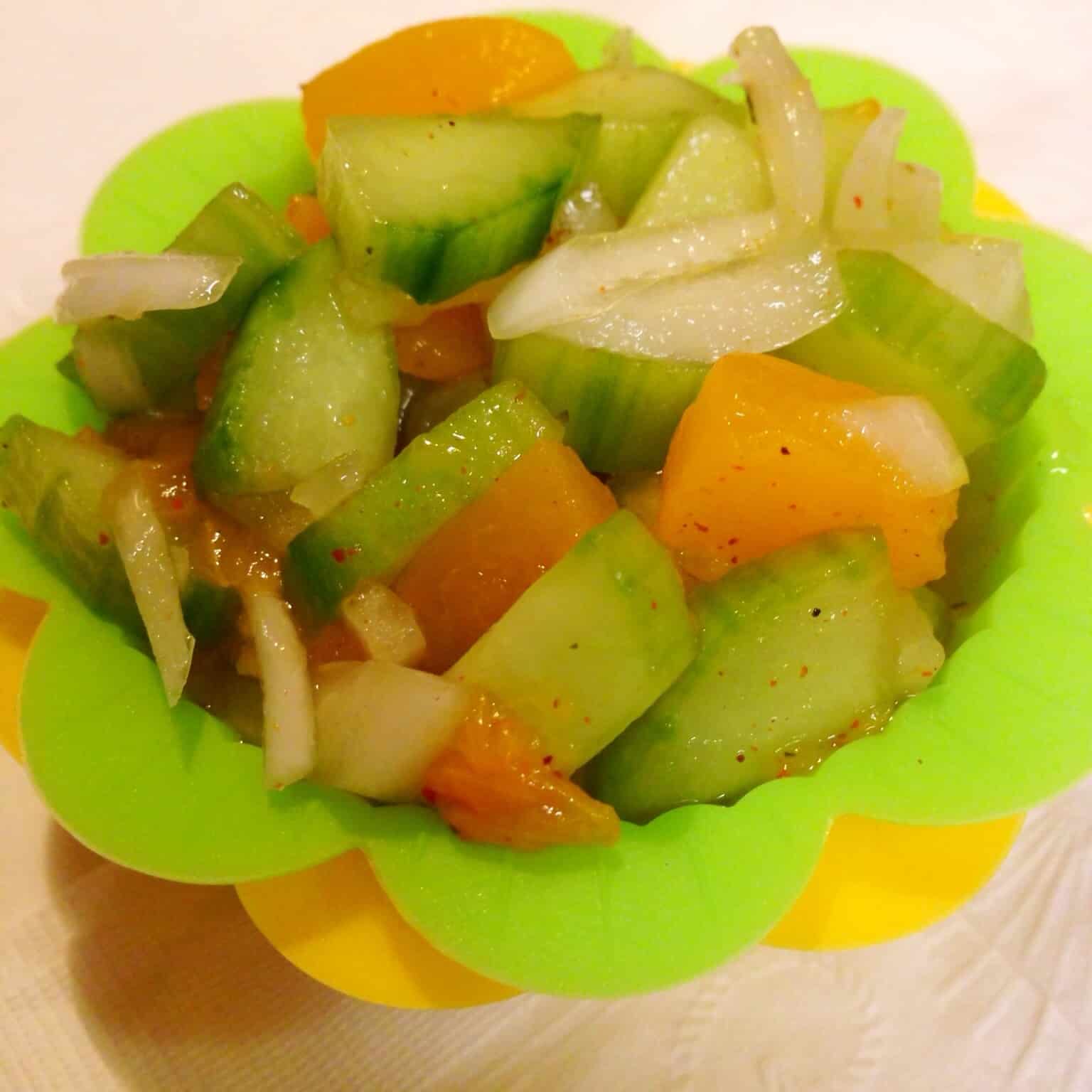 Cucumber Peach Relish
Ingredients:
1/2 cucumber, peeled and finely chopped
1/2 sweet onion, finely chopped
1/3 cup canned peaches or 1/2 canned peach finely chopped
2 Tbsp honey
2Tbs apple cider vinegar
1/4 tsp red curry powder (I use McCormick)
1/4 tsp (or to taste) salt
Optional: dash of Tabasco Green Pepper Sauce
Directions:
Combine all ingredients.
Cover and refrigerate.
Serve with boneless skinless salmon filets, lightly salted and pan fried in 1 T butter or olive oil. Sweet potatoes peeled, cubed and roasted at 400f until tender.