Wendy's is the hidden gem of the gluten free dining world and is quickly becoming my favorite place to eat out. I recently realized that people aren't aware of their gluten free offerings (many more than other fast food restaurants) so I quickly jotted down this review.
Wendy's has a great gluten free menu that clearly lists your risk of cross contamination and enough gluten free menu items that most people could find one thing they liked.
What I Eat
My very favorite dish is the chili. It's kept in a pot right behind the cashiers, completely away from any bread or gluten items. It's served with it's own spoon, it's very tasty, at 170 calories it won't destroy my diet, and it's completely gluten free and has very low risk of cross contamination.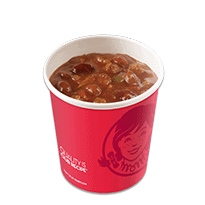 I also love the baked potato. There is slightly more risk of cross contamination because they are put in their containers back where the buns are, but I've never personally had any problem getting glutened. I usually get mine plain and pour my small chili over it (I feel this gives me a better chili to potato balance than the actual chili potato.) The other baked potato toppings are gluten free as well.
For dessert I get a Frosty. There are two flavors of Frostys and three Frosty Shakes. I just get one. I might convince someone else to get another flavor so I can have a "taste." That's a tip I learned from my mom.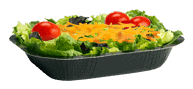 More to Love
Other great things about Wendy's: the food is inexpensive (if I just get a chili, my meal is under $2), it tastes good, and my gluten-eaters love to eat there. Nobody in my house is turning down a Baconator. (just so we're clear, the Baconator is not gluten free, it's the bait I use to get my gluten eaters to eat at Wendy's with me.)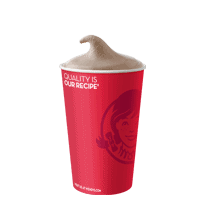 Wendy's Gluten Free Friend?
I'm not sure if it's worth the advertising dollars, but I can envision the gluten free Wendy's commercial:
Wendy: Let's go for lunch
Friend: Okay, as long as it's not a hamburger place, I'm gluten free and I can't eat anything at those types of restaurants.
(later)
Friend:(holding tray full of broccoli and cheese baked potato, chili, side salad and Frosty): How am I going to eat all this?
Of course, my script writing skills leave a little to be desired. You need to add the Wendy's cuteness with your imagination.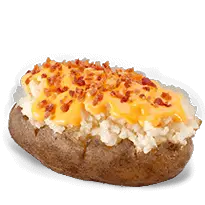 Overview
Wendy's has inexpensive, tasty, gluten free food and your gluten eaters won't complain about going there.
What I recommend:
Chili, Baked Potato with Sour Cream or Broccoli and Cheese Sauce, Frosty, Garden Side Salad without croutons, Caesar Side Salad without croutons.
What I would avoid:
Anything with chicken, it has the highest risk of cross contamination.
Click HERE to have a look at the Wendy's gluten free menu
Disclaimer:
I have NOT been compensated for this review. All opinions are my own.