Gluten free pecan breakfast cookies made with coconut flour are a healthy way to celebrate National Pecan Month!!
Did you know that April is National Pecan month? I found out a few weeks ago from Nuts.com! I don't often participate in theme posts, but I'm in the South, so pecans are a thing and Nuts.com is super gluten-free-friendly, (they even have an info page on gluten free!!) so this was a really good fit for me. 
Nuts.com wanted the focus to be on how people can clean up their diets using pecans, so also a great fit for me right now. This month has been crazy and stressful with my parents visiting and a trip home to Canada for a funeral. The last thing this body needs right now is pralines or brownies.
 I decided to make gluten free breakfast cookies. These clean-eating cookies are made with naturally sweet coconut flour and have very little added sugar. (I used the bigger serving of raisins and the smallest serving of honey and they turned out just lovely). Best of all, they have pecans. You can press the cookies into extra chopped pecans if you want, it will make them look so much prettier.
 These cookies have the taste and texture of a soft breakfast muffin. They're inspired by my parents and the spice, raisin, nut cakes they used to make for tea.  And I promise I'll make them next time they come to visit. Honest.
Want more info on the health benefits of Pecans? Nuts.com has some great info on their Pecans Page. 
Update:
Irene has tested the recipe and had some questions. She found the cookies dry and a little bitter. Here are some of the suggestions I gave her:
Coconut flour cookies are drier than rice or wheat flour cookies, but they shouldn't be inedible. Part of the problem with writing a coconut flour recipe is coconut flour is like brown sugar, it packs. So my half cup might not be your half cup. I didn't pack the coconut flour at all in this recipe, and I should make a note of that in the recipe.

I suggested 1/3-1/2 cup of raisins in the recipe, but I used the full 1/2 cup (maybe heaping) so the raisins helped to counter the dryness. If this still doesn't work you could try adding a little more butter. The texture for me was like a dense biscuit or a shortbread cookie. (Though not exactly, but that sort of dryness.)

I don't think the bitterness is because of the baking powder because I didn't encounter it, but it might be the age of your coconut flour. Because coconut flour is high in fat, it turns more quickly than other flours. (Almond flour and flax meal turn quickly as well).  It could also be the pecans if they're older.

The recipe doesn't make a super sweet cookie, more like a tea biscuit sweetness. The name was really just meant to reflect the shape and to be fun. I hope it didn't mislead you. If you already added the 1/4 cup of honey, you could try an additional two tablespoons of brown sugar. I'll add a note about the sweetness so others know what to expect.

 
The recipe (below) for this post contains affiliate links to products I endorse. This means if you click on a link and make a purchase, I get a small percentage of the price of the item.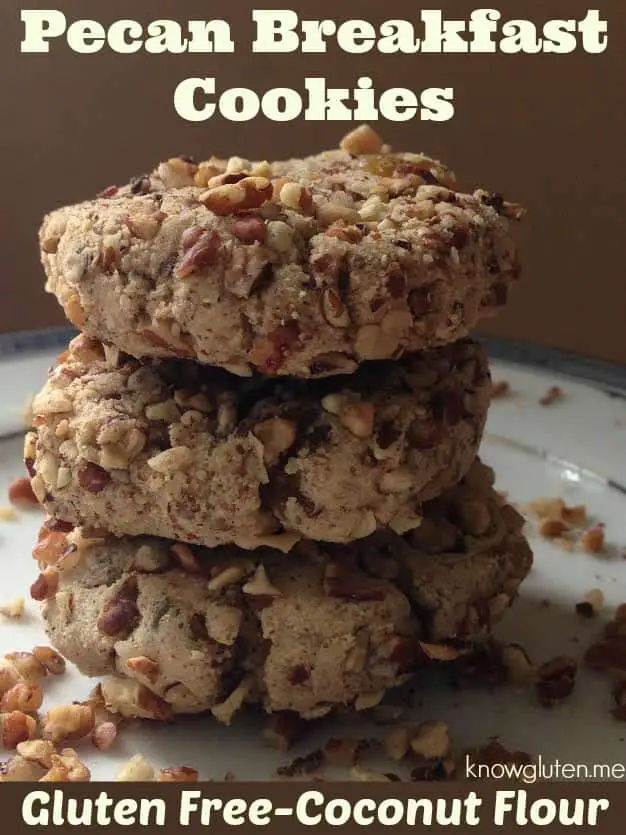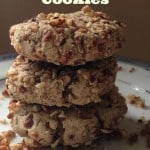 Gluten Free Pecan Breakfast Cookies with Coconut Flour
Ingredients
2

T

Tapioca Flour

½

cup

Coconut Flour

¼

cup

Melted Butter or Coconut Oil

2

Eggs

1

tsp

Baking Powder

1

T

- ¼ c Honey

1

tsp

Cinnamon

1

tsp

Vanilla

⅓ - ½

cup

Raisins

⅓

cup

Chopped Pecans

Extra Chopped Pecans for rolling cookies

optional
Instructions
Place all ingredients except raisins and pecans in a bowl and blend well with an electric mixer until smooth.

Stir in raisins and pecans.

Form dough into 2 inch balls and flatten slightly with your fingers.

Press into extra chopped pecans if desired.

Bake on a cookie sheet at 325 for 8-12 minutes or until the bottom of the cookies are golden brown.

Let cool completely before eating.