This gluten free, vegan vegetable rice soup is the perfect meal whether you're staying cozy during the coldest cold snap of the year, or you need a super fast and easy lunch before you head off to work. You'll start with frozen vegetables and pre-made broth, and end up with a warm hug on a spoon.
OOOOHHHHHHHHH Goodness! It is so cold out! Like actual cold. Not the 50 degrees "I love cold weather" cold we usually get. It's cold. It's so cold, they're calling it "unprecedented.
Unprecedented weather calls for soup
 In fact, there's a brand new, never before seen (at least by us) symbol on the weather app. We're debating its meaning. And by "we", I mean all us neighbors. Because even though it's freezing, people are still outside. Only they've got blankets and pj pants pulled on over their regular clothes (me!!), or they're leaning outside their car windows with the heat blasting on their feet. You can't freeze friendly. Half of us have decided it means snow. The other half think it means just cold enough to snow. Either way, there's a hundred percent chance of it. 
If you are ever experience an unprecedented weather event, you can call the United Way 211 for information and help.
(Probably the worst (funniest?) part of this cold, is I'm originally from Canada. And not one of the balmy border cities either. I've lived through May evenings colder than today. I've shoveled snow out of my tent in July. Over twenty years of living in southern states and tropical countries has softened this girl.)
It's been getting colder all weekend. And I've pretty much lived on this gluten free, vegan vegetable rice soup. I'm enjoying it so much for a few reasons (besides the obvious extra warmth). It's super fast to make. The recipe uses frozen vegetables, so the prep work is already done for you. It's relatively inexpensive, and even cheaper if you use Better than Bouillon Seasoned Vegetable Base instead of pre-made broth. And It's really flavorful! The layering flavors of the broth, simmered vegetables, and the seasonings make this simple soup surprisingly tasty.
Need more soup? You can find all my gluten free soups here!
Ingredients For Gluten Free, Vegan Vegetable Rice Soup
Better than Bouillon Seasoned Vegetable Base and Water or Vegetable Broth
I prefer the Better than Bouillon because I think it tases better than any pre-made broth I've personally had, and it's way more cost effective. It's also labeled specifically gluten free. If you do use a pre-packaged broth, make sure you read the label to make sure it doesn't contain any gluten ingredients. 
Italian Style Frozen Vegetables
Actually, any of the "fancy" frozen vegetables will work in this. I use Italian Style, Normandy, or Stir Fry blends. Make sure you buy unseasoned vegetables, some seasoning or sauce packets included in frozen vegetables contain gluten.
Cooked Rice or Cauliflower Rice
Rice is cheap and filling, and cooking it in soup makes it grow. You can add more if you want an even thicker soup. Or you can use cauliflower rice if you're cutting carbs or calories. I actually use a combo of both for my own soup. 
Firm Tofu
For the very best results when with tofu, freeze it first and then thaw and drain it before cooking. (I actually take my tofu right out of the package, slice it into quarters, and then freeze it in sandwich bags to have individual portions to thaw). If you don't have time to do that, just draining and cubing the tofu is fine. The frozen tofu will be chewier and the non-frozen tofu will be creamy. I like it either way in soup. I use firm tofu. Why? Because it's what I buy. Why? Not sure. It just seems like it's the most versatile. If you have a favorite tofu, you can use it. If you hate tofu, you can leave it out. 
Mild Rotel or Diced Tomatoes
I use the mild Rotel, but you can use original if you like things spicier. The recipe calls for you to drain the can, but honestly, if you'd rather just dump it in, go ahead. It will just make it taste a little more tomatoey. (I think that's a word.) If you live somewhere you can't find Rotel, you can use canned diced tomatoes. Just a cup, drained. 
Mrs Dash's Garlic and Herb Seasoning Blend
Yes. You need this. It is so much more than just garlic and herbs. I think it might even have lemon peel in it. Mrs Dash has come a long way from their original salt-free mix and now has a whole line of specialty seasonings. Good job, Mrs Dash! Way to branch out! Anyway, you're going to need at least a tablespoon. Taste a bit after you stir it in. If you find you need more, add it.
Tony Chachere's Creole Seasoning or Salt Free Creole Seasoning
I prefer the new salt-free seasoning because I can add more flavor without making my soup too salty. Tony's is a little spicy though, so it's totally optional. If you normally don't do spice, there's plenty of flavor in the other ingredients without it. If you do like spice, add the Tony's. 
Love spicy soup? Click here to try this Curry Carrot and Lentil Soup! It's gluten free and vegan.
Yield: 4 servings
Gluten Free, Vegan, Vegetable Rice Soup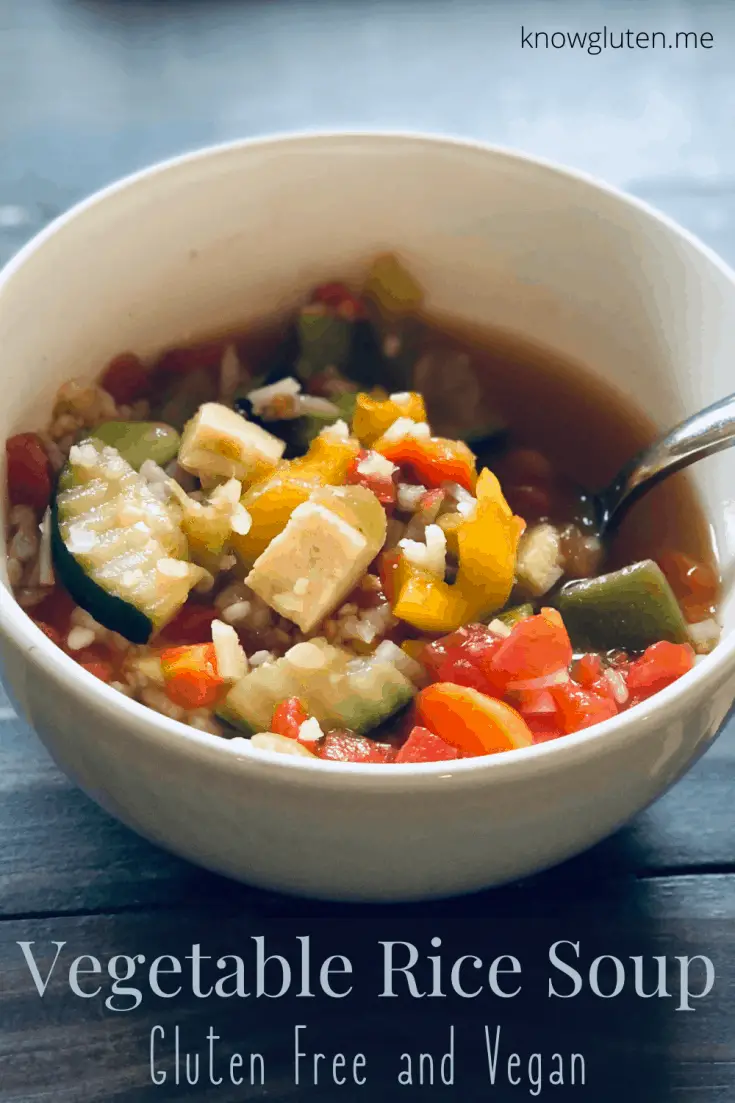 This gluten free, vegan vegetable rice soup is the perfect meal whether you're staying cozy during the coldest cold snap of the year, or you need a super fast and easy lunch before you head off to work. You'll start with frozen vegetables and pre-made broth, and end up with a warm hug on a spoon.
Ingredients
4 cups Vegetable Broth (or 4 cups Water and 1Tbsp Better than Bouillon Vegetable)
2 cups Italian Style Frozen Vegetables
⅓ block of Firm Tofu - cut into ½ inch squares
⅔ cup cooked rice or cauliflower rice
1 10oz Mild Rotel (1 can) or 1 cup Canned Diced Tomatoes - drained
1-2 tbsp Mrs Dash Garlic and Herb Seasoning
1 tsp Tony Chachere's Creole Seasoning (optional)
Instructions
Add broth, frozen vegetables, rice, and Rotel to a medium sized saucepan and stir gently.
Stir in Mrs Dash and Tony's to taste.
Gently fold in tofu cubes.
Heat over medium high heat until broth begins to simmer. Simmer for 3 minutes or until vegetables are heated through. 
Serve immediately.